Today, Wednesday November 11 we celebrate the 89th birthday of out Honorary Club President Maria-Teresa de Filippis. Though she was not one of the founder members of the Club she joined in 1978 and became general secretary in 1984.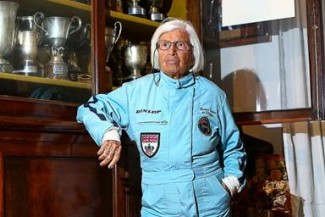 Maria-Teresa will always be remembered as the first woman to race in modern Grand Prix Formula 1 with her Maserati 250F in 1958. She was loyal to Maserati and had previously run her own 2 litre A6GCS Maserati sports car in the Mille Miglia and other races.
Her enthusiasm for Maserati saw her nominated President of the Maserati Club and along with our sponsor, the Swiss banking concern, UBS, she did a lot to promote Maserati in recent years and features in a new Maserati advertising campaign.
Though she has withdrawn from active life with the club due to illness we miss her fun and sense of humour and hope she has an enjoyable day at her home in Bergamo surrounded by her husband Theo and her family.