Alexander Wurz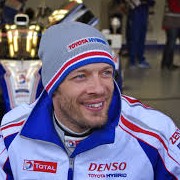 Alexander Wurz (born 15 February 1974 in Waidhofen an der Thaya, Lower Austria) is an Austrian racing driver, driver training expert and businessman. He competed in Formula One from 1997 until 2007, and is also a two-time winner of the Le Mans 24 Hours.
He is currently under contract to race for the Toyota factory racing team in the WEC (World Endurance Championship). He is linked to Formula 1 as consultant, expert for TV and media, Williams F1 Team's driver coach, member of FIA Institute safety group, FIA road safety ambassador, president to the GPDA (Grand Prix Drivers Association), and works occasionally as F1 driver steward.
Over the last 6 years he has established Test & Training International, a leading driver training and road safety expert group.
He is the second son of former rallycross driver Franz Wurz, who won the European Rallycross Championship in 1974, 1976 and 1982.