Louis Chiron
President: 1962 - 79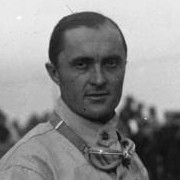 Louis Alexandre Chiron (born 3 August 1899 in Monte Carlo, Monaco – died there on 22 June 1979) was a Grand Prix driver.
As a teenager, Louis Chiron fell in love with cars and racing. He learned to drive at a young age and joined the Grand Prix circuit after World War I where he had been requisitioned from the artillery section to serve as a chauffeur to Marshals Philippe Pétain, and Ferdinand Foch. Competing in France, in 1926 he won his first local race, taking the Grand Prix de Comminges at Saint-Gaudens near the city of Toulouse. From there, Chiron went on to drive a Bugattiand an Alfa Romeo P3 to important wins in the Marseille Grand Prix, the Circuit of Masaryk, and the Spanish Grand Prix. In addition, he teamed up with champion marathon driver Luigi Chinetti to win the 1933 Spa 24 hours endurance race in Belgium. He also drove a Delage to 7th place in the 1929 Indianapolis 500. He won the 1931 Monaco Grand Prix, and is the only Monaco-born driver to have done so.
Louis Chiron's career came to an end with his retirement in 1938 and auto racing itself a year later with the outbreak of World War II. When racing resumed after the War, Chiron made a comeback and drove a Talbot-Lago to victory in two French Grand Prix races. In 1949, the first Monte Carlo Rally after World War II took place and a large celebration party was given in Monaco. In what is now regarded as one of the black moments of Chiron's life, at the party, in front of numerous race organizers, race drivers, and celebrities, Chiron denounced the female driver Hellé Nice by declaring that she had been an agent of the Gestapo during the war. (This has an ironic cast, in that the lure of a superior car led Chiron to lend his skill to the Mercedes-Benz team, which the Nazis were using as an object of propaganda for their philosophy of racial superiority, at a time when his Jewish colleague and rival René Dreyfus could not). His unsubstantiated allegation destroyed Nice's life and she would be shunned by all, dying in abject poverty.
By the time the new Formula One circuit was organized for the 1950 racing season, age was beginning to catch up with him but he still won the 1954 Monte Carlo Rally paired with Swiss racedriver Ciro Basadonna. In F1 racing, Chiron did manage a podium finish in his fifteen races and in 1955, in front of a hometown Monte Carlo crowd, a few weeks before his 56th birthday he became the oldest driver to compete in a Formula One race. To the applause of Prince Rainier and his many fans he guided his Lancia D50 to a sixth place finish in the 1955 Monaco Grand Prix.
After a remarkable 35 years in racing, on his retirement Chiron still remained active as an executive with the organization running the Monaco Grand Prix who honored him with a statue erected along the Grand Prix racecourse and named the swimming pool corner for him. Louis Chiron held the most podiums in Bugatti cars, and the 21st Century Bugatti company remembered him with the Bugatti 18/3 Chiron named in his honor.
Louis Chiron is also the oldest driver who has ever taken part in a Formula One Grand Prix. In his last F1 race, the 1958 Monaco Grand Prix, he was 58 years old.
---