In recent months books by two of our Club members have been reviewed by Mark Holman in the New Zealand magazine Classic Driver.
The Road To Monaco – My Life in Motor Racing By Howden Ganley
 Published by Denley Publications.It is sold in NZ by the Bruce McLaren Trust .( david@bruce-mclaren.com) $99.99 NZ. In the USA by Blackhawk Museum ( museum@blackhawkmuseum.org ) and by Wine Country Motorsports. It will soon be sold by autobooks- aerobooksin Burbank , as well.  $79.95 US. In England it is currently sold by Hortons Books (contact@hortonsbooks.co.uk )and by the BRDC. It will soon be stocked by Chaters £49.99 .

A hot seller at Howden's Festival of Motor racing in January this 448 page autobiography is outstanding.
Howden has skilfully woven together in a very readable way, his route to the top in F1 and world sports car racing describing what racing was like at the time, the characters he was involved with, and his experience as a constructor. He closes with a Heart-felt chapter celebrating the life of his late wife Judy.
This really is the complete story, to which it's almost impossible to do justice in a review. In a varied life in and around motor sport Howden race a Lotus Eleven in New Zealand (a car he now owns again) while developing his mechanical skills and took himself off to the UK where his early days were as varied as stacking cigarettes for a tobacco firm to racing the needle-nosed Gemini FJ Mk4 at the 'ring, joining McLaren racing as a mechanic in the very early days. Howden ended up behind the wheel in Formula 3, Formula 2 and Formula 5000,Can-Am, endurance racing from Kyalami to Le Mans in Chevrons, Matra and Mirage.
Howden's first F1 drive was for BRM in 1971. He had many frustrations there, punctuated with a few decent results. Although dealing with Big Lou Stanley obviously was a frustrating experience Howden also credits the man for his efforts on behalf of driver safety and welfare- including ensuring Howden was shipped back to the uk after his crash in the Maki ( What a saga that chapter unfolds) at the Nurburgring. He was part of the Williams GP team before the glory days and ended his professional driving career with a fifth place in a Can-Am race at Mid-Ohio in 1978.
Of course that only covered the surface really. Through the whole book Howden's all-round abilities are abundantly clear – not just as a driver but as a practical thinker and someone who could bounce back from setbacks, knuckle down to tasks and apply fresh thinking and innovative approaches to racecar development. Anecdotes and snapshots of personalities fill this book which I am delighted to have on my shelves. The number and variety of photos are first class too. Howden should be very proud of his book.
Mark Holman : Classic Driver.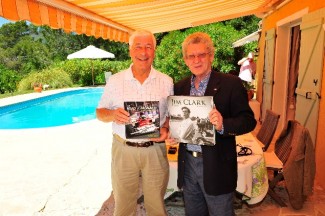 Jim Clark – Racing Hero By Graham Gauld
Published by McKlein Publishing, Verlag Reinhard Klein GbR. Available through Amazon, specialist motoring bookshops or directly through McKlein Publishing web site. 99.9 Euros.
The obvious question is, can there be room for another book on double world champion Jim Clark who died too soon in a Formula 2 race crash at Hockenheim, in circumstances that have never properly been explained? The answer is when the book is as excellent as this one is, yes.
Graham Gauld appreciated Clark's remarkable talents at the earliest stage along with keen supporters like Ian Scott Watson . In fact Gauld has written a number of Clark books but this one is something special as well as original in its approach
Here in 400 very large pages (in a neat slip case) is the best set of photographs in any racer's biography I have ever read. And the beauty of a book this size is that you can really appreciate the quality of the photos. The unusual element in this volume is that Gauld has provided a whole lot of short chapters arranged in alphabetical order in which he provides some brief text (in English and German) – in most cases giving context for the superb photos.[/Column][Column]
Some of the chapter headings are pretty obvious. There's a separate one for each model of Lotus which Clark raced. A number of race circuits get a chapter, from Aintree to Monza and Zandvoort (His punch-up with a policeman) as do rivals like von Trips, Hill and Stewart. The Border Reivers and Ecurie Ecosse teams get covered plus Clark's early drives in Sunbeam saloons, a Gemini FJ and an Aston Martin DBR1 . As well as his Indy 500s, his few attempts at NASCAR racing are here. And then there are the unexpected surprising parts of the book. Clark as a Miss England judge, his PR work which saw him driving a milk float and a Reliant three-wheeler, his hometown and farm, party antics and more. It was lovely to see the Tasman series getting a few pages of photos too.
Of course, the most poignant chapter is the one on Hockenheim which includes photos I'd never seen of the remains of his F2 Lotus after it had careered off the track into the trees, what might Clark have gone on to achieve?
Graham Gauld and his publisher deserve top marks for producing such a different and high-quality book. Sure, it's expensive, but if you love this wonderful driver and the period he raced in, it's really worth getting the funds together if you can.
Mark Holman : Classic Driver.