Mike's Aston Martin
This story might appear, at first glance, to be confusing but bear with me, it has a point. To be honest I am not sure what that point actually is.
To me it is a fascinating story of changing cars and changing bodies, particularly when it was a car once owned by one of our distinguished members of the Grand Prix Drivers Club, the late Michael Poberejtsky who raced as "Mike Sparken".
To start at the beginning, the car we are basically talking about is a 340 America Vignale Spider (s/n 0196A) that first ran in the 1952 Mille Miglia as a factory car driven by Piero Taruffi and Mario Vandelli where it retired with a broken transmission. It then ran at Le Mans that year with Louis Chiron and Maurice Trintgnant but retired with a broken clutch.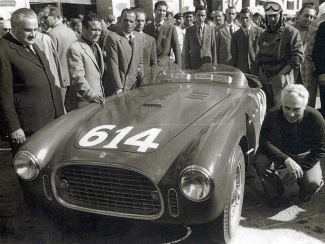 The car was repaired and sent to Switzerland for the Grand Prix de Berne and entered for Willy Daetwyler who was later to become one of the leading European hill climb drivers. In recognition of his Swiss nationality, Ferrari painted a white flash across the hood; the Swiss red and white colours.
Daetwyler was very quick in practice and put the car on pole position for the race. However, when the flag came down the Swiss was left standing for when he let in the clutch the transmission broke again. The car was quickly sold to Piero Scotti who ran it for the first time at the Circuit of Senigallia on the Adriatic coast of Italy finishing second to Paulo Marzotto. A week later Scotti ran the car at Pescara but this time with his friend Siro Sbraci to whom he sold the car.
Meanwhile, in June of 1952, the Monaco Grand Prix, for its one and only time, was made a sports car race. Aston Martin entered a team of DB3 racers one of which was driven by another former member, Reg Parnell. Parnell was involved in a big crash that also took out Stirling Moss's C Jaguar. The DB3 ( Chassis No. 3) was not Aston's greatest sports car as it was too heavy and was soon replaced by the DB3S. However, after the Monaco race the Aston was repaired and run later in the year and at the 1953 Mille Miglia.
It was then sold to Mike Poberejsky who sent it to Vignale to be rebodied with an attractive Berlinetta body and with which he started racing. Mike is probably best known for racing a 750 Monza Ferrari and a Gordini Grand Prix car, but it was the Aston that originally sparked his interest in racing.
He raced the car a few times finishing 5th at Agadir with fellow club member Roy Salvadori  before selling it to a Parisien. Later, around 1956, the Vignale Aston came into the hands of another Frenchman who was involved in a road accident on the Bois de Boulogne. He had the bodywork taken off the Aston Martin and sold. Today that original racing Aston Martin DB3, chassis 3 of five factory cars built in 1951, appears to have disappeared so now we follow Mike Sparken's one-off Vignale bodywork.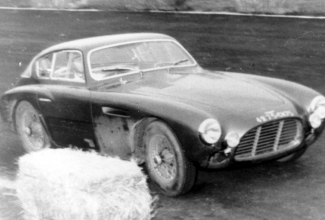 It was at this stage that the ex-factory Piero Taruffi Ferrari 340 America Spyder (0196A), that Sbraci had owned, came back into the picture. The ex-Aston Vignale body was mounted on the 340 America and this must be the first time a custom-made Aston Martin body ended up on a Ferrari.
Contemporary photographs show that it was unlike any other Ferrari Vignale body and had a distinctly chopped tail. The car was then sold into the United States and wandered around a few owners before eventually coming to England to join Sir Anthony Bamford's impressive collection.
Bamford wanted the car put back to its original spyder shape and sent the car to noted English restorer David Cottingham. As David remarks " We made a new spyder body for 0196A as Anthony wanted it back to its original Scuderia Ferrari design. He then kindly gave me the old ex-Aston Martin Vignale body which I then fitted to the rolling chassis of a Ferrari 212 racing sports car (Chassis 0205EL).  This 212 had already lost its ugly Ghia body prior to my purchase and when we fitted the Vignale body I repainted it blue and silver and sold it to a friend who lives nearby".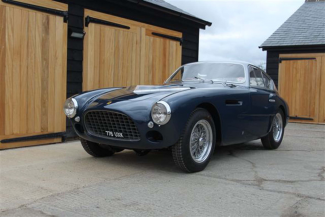 Meanwhile the 340 America, now back to its spyder configuration, was raced by Sir Anthony Bamford's son, Joe, at the Monaco Historic event in 2004 The car was later sold to Michael Wilms,  who added the white flash to the nose so replicating the Swiss colour scheme used by Willy Daetwyler back in 1953, and raced by him at the Monaco Historics in 2010.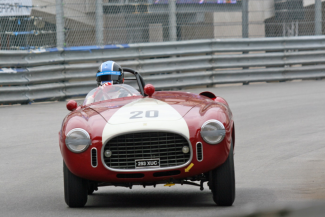 So, if you are still with me, and haven't fallen asleep, what is the moral of this story ?
I feel one must ask oneself if it is any wonder there is a lot of confusion surrounding classic sports cars, particularly Ferraris, that so much trouble and expense is taken up in recreating them in their original glory? And, how about the original Aston Martin DB3, which was one of just 10 factory DB3's built , and one of the five factory cars? Way back down the line when Mike's Aston Martin Vignale body was taken off, the trail goes cold. Somewhere out there is a valuable DB3 sports racing car out there just waiting to be restored so starting the pantomime all over again !
Footnote:
Former Grand Prix drivers Club member Innes Ireland on the perils of trusting Colin Chapman.
"So Colin agreed to park his car on the runway at Goodwood pointing into the wind so that I knew which way to land. Unfortunately, he had forgotten and had just parked it any old way. As a result I landed with the wind, flew down the runway and took my plane straight through a hedge and into a field. Obviously I couldn't stay there so I just turned the plane round and drove it back through the hedge"