The Monaco Grand Prix saw Grand Prix Drivers Club President Howden Ganley, Secretary Theo Huschek and vice-President Teddy Pilette doing the rounds and pressing the flesh.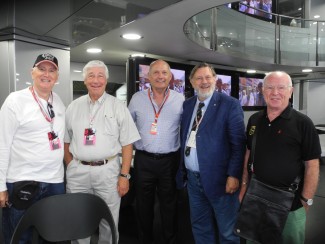 This years Monaco Grand Prix also celebrated the 20th anniversary of Olivier Panis winning the Monaco Grand Prix driving a Ligier JS49 fitted with a Honda Mugen V10 engine
In that 1996 race, Panis drove his Ligier to his only Formula One victory, moving up from 14th position to finish first among the only three cars that finished the race.
The event was celebrated at the spectacular Monaco Casino. The board of the F1 GPDC, headed by President Howden Ganley, with VP Teddy Pilette and General Secretary Theo K. Huschek , were present on the occasion and met a number of F1 drivers and celebrities including Camille Ligier, the eldest grand daughter of the late Guy Ligier ; a member of the F1 drivers club.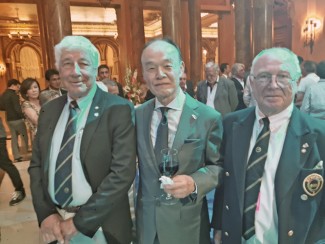 Hirotoshi Honda, the former President of Mugen Honda, had organized for the JS49 car to be displayed in the Casino to celebrate 10 years of Diplomacy services between Monaco and Japan. Olivier Panis was his guest as well as a number of team personal who remembered that wet Monaco race. Olivier Panis and Mr Hirotoshi Honda unveiled the car that has resided, since that win, in his Japan-based museum.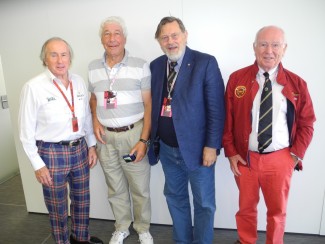 Last year in when the Club held its Annual General Meeting in Stuttgart our Mercedes Benz host host was Michael Bock, Director of motor sport, lifestyle and marketing for Mercedes Benz seen here in his "office" at Monaco before the Grand Prix.