Not far from where I live in the South of France, on a corner of the main road between Draguignan and the perfume town of Grasse there has been a large patch of unkept land with trees and bushes in which one could just perceive cars, lorries and caravans. The owner of this patch of land was a recluse by the name of Gerard Gombert. Gerard was a true character who, in addition to being a collector of cars and, lets face it, junk, kept a donkey and two dogs.
He died in April this year but from time to time, as I drove past, he could be seen looking like Father Christmas with a cap of pure white hair and an unkempt beard and moustache looking at piles of rusting cars that never seemed to move. We all thought he bought the cars to break up and sell as spares but it was the opposite. Though friendly and willing to show you round,the casual visitor who enquired about buying a part or even a rusting car was immediately thrown out the door!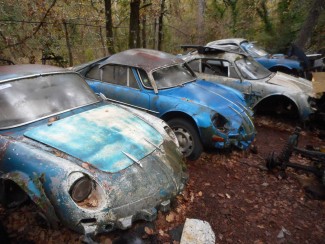 A few weeks ago there was a great deal of activity with trees and bushes being cut down revealing more and more rusting cars, motor cycles and caravans and the reason was that Jean-Pierre Osenat the founder of the respected auction house in Paris carrying his name, announced that everything was going to be sold by auction. I could not believe it, who would want to buy rusting motor cycles left out in the rain and some rather nondescript cars but once everything was cleaned all sorts of things were found.
Gerard Gombert had been a successful motor cycle racer with a garage and Nice but had sold up, bought this odd property in Provence and started to hoard what I would politely call was rubbish. For example there was the Lamborghini Miura that Gerard had bought and dumped out in the woods. When a bush started to take root and bore its way through the floor he took a chain saw and chopped off the back end of the Miura, took the engine out, and laid it on the ground !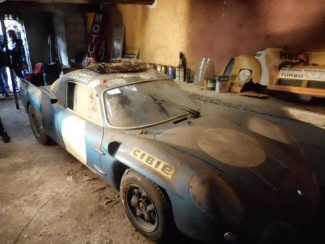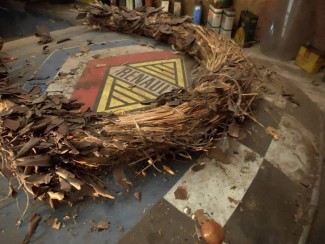 However, as far as racing is concerned there was one car of great potential interest. This was the 1965 Alpine A210 prototype racer, with its unique long-tail bodywork, that finished a remarkable 9th overall at Le Mans that year driven by Frenchman Henri Grandsire and Italian Leo Cella.
The car was running with a 1300cc engine in the race and yet finished just behind the 275 GTB Ferrari of Piers Courage and Roy Pike and ahead of the 275 GTB of Pierre Noblet and Claude Dubois which gives you some idea of the giant-killing performance of the car.
Somehow Gerard Gombert had been able to buy it and for once he stuck this one in a shed and left it there. What made it even more bizarre was that perched on the dirty and roof alongside the bird droppings was the original laurel wreath put on the car fifty one years ago at Le Mans.
M. Osenat put an estimate on the car of 80,000 Euros and immediately there was a forest of auction paddles and the price jumped to 100,000,then 200,000 and when it hit $500,000 there was a cheer. Eventually it sold for over 600,000 Euros, the highest price ever paid for a Renault Alpine race car! As it had won its class at Le Mans and was a one-off prototype with a long-tail body one hopes that someone will do a good restoration job and let us see it running again but in its present sorry state it looks like a task that will take some time.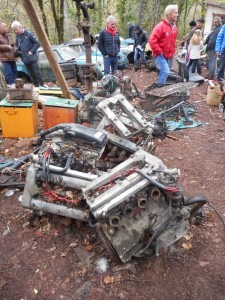 Oh, and by the way, that half Lamborghini body and engine was sold for 130,000 Euros – at least it had the chassis plate – and at the end of the day the sale, of what some of us would call an outstanding pile of junk, raised an incredible 1.9 Million Euros!
There is an old English saying, where there is muck there is brass – and on this occasion how true that was.