A week ago we watched as Nico Rosberg followed Lewis Hamilton during the Abu Dhabi Grand Prix secure in the knowledge that if he stayed there to the end he would become Grand Prix World Champion. It was a drive that displayed great self-control even when Lewis tried hard to slow the pace of the race to let the others catch up and possibly pass Rosberg: but Rosberg was up to it and so became only the second driver to become World Champion after his father had done the same. 
However, what happened next came as a great surprise, Nico Rosberg retired from grand prix racing just a few days into his Championship Year. Obviously this does not mean we will not see him around because he has sponsorship responsibilities to those who had helped him achieve the title but in a sense it is sad that we will not see him out there defending his title.
There are a lot of people out there who do not fully appreciate the pressures on a grand prix driver these days. Many years ago you could become World Champion and, apart from a few necessary appearances, return to a normal life, but not today when being a grand prix driver, and particularly a World Champion, means a diary that is filled with appointments in hourly segments. Even when Jackie Stewart was World Champion he had to keep a meticulous diary of how many hours of time he needed to devote to all the various sponsorships he had. However, Stewart's timetable when he was Champion is as nothing compared to a present-day World Champion because today we have multiple radio and television channels in every country of the World. Twenty countries held Grands Prix this year and each will have demands of some sort for the World Champion to visit them and so Nico Rosberg will certainly not be settling back to sit in front of the television with his wife and young child. It will be promotional business as usual. However, it is sad that we will not see him racing in grand prix events in 2017 because no matter how you rate his performances he "drank the milk" as they say at Indianapolis and was a worthy winner.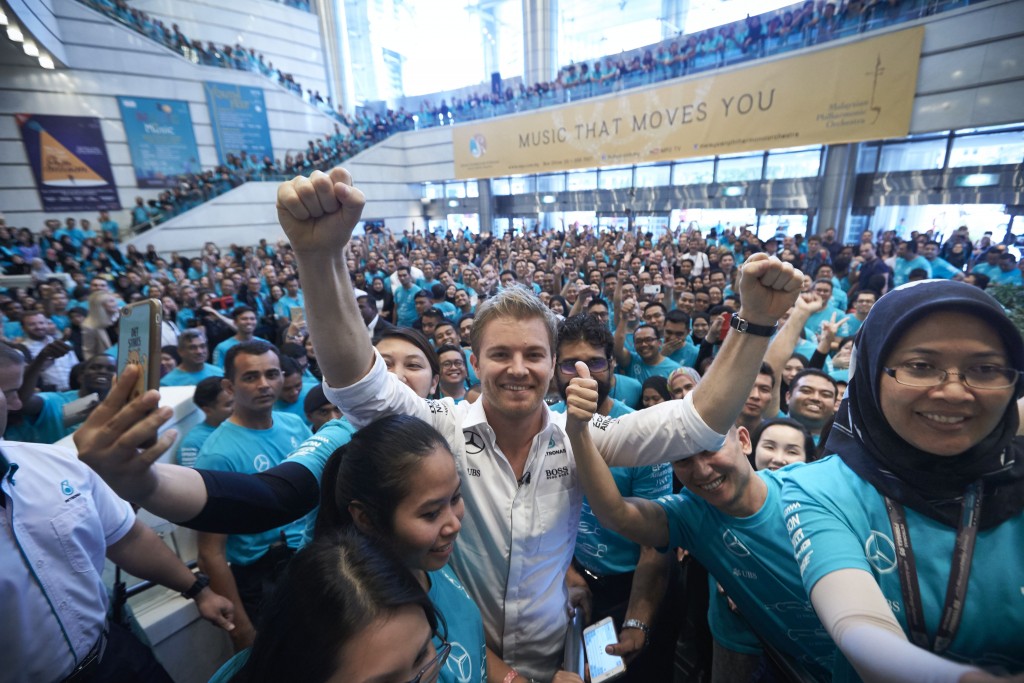 In time we hope that Nico will join his father, Keke, as a member of the Grand Prix Drivers Club and it is touching to note that Keke has kept his distance during Nico's racing career and allowed Nico to develop as his own person rather than as the son of his father.
Nico Rosberg, then, has joined an elite group of drivers that include the great Juan Manuel Fangio, Jim Clark, Emmerson Fittipaldi, Alain Prost, Niki Lauda, Michael Schumaker and Lewis Hamilton. Will we ever see him race again?  Only time will tell but he must be admired for making a decision to retire at the peak of his career.