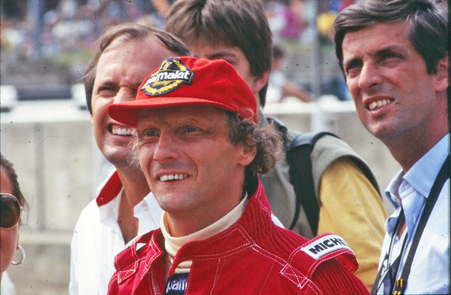 When Niki Lauda was recently given a lung transplant we all hoped that we would soon see him out and about in the Mercedes pit and spreading his wisdom in television interviews: but it was not to be.
He died yesterday, May 20, at the age of 70 and will truly be missed by the many members of the Grand Prix Drivers Club who raced against him as well as the motor racing public at large.
Niki Lauda was one of the great motor racing champions because he represented all of the qualities that racing drivers are believed to possess.
He came from a prosperous family but his determination to race saw him come into mild conflict with his grandfather who blocked the bank who sponsored Niki from lending the money to get into Formula 1. His grandfather was on the Board of the bank and his vote saw them turn him down.
Undeterred, Niki went to a rival Viennese bank and received the loan he needed by taking out an insurance policy for the sponsorship amount to be paid back should he be killed in racing. Niki Lauda not only confirmed his latent business skills in this move but went on to win three World Championships.
Everyone homes in on his tragic accident at Nurburgring and his fight back from near death but Niki Lauda had already shown the exceptional talent that makes World Champions on the track.
He was an honest man not ashamed to admit that when he hastily returned to racing at Monza, still bandaged and suffering from his burns, he felt frightened when he stepped into his Ferrari for a test lap of the circuit. He returned to the pits after one lap and went back to his hotel only to decide to continue racing and to again become World Champion.
It was a decision calling for great courage and faith in oneself and when he then started his airline, Lauda Air, he again took a courageous decision, this time a financial one, and created a company that he eventually sold to Austrian Airlines. He then returned to motor racing as a consultant to Ferrari and then in a management role with Jaguar Racing.
It would be easy to roll out references to his many races and wins but these will be well covered by the specialist motor racing media. For most of the Grand Prix Drivers Club members Niki Lauda will be remembered and respected for his personal discipline, his outspoken comments on the state of Formula 1, his efficiency as Vice-Chairman of Mercedes Racing but most of all his great qualities as a man of our time.
The Grand Prix Drivers Club send condolences to his wife and family at this sad time.