Today, with our member Niki Lauda as one of today's  wise elder statesmen of Formula 1 in his role with Mercedes Benz , it is perhaps appropriate to go back a while and think about how Lauda came from nothing to become one of the greatest racing drivers in the world.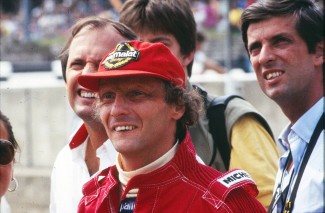 I was reminded of this recently when sorting out some tapes I made when I was in Hong Kong twenty years ago. Lauda arrived on a promotional tour for Ferrari to attend the Ferrari Festival held on the docks at Kowloon. He was in good form and he and I went to his hotel for some peace and quiet where he told me some of the stories of his early days in racing.
It is well known that Niki Lauda's break came thanks to help from his local bank, the Erste Bank der Oesterreichischen Sparkassen AG, in Vienna that sponsored him in German Formula Vee racing as well as with sports cars. Then came the chance to join March and launch his Formula 1 career.
" I then made a deal with the bank manager, showing him all the papers and write ups I had, so that I could go into Formula 1 with March.
"March wanted $250,000 so I went to London and signed the dotted line for the 1972 season on the word of the bank manager who had agreed on the sponsorship. When I got back the manager then told me he was sorry but the amount was so much that it had to go before the supervisory board of the bank; which included my grandfather, and they turned it down!
 "I said, shit, I've signed a contract so he said he was sorry but these were the rules of the bank. So I now had my signature on a March contract but no money.
 "I had three weeks to find the money and tried various potential sponsors but realised it was not going to work so I went to another bank. I offered them a deal. I would give them $25,000, which was the interest on the loan, and I would take out an insurance policy for the rest so that if anything happened to me they would get their money back. He looked at me and asked me if I was serious and I said, yes, I was serious. He checked with his bosses and they agreed and that was how I got into Formula 1".
I then asked Niki about a one-off race he had at Zeltweg in one of the beautiful little Chevron B19 Sports cars. The Austrian organisers of the race approached Lauda, as Austria's new up and coming driver, whether he would drive a Chevron B19 in the big race.
" I said, why not, as my fellow Austrian, Helmut Marko who was also racing at the time,  was driving a Lola. It was a slipstream race from the start and in the end I won the race, my first and only drive in a Chevron".
 So, before he got into Formula 1 what were the cars that impressed him on the way up the ladder?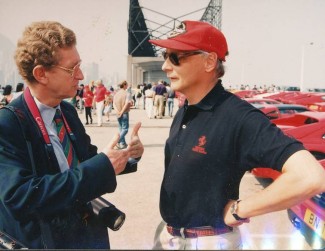 " I think the Porsche 908  I bought from Alain de Cadenet, I won a couple of races and suddenly things got better".
After March Lauda moved to the BRM team, for which the British have always had a soft spot even though it was a bit of a disaster in its early years.
" BRM was quite a funny situation because I had a contract with March for two years but at the end of my first season March went bankrupt. So I started negotiating with Louis Stanley ( The owner of BRM) at the end of 1972 but he already had Regazzoni, Beltoise and Vern Schuppan but I convinced him that he should give me a chance and that I would bring sponsorship with me even though I really didn't have any sponsorship. I ran for the season but at one stage I was lying third in Monte Carlo and that is when Enzo Ferrari saw me".
Throughout this time Lauda had dreamed of racing with Ferrari. At his base in Austria he used the office of a friend of his and every Monday after a race he would ask the secretary if Mr Ferrari had rung. So that it became something of a joke.
"I came home from Monte Carlo and went into the office and the secretary said that Mr Ferrari had rung. I told her it must be a joke but she gave me his telephone number and told me to ring him. In fact it was Luca Montezemolo and he invited me to Maranello.
 "Remember at that time Ferrari were in bad shape so when I went down there I could not believe the machinery they had which the British teams didn't have. So I thought if you work hard here, shit, it must be possible to win. They even brought Forghieri back as he wanted to prove how good he was.
 " When I started driving for Ferrari at the end of 1973 I came out of the BRM which was basically a very good car but the engine was shitty. So I drove around Fiorano for a couple of laps and then Mr Ferrari called me into his office and he had his son Piero there to translate because I only spoke English at that time.
"Mr Ferrari asked me what I thought of the car and I told him it was shit. Piero looked at me aghast and said he couldn't translate that for his father, but he did and Ferrari who  said ' nobody says my cars are shit'. 
 At this Ferrari said ' I tell you what, let Forghieri make the modifications he is suggesting and if you are one second a lap quicker you are ok and if not you are out. I went two seconds quicker and that was it. From that moment on it worked very well."
The great tragedy of Lauda's period with Ferrari came with his accident at Nurburgring which has been well reported but in the conversation Lauda demonstrated not only his determination but his fears of getting back into a grand prix car again after such a horrendous accident.
Immediately after the accident in 1966, Carlos Reutemann was brought into the team to replace Lauda which irked him somewhat. However, he was determined to come back into Formula 1 and it was agreed that Ferrari would run an extra car for him at Monza that year alongside Reutemann and Regazzoni."….however, when I got down to Monza and stuck that thing in second gear I couldn't drive. I physically nearly shitted in my pants I was so frightened with the speed and all the other things. So I did one lap, stopped at the pits and went back to the hotel, it was Friday, the day before qualifying.
 "During the night I decided that I must go back and treat this race as just practice with no pressure at all. So I went back on Saturday got into the car and ran at my own pace and ended up in fourth place after not driving for two months. Reutemann was there, Regazzoni was there and I was the quickest Ferrari and had come straight out of the graveyard, you know!"
 He explained that it took him about four months to get over the accident but he never let it enter his head again. As we know he went on to win and become World Champion again so how did he come to retire? ".. I realised that you cannot go on racing for ever and I had to find an alternative  to take the place of racing and found it in my Lauda Air business that I started in 1979. By 1985 I realised I had to either stop the airline and sell it to someone else or stop racing. You have to find an alternative to racing that is as challenging and as difficult and in aviation I found exactly what I was looking for".
Footnote:
When he was recovering from the near-fatal Nurburgring accident and his head was bandaged, he needed a hat to keep the bandages in place and he used a Goodyear cap. "…but Forghieri told me there was this company called Parmalat  that wanted to sponsor me so that is how I came to always wear a Parmalat hat". The company were later to sponsor the Brabham team when Niki Lauda drove for them in 1978/9.