Unlike many former grand prix drivers, Patrick Tambay is a gifted writer whose motor sport web site  (http://motorposts.com.) is both interesting and opinionative. Not only that but his autobiography is due to be published next year which, thanks to his down to earth approach to motor racing history, is likely to be above the average for racing driver biographies.
Not long after Emanuele Pirro's appointment as a vice-President of the Grand Prix Drivers Club, Patrick talked to him about his new role and reaching out to many of our more recent drivers to become involved with the Club in a question and answer session.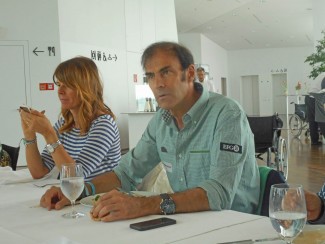 Patrick Tambay : First of all I would like to congratulate you for your newly appointed mission and would like to «share» with you, for all our Internet readers, your feelings, ideas and projects for The Club.
I will go straight to the point : do you realize "The Historical Heritage" you are now protecting ?
Emanuele Pirro :
I am extremely proud to have been appointed as vice president of this prestigious club. I am relatively young in comparison to the other members and when I received the proposal, I asked myself what the club must have seen in me as I could think of so many more senior people than me.
 The answer I gave myself is. Passion. This is probably the only quality I have where I can safely say I am second to none.
It is a huge heritage and we have to make sure it will be preserved in the future. Especially in memory of the old members who have done so much for the Club and are no longer with us.

 My  initial mission was to learn and understand more about the club , its DNA, what the club has done in the past, what was the spirit of the founders and  try to maintain it and, if possible to increase it.
 After that I would like to make younger drivers, whose focus is all directed to the present and future, to appreciate  looking back a little bit at history and routes. You can only understand who you are if you know where you come from.
PT : What are your plans to sign up the younger generation of GP Drivers like yourself, Emanuele ?
Emanuele Pirro:  To make my passion for motorsport history and Heritage contagious to the younger generation. I understand that young drivers do not have much time to look back and they are very focused on what they are doing, However I am optimistic, I believe that nowadays the attention that historic racing is attracting is increasing fast and I see more and more young drivers are enjoying historic races like Goodwood.
 PT : Hans Hermann said "I don't worry about the old heroes being forgotten". Are you concerned about the memory of the historical heritage, being The Temple keepers ?
Emanuele Pirro: I respect everybody's thinking. Nevertheless, I believe that knowing, considering and appreciating what happened in the past is a very important thing. However this is not the only reason for the Club to exist. It does so because of the pleasure of getting together, sharing stories and having fun.
PT : When you look at the list of Club Members it's absolutely amazing the amount of historical races and stories they all carry in their memories and have not, for some of them, been recorded. Unfortunately for some of them it's too late. What can you do to keep that memory alive and recorded for ever.
Emanuele Pirro: This is a very good question. I would like to hear and share as much as possible the huge amount of facts and stories that reside in the memory of all the members before it is too late.
 PT : What is your most important personal  memory, career wise ?
Emanuele Pirro: Probably my first race. I had been waiting my whole life for it!
 PT : Do you like « sharing » these important moments of your career with motor racing fans ?
Emanuele Pirro : Absolutely, as much as I like to hear others.
 PT : What could you do to get fans closer to their idols of yesterday today, and tomorrow ?
Emanuele Pirro: Look at the American motorsport model. For them the racing fans are an important resource, for the European /F1 actors they are more an agro than anything else. I think this attitude needs to be dramatically changed. Racing drivers are very privileged persons and it should never be forgotten.
 PT : Why do you think that the Club is important?
Emanuele Pirro: I think it is important to keep together those people who made the history of motor racing in a Club. As well as to help and give support to those who might have difficulties in their third age.
PT: How would you describe a meeting between Club members and fans or business people?
Emanuele Pirro: A great moment of sharing history of something you love with the people who actually made it.
PT: For true fans it's always been and is enjoyable to meet their heroes, for an autograph or a souvenir. Anyway, there are lots of things and stories that can't be shared in a simple meeting. Do you plan to have an exposition of your vast treasure? Share books by club members? A club library? Videos? An "F1 Hall of Fame" perhaps? Any other?
Emanuele Pirro: I personally like to keep track with the past and the memories.  I still have (nearly) all my helmets, all my trophies, most of my overalls and very many pictures of my career but I have always looked forward and tried to keep myself updated as much as possible with every new technology, I very much like the past. 
One idea could be to make a temporary exposition of all members' stuff. Perhaps, with the support of a sponsor.
PT: Former drivers are a league on their own, adored by lots of fans all over the world. You have your own club and there are meetings (as Goodwood and other venues), where you're all together, high spirited, close to the fans. What do you think is the key for your long and continious success? How could you even expand it?
Emanuele Pirro : In few words, I think my secrets have been passion, dedication, and enthusiasm.
PT: Do you realize that you are now, for fans all over the World, the "Keepers of The Temple" ?
Emanuele Pirro: Ha ha, well not really!