I was saddened when the well known French racing and rally driver Bernard Consten died a few months ago for not only had I followed his career from 1958 but after I moved to France we maintained an amusing friendship for the past twenty years. He is perhaps best known as having won the Touring Car Category in the legendary Tour de France Rally a record-breaking five times with both Jaguar and Alfa Romeo but also the winner of the Index of Performance at Le Mans.
Bernard Consten had all the charm of a Parisian whose father ran a successful Renault dealership which in turn allowed Bernard to follow his passion for motorsport. He was born in the Courbevois district of Paris in 1932 and almost as soon as he had his driving licence he began competing.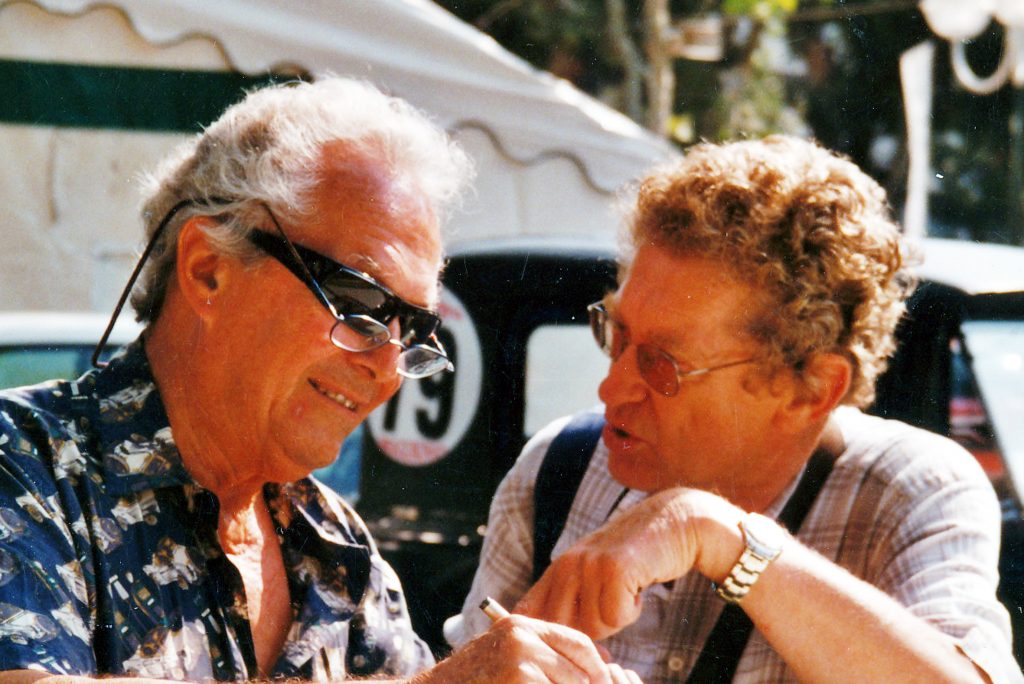 His first event was the circuit de Bressuire with a little Renault 750. When competing in rallies he normally took as co-driver his cousin, Jean Hebert, who was himself to become a successful driver with Alfa Romeo. The Consten/Hebert duo soon began to win a number of events which eventually led to Consten becoming French rally champion for the first time in 1958. He also became Champion in 1961 and 1962, on both latter occasions with a Jaguar 3.8 sedan, and finally in 1967 with an Alfa Romeo GTA.
British enthusiasts best remember Bernard Consten for his wins on the Tour de France Rally with Jaguar Mark 2 3.8 saloons but in 1958 he won the Touring Category in the event with an Alfa Romeo Giulietta Ti.
Bernard remembered his early days.
"In 1951 the Tour de France restarted and when I was a student I dreamed about competing on that event. The following year my mother was keen to buy me a Triumph TR2. It was very difficult to buy new cars in France at that time as it was not all that long after the war. You had to have the right currency as the French importer was only allowed to import about five or six cars a year.
When I went to order the car the dealer asked me all the things I wanted. I told him it was to be white with red upholstery with wire wheels – even the heater was an extra.
" He then asked me how I was going to pay: American dollars, German marks, English pounds. When I told him I wanted to pay in French francs he said it was not possible to have a car. Luckily my friend was Andre Costa the Managing Director of L'Auto Journal and he had just done a road test of the TR2. He called the importer and persuaded him to sell the car to me and that is how I came to have my first Triumph.
As France, like Britain, had conscription in the 1950's, Bernard Consten was called up for military service but in 1956 was able to get leave to do his first Liege-Rome-Liege rally in his Triumph TR2. As it was his own car, he simply fitted a sump guard and set off to do battle against three factory Triumph TR2s.
Consten led the factory cars in most stages of the event before he was slowed by a minor problem. At the finish at Spa he was approached by team manager Ken Richardson and offered a factory drive the following year.
"In 1957 they changed the regulations for the Tour de France to make it two classes, Touring Cars and GT cars. For this event I bought a Jaguar 3.4 from Charlie Delacroix who was the French importer.
"I took the car to Mont Revard to test it and coming down I ran out of brakes. When I got back to Paris Charlie Delacroix rang Coventry and asked if we could fit the disc brakes from an XK150 to the 3.4 and they told us there was no way this could be done. This meant I had to do the Tour de France with drum brakes.
"On the first day, we were in the lead in the Touring class battling against Nano da Silva Ramos in another Jaguar. On the third day, we were delayed in Rennes repairing the brakes and then when catching up time we had an accident with a Citroen. Of the three Jaguars on the Tour that year da Silva Ramos retired with the fuel pump, Peter Jopp crashed at Le Mans and his car burned out and I had my accident. Ironically my cousin, Jean Hebert won the scratch and the index of performance in an Alfa Romeo Giulietta".
One week after the Tour, Consten went to the Paris Motor Show. The big news was that the Jaguar 3.4 was now available with disc brakes! He was not impressed so bought an Alfa Romeo Giulietta SV for the 1958 season.
Back in 1956, Bernard Consten had been pressed into service as a co-driver on the Mille Miglia in a Peugeot 203 sedan with Georges Blaise. It was the first year of the Giulietta Sprint Veloce and they were in the same class as the Peugeot. " I well remember when we got on to the long straights down by the Adriatic. Every minute there was a roar and one of those Giuliettas would go flying past us. As it was during the night we could always recognise them coming because in addition to the two main headlights they had another headlight in the centre of the grille. I think they were going about 30 k.p.h quicker than us when flat out. As a result just after I completed my National Service and bought a Giulietta Sprint Veloce. The choice was either a Sprint Veloce or a Porsche Carrera 1600. The Porsche dealer offered me a small discount but he had Claude Storez driving for him. I then went to the Alfa dealership and they offered me not only a larger discount but if I had some good results they would give me assistance.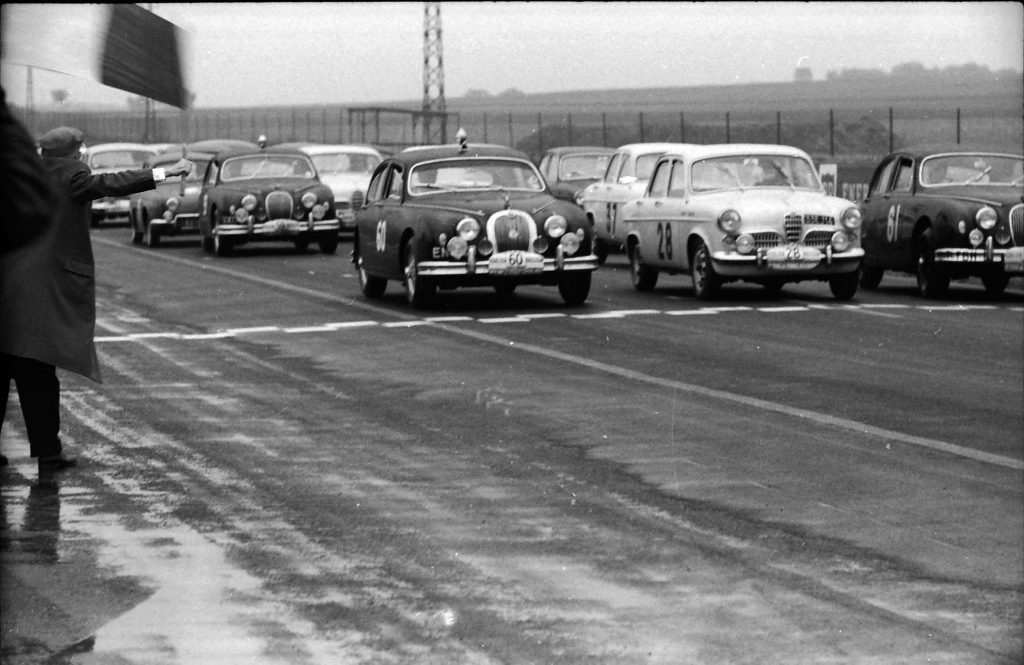 It was a good season and 1958 was the year that brought Consten to everyone's notice. For a start, he became French Rally Champion for the first time and amongst his wins was the Touring Class in the Tour de France, this time with an Alfa  Romeo Giulietta Ti prepared by the famous Italian tuner Virgilio Conrero.
"As with Delacroix and the Jaguars, I always bought my own cars but I had the support of the dealerships in the preparation. In 1958 my cousin (Jean Hebert) and I had three cars between us, a Group N Giulietta, a Group 2 Giulietta and a Sprint Veloce Zagato, all prepared by Conrero, to run in GT. As most of the rallies had some kind of Index of Performance we used whichever car suited the regulations best."
By the time the Jaguar 3.8 came along in 1958, it was obviously the car to have and Consten bought one for the 1960 season. He won the Touring Car Class on the Tour de France for the second time and was to go on and win the Touring Car class in 1962 and 1963 also in Jaguar 3.8s and so is the only driver in the history of the Tour de France to have won his category five times.
Early in his career Bernard Consten was able to blend racing with his rallying and in 1957  was offered a drive at Le Mans with Jean-Marie Dumazer. They drove a typical small French racer of the period called the VP R166, fitted with a four-cylinder 750cc Renault engine. It had a twin-cam head but unfortunately for him, the car only lasted three hours before retiring with a blown engine. This was caused by a porous cylinder head.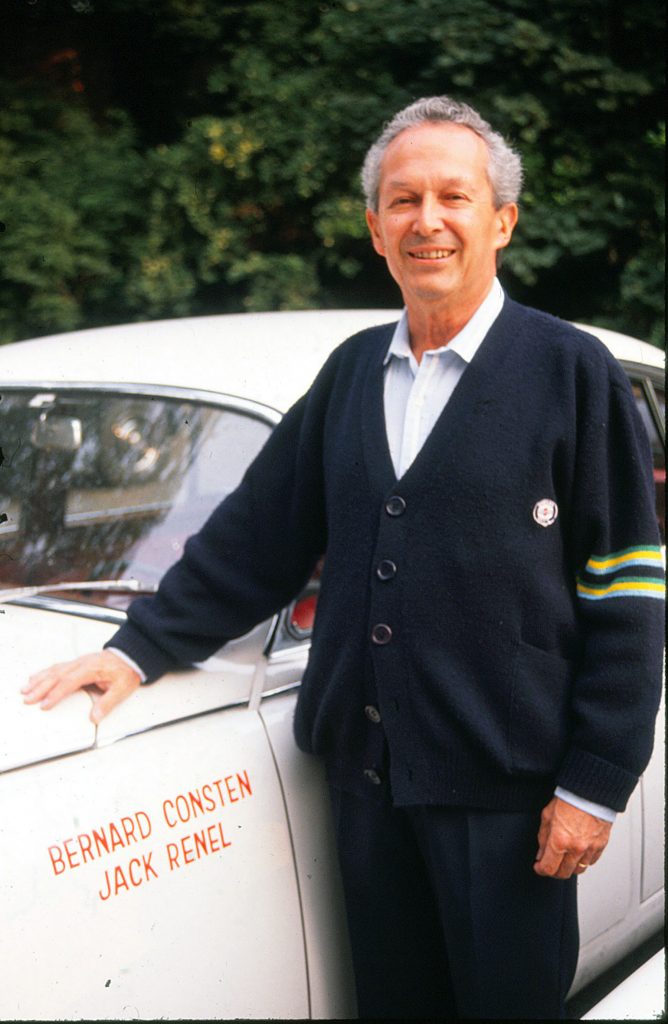 In 1958 he was approached to co-drive one of the factory Panhard-Monopoles powered by the raucous twin cylinder 750cc Panhard engine. Though he and Jean Vinatier managed to complete ten hours of racing, the engine expired once more.
Commenting on his entire Le Mans career Consten remarked: "…I was quite surprised at the poor quality of the preparation of the cars I raced. I always drove for factory teams and had many problems but I competed in over 200 rallies and retired maybe only five or six times. At Le Mans I competed six times and retired on four of them: on two of these I never even took the wheel. A good example was in 1961 when I shared one of John Ogier's Aston Martin DB4 Zagato's with the English driver Jack Fairman. We had two cars (the other driven by Australians Lex Davison and Bib Stilwell) and both cars were out within three hours."
In 1959, however, came one of those incidents that happen from time to time with the Le Mans organisers. Despite being French Rally Champion and second in the European Championship, Bernard Consten was refused an entry for Le Mans with his Ferrari 250GT which he was to share with journalist Jose Rosinski. As he had already raced twice at Le Mans, it appeared a bit of a slap in the face. However, Automobiles Deutsch et Bonnet (DB), approached him to drive a factory DB the same year with the experienced Paul Armagnac. This the Le Mans organisers accepted. Consten and Armagnac not only finished a creditable 11th overall but won the prestigious Index of Performance. Consten could be forgiven for afterwards thumbing his nose at the organisers as this was a tremendous achievement; what is more, they averaged nearly 88 mph for the entire 24 hours.
Consten's involvement with Alfa Romeo led to an invitation to drive in the 1960 Le Mans race with Francesco de Leonibus in a Conrero spider entered by Virgilio Conrero and using an Alfa Romeo 1200cc engine. The car had bodywork similar to the Ferrari TRs of the period but the car retired with transmission trouble during the 11th hour.
Consten's last Le Mans race came in 1962, in a factory Rene Bonnet Djet, powered by a 1000cc Renault engine. He shared the drive with French journalist Jose Rosinski and they finished 17thbut won the 1000cc class, only his second finish in the event.
In 1963, his friend Delacroix came back and asked him if he would like to drive a Lotus Elan on the Tour de Corse rally – Delacroix was by this time the Lotus distributor so Consten took a friend,- and Grand Prix Drivers Club member –  Claude Le Guezec with him. " I had been warned by Gerard Crombac of Sport Auto that the Elan was not very reliable but the handling on the Corsican roads was fantastic and after the first two kilometres, I felt sure we would win the GT class. I think it was the only time the Tour de Corse was run in dry weather from start to finish. Jo Schlesser beat us in a 7 litre AC Shelby Cobra.
 "Mind you I think he changed tyres about ten times."  The Elan finished second in the GT category which was an astounding feat, bearing in mind the twisty and rough roads of Corsicaand the reputation for fragility of the Lotus back in those days.
This was not the only Lotus Bernard drove, as he ran a Lotus 23 in the 300 kms of the Auvergneat Clermont Ferrand winning his class. He also competed in the Targa Florio in 1961 with Jose Rosinski in an Alfa Romeo Sprint Veloce Zagato finishing 8th overall, behind the two factory Porsche Abarths of Straehle and Linge and winning the 1300cc class. " This Targa was quite funny as there were 20 cars in our class, all of them Alfa Romeo Giulietta SVZs; 19 of them red and our white one. Our main Italian opposition was a very quick driver but his co-driver was very slow. The faster driver did the start and four laps, gave the co-driver two laps and then he took over for the last four laps. We decided we would do three laps, four laps and then three. As we couldn't decide who would drive first we spun a coin and Jose won so he took the first three and last three laps and I took the middle.
When Shell pulled out of the sponsorship of the Tour de France in 1964, the event stopped. However, in 1968 Bernard Consten became President of the French motorsport association. As a result, he restarted the Tour de France in 1969 and ran it until the 1980's. His successor as President of the French motorsport association was the legendary Jean Marie Balestre.
In recent years  Bernard Consten lived near the perfume city of Grasse in the Alpes Maritimes still enjoying life driving one of his favourite cars. He occasionally gave his interim model Ferrari 250GT a run in retrospective events. It was the car raced by his old friend Jo Schlesser. When Consten bought the car it had been painted red but now it sports its original colour scheme of white with red and green longitudinal stripes – the national racing colours of Madagascar where Schlesser was living at the time.
 When asked directly which he preferred, rally driving or racing, Consten plumped for rallying as he enjoyed the long distance events. "I think you have to improvise more in rallying. It's not my idea to start a racing event and then have to make changes in the suspension every time you stop at the pits. For me driving on the road, looking out for changes in the road surfaces and all the little surprises you find on rallying is much more of a challenge".
Bernard Consten was intelligent and meticulous in his organisation and preparation for events, a fact reflected in the incredible number of wins he had in rallies mostly with cars he privately owned. It was no surprise when I once asked him about his finest memory in motorsport. He had no hesitation in choosing the 1958 Liege-Rome-Liege rally which he won with his cousin Jean Hebert in their Alfa Romeo Sprint Veloce Zagato. This 90 hour non-stop marathon event from Belgium to Italy and back was a real test of endurance in those days – as it would be today if it were ever to be allowed – and to win outright in a 1300cc GT car ahead of the factory Porsche Carrera of Paul-Ernst Straehle and Robert Buchet was a truly classic and memorable win.
In the past eight or nine years, I shared the panel of judges with Bernard at a major Concours d'Elegance near Frejus but he preferred to spend time polishing up his 300SL and taking part. He was a true enthusiast with a fiendish sense of humour and all who knew him will miss him.