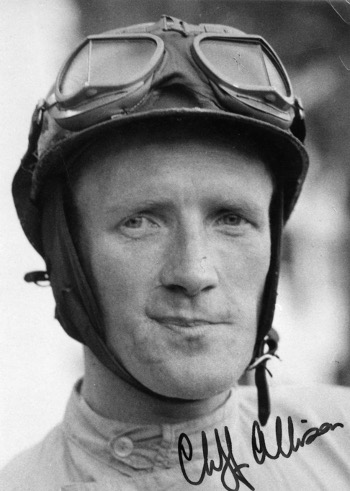 Forty years ago, meeting Cliff Allison you could be forgiven for thinking he was a quiet young farmer from "up north" and would probably never guess that not only was he a racing driver but raced in Formula 1 Grand Prix events for Team Lotus, Ferrari and UDT-Laystall.
Cliff's father, Frank, ran a garage in the little town of Brough which is in the centre of the North Pennine Moor on the A66 road that links Penrith in the West of England and Scotch Corner in the East. It is a pretty exposed and barren area that is occasionally blocked by snow.
Cliff trained at the Technical College in Kendall and an old friend of the family Percy Harris doubted whether Cliff would even survive College.
"In 1951 Cliff and one of his pals used to travel every day to College on their motorcycles and it later turned into a race to see who could set a new record time. I was a bit worried about this and spoke to his father Frank, and told him to have a word with his son. I tried to get Cliff interested in motorcycle scrambling but when I mentioned cars that got him interested".
Percy Harris had a friend called Bill Robinson and when Percy mentioned it Robinson said: "I've got something that would suit you, this little shitty thing, the Marwyn".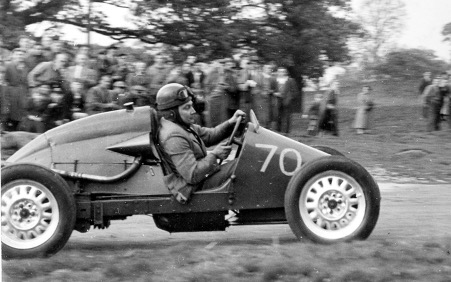 To those unfamiliar with some of the smaller Formula 3 racing cars that used 500cc motorcycle engines, the Marwyn hardly stood out as a race winner but it was one of the first to appear in 1949.
The car Percy bought was one of the six early ones and paid £250 for it. Cliff tried it but never raced it for it was clearly " a load of rubbish". Frank Allison then decided it would be better if Cliff raced a Mark IV Cooper so he bought a second hand one from a fellow Northern driver and prepared it in time for the last meeting of 1951 at the Turnberry circuit in the south of Scotland.
As it turned out the old Mk IV Cooper was clearly outclassed during the 1952 season so over the winter of 1952 Cliff sold the car and bought a more modern Mark VI. This was the first of the all tubular chassis Cooper 500's.
The old Mark IV had a box section chassis which did not impress Cliff " It was just a ladder section with wheels stuck on and it used to flex. The whole thing would bend when you went round corners. So Cooper added a tube sub-frame to the box section chassis for the Mark V and then went to a full tubular chassis for the Mark VI."
One of the problems for Cliff, living in such an isolated place, was that there was nowhere to test properly but there was a small back road leading into the hills near the garage and he would often put the garage trade plates on the Cooper and have a quick run up and down.
The local policeman, P.C. Cook, was well aware of what Cliff was doing. From time to time Cliff would telephone him and ask whether he was going to be out visiting local farmers and then say he was going on to the Middleton in Teesdale road to check out the Cooper. The policeman would then head in the opposite direction!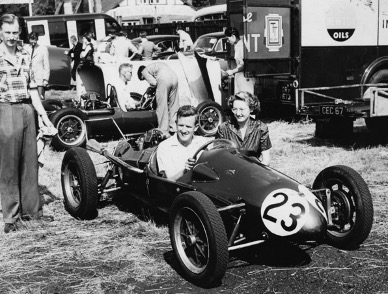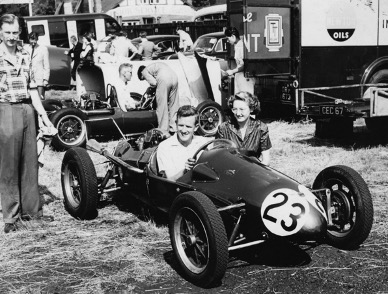 The first time Cliff came to anyone's notice was the opening race meeting at the Oulton Park Circuit where there was a good entry. In the Formula 3 race Cliff managed to finish third behind Don Parker's Kieft and Scotsman Ninian Sanderson's newer Cooper.
For the 1954 racing season Frank Allison decided that Cliff was showing a lot of promise and so bought the latest Mark VIII Cooper. As was customary Cliff went to Cooper's factory and physically built his own car. Cliff had contributed much of the money for he had been a successful horse rider and used some of his winnings in horse races to buy and run the car.
It is not well known but when Cliff was born, in February 1932, it was found he was suffering from Pinks Disease which is caused by exposure to mercury vapour and it caused muscle weakness. He was eventually cured but had to learn to walk again when he was three years old.
Cliff met and married Mabel Dowson and settled down in Brough and they would go to the races together and sleep in a tent at the circuit. As the garage sold Esso fuel Cliff got to know Reg Tanner the competitions manager of Esso and it was Reg that created the meeting that took him a rung up the ladder.
It was a race meeting at Snetterton in 1955. " I was at the circuit doing my own thing as usual when Reg came along and asked me whether I had ever fancied driving a sports car. I told him I wouldn't mind that at all and he said: 'Colin Chapman is looking for a driver, if you think you can handle that then we'll have a go."
There and then it was arranged for Cliff to try a Lotus IX. Chapman told him to go steady until he got the feel of it then called him in and asked if he could go a little bit quicker but not to bend it. As it turned out Cliff went a lot quicker and the test was over so he packed his Cooper on the trailer and headed home to Brough.
On the Monday morning he was contracted to drive for Lotus.
Cliffs debut with Lotus took place at the Goodwood Nine Hour race of 1955 when he was entered in a Lotus IX fitted with an 1100cc Climax engine with Ron Flockhart. In practice Cliff was only a second and a half slower than Chapman himself who was running a 1500cc Climax engine. In the race Flockhart and Allison retired with an oil leak in the gearbox.
However, it was the RAC Tourist Trophy race at Dundrod that Cliff always remembered. For this Chapman was out to win the Index of Performance and so he and Cliff shared a Lotus IX fitted with disc brakes and Borrani wire wheels.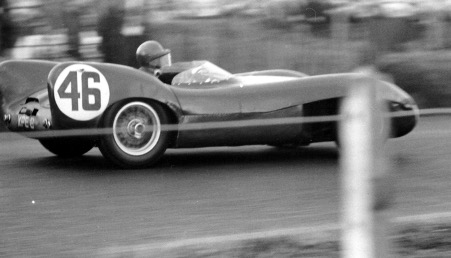 The car proved to be something of a bullet and was easily leading the class when Chapman noticed an oil leak and dived into the pits. It took eleven minutes to make a repair yet Chapman and Allison were able to catch up with the class-leading Cooper-Climax of Ivor Bueb. On such a narrow and dangerous circuit – three drives had been killed in that race alone – they just could not get past the Cooper and had to be content with second in the Class.
At the 1956 Le Mans race Cliff was paired with his friend Keith Hall in a Lotus Eleven and might have done well in the event but when Cliff was at the wheel a hare dashed across the road in front of him closely followed by a German Shepherd dog. Cliff at high speed decided to drive around the back of the dog only to watch it turn round and start to go back when Cliff hit it and was he lucky to end up with only a badly battered Lotus rather than a huge accident.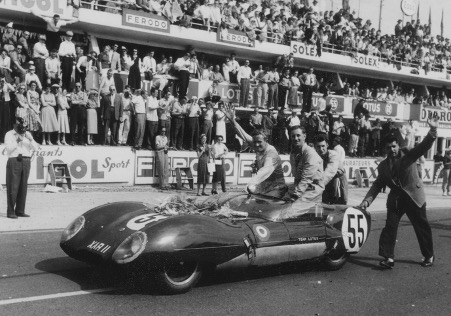 Winners of the index of Performance at Le Mans in 1956, Cliff Allison and Keith Hall with the 750cc Lotus Eleven.
All this time Cliff was still racing in 500cc Formula 3 but that soon ended for at the London Motor Show of 1956. Colin Chapman showed the Lotus 12 Formula 2 car and Cliff tested it for the first time in March 1957.
For Le Mans that year Chapman decided to face the French head-on and run a Lotus Eleven for Cliff and Keith hall with a 750cc version of the 1100 Climax. The engine had a shorter stroke, produced around 60 bhp, ran at its best at 6,000 rpm and was timed on the Mulsanne Straight at over 114 mph. In the end the little car finished 14th overall not only winning the 750cc class but the Index of Performance.
Cliff Allison's Formula 1 debut was to come at Monaco in 1958 when he and Graham Hill were entered in Lotus 12's fitted with Climax engines. At Monaco Graham Hill managed to get his Lotus up to sixth place but retired and it was left to Cliff who finished sixth and gave Colin Chapman his first Championship point in Formula 1.
That year, however, there was a little bit of chicanery at Nurburgring where Colin Chapman entered Cliff in the new Lotus 16 and Graham Hill in the Lotus 12 F2 car. Graham looked like he was not going to qualify so he came into the pits and Cliff explains what happened next:
" What we did was drive both the Formula 1 and Formula 2 cars into the garages and swapped the numbers over so that Graham could practice in my Formula 1 car. I remember telling him that the Formula 1 car was bloody quick and for God's sake not to bend it. And so what did he do, he drove it into the bushes on the descent to Adenau Bridge. Unfortunately the car was so new Colin didn't have any spares for it so they had to just weld up the chassis which was no great problem but the radiator was broken and we didn't have another one. The mechanics had to do their best with a soldering iron. In the race I was actually doing quite well but the radiator started to leak and so I had to come in at the end of every lap to fill it with water so I gradually fell back until I eventually had to retire."
The London Motor Show was a mecca for drivers looking for drives in 1959. For Cliff, however it was important for companies in the motor trade to do deals with their manufacturers. Cliff duly appeared on the Lotus stand and guy in a smart suit came up to him and suggested that he go to the Ferrari stand as they would like to talk to him. He was asked if he would like to go to Modena and test a Ferrari grand prix car.
It later transpired that Mike Hawthorn, knew he was going to retire from racing at the end of the 1958 racing season. Enzo Ferrari had said to Hawthorn he would like to have another British driver so Mike had recommended Cliff Allison.
When Cliff arrived at Modena railway station Enzo Ferrari himself was there to pick him up and on the drive to Maranello Enzo explained that this was just a chance to drive a car, no promises, no contracts and the like.
Cliff was not impressed by the Modena Autodrome which was not in a great state and he described it as like driving in a Safeway car park. He was also not impressed with the Dino grand prix car he drove as it was one of the old ones with drum brakes and Cliff had been used to a lightweight Lotus with discs.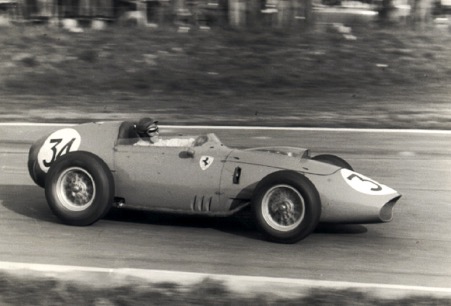 To his surprise Cliff was quicker than the legendary Ferrari test driver Martino Severi and was offered a contract for 1959 but Cliff was contracted to Esso. However, Shell, who were signed with Ferrari agreed to pay Cliff the same money as Esso had done and so he signed up. The Shell money never came, and all in all it was not a happy time for Cliff as he did not want to move to Italy with his wife and young family and so could be hauled out to Modena at any time.
He drove sports cars but that year the sports cars were unreliable and kept breaking things however, it was in a sports car he had his first race at a member of Scuderia Ferrari. This was Sebring where he shared a car with the mercurial Jean Behra.
They shared a room in the hotel and on the first night, Cliff was astonished when Behra climbed into bed and promptly took his plastic ear off and placed it on the bedside table!
Cliff competed in the Targa Florio, Nurburgring and Le Mans, the latter being a disaster for Ferrari as all the factory 250 TR's retired including the car Cliff shared with Grand Prix Drivers Club Member Hermano da Silva Ramos. His only sports car consolation came in the TT at Goodwood. He was paired with Phil Hill in the TR59 but it retired so he was grafted into the car that was to finish in 3rd place driven by Cliff, Hill, Brooks and Gendebien.
When it came to grand prix racing in 1959 his debut for Ferrari was at Monaco, not in a Formula 1 car but in a Formula II car. Only two other Formula 2 cars qualified, Wolfgang von Trips in a Porsche 718 and Bruce Halford in a Lotus 16 that started from the back of the grid. As the Porsche was lighter von Trips had a good start and on the opening lap had Cliff on his tail and Bruce Halford was running last.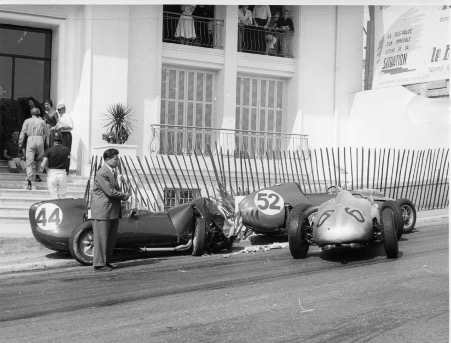 At the start of the second lap von Trips arrived too fast at St Devote, swerved across the road and Allison turned left to avoid t-boning von Trips and rode up the front steps of a house leaving Halford nowhere to go but to hit both the Ferrari and Porsche. It was not a fun season and Cliff's 5th place in the Italian grand prix was his best. Things looked up in 1960 as he took second place in the first race in Argentina and then came Monaco again and this time things were much worse.
Ferrari had built Cliff a Dino with a slightly longer wheelbase and they had tilted the engine so the gearchange was now on the right and not the left. They had also reversed the gearbox so in practice for Monaco Cliff came out of the tunnel and dived down to the chicane changing down as he thought from fifth gear to fourth but because they had changed the gearbox round he went from fifth to second and the car went off at high speed hitting the barriers and throwing Cliff out on to the road.
He was seriously injured and it ended his career with Ferrari. However, he did return to racing the following year joining Ken Gregory's UDT Laystall team and ran in two grands prix driving their Lotus 18 Climax. This also led to him racing a unique Lotus Elite at Le Mans with Mike McKee. Climax had developed a 1.5 litre V8 engine for Formula one but as an exercise they but it in half and made the FWMC, a 750cc four-cylinder as a development exercise. What made this engine interesting was that it produced 83 bhp which was roughly the same as the 1.2 litre Climax engine so it clearly had a chance to win the Index of Performance at Le Mans. In fact, he led it for the first eleven hours of the race before the engine broke and they were out.
Cliff, however, was not happy and it all came to a sad end at Spa where Ken Gregory had entered just one Lotus 18 for the race but it was clear that Cliff and Henry Taylor would practice the car and faster man would get the drive. Cliff went out first and had a huge crash.
As Cliff opined: "It was quite obvious whoever went quicker was going to drive the car which is a most unsatisfactory arrangement. I'm not saying that was what caused my accident, but obviously I was going as quickly as I could. I was, however, guilty of overdriving the car. I just purely ran out of opposite lock going through Blanchemont. I had started drifting round the corner on to the inside of the track and once it hit the earth it just went over and over which wasn't nice."
By this time Cliff had bought a farm near the garage in Brough and the accident was the final decider for him to retire from motor racing and live a quieter life. However, he did not accept this gracefully and for some time he refused to visit races and clearly missed being on the circuits.
At home Cliff not only ran the garage business but he and his wife Mabel took turns driving the local school bus.
Cliff Allison was a modest man with rural values so that returning home was no great problem. He was back with some of his old friends and admitted that perhaps he could have made more money in racing but somehow it did not seem to matter. He had achieved more than most young men from more sophisticated backgrounds achieved.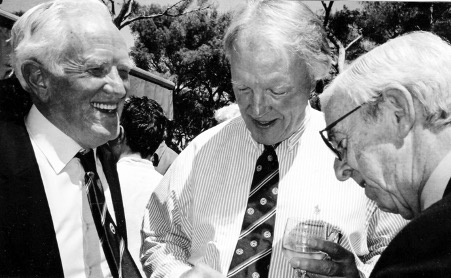 Cliff later joined the Grand Prix Drivers Club and attended many of the events with his wife Mabel. As a result of this, he was occasionally invited to drive cars on demonstration runs which included not only a Ferrari Dino grand prix car and one of the UDT-Laystall Lotus 18's he had once raced.
Then, in April 7 2005, he set off on a modest caravan holiday to Derwentwater with his wife Mabel and when driving up the hill into the village he slumped over the steering wheel with a massive heart attack. Mabel leaned over to knock it out of gear and when the car stopped a villager ran over and switched off the ignition.
There was an irony in his passing. He died almost exactly thirty-seven years to the hour after his hero, Jim Clark, had been killed at Hockenheim.
Graham Gauld