A good friend of the Grand Prix Drivers Club was John Hogan who tragically died at the age of 77 on Sunday January 3 as a result of being struck down by Covid 19.
John Hogan will always be associated with the Marlboro brand and the manner in which he was instrumental in spreading the name Marlboro throughout motor racing not only with racing car sponsorship but through supporting publicity.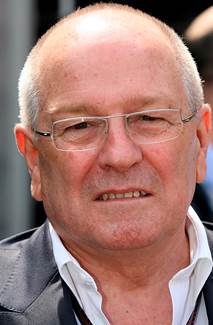 He was born in Australia but felt that London may be a better place to develop his talents which were marketing and public relations. He trained at Nestle but then went into the advertising business and when he arrived at one of the leading agencies, Benton & Bowles and later Erwin Wasey the agency that handled Coca Cola.
By then he had become interested in motor racing and He befriended and helped both James Hunt and the up and coming Scottish driver Gerry Birrell and Birrell campaigned in Formula 2 with Coca Cola sponsorship thanks to "Hogie" as he was called. He first linked up with Ron Dennis in Formula 2 when Dennis was running the Rondel team which was to pay dividends later.
However, greater things were to develop when he joined the giant Philip Morris company at their European headquarters in Switzerland and the account for one of their leading cigarette brands, Marlboro who already had a Tuolo de Graffenried, one of the founders of the Grand Prix Drivers Club, as their link to motor racing.
However, it was Hogan who realised the promotional potential of motor racing and one of his first links came when he provided some capital to Frank Williams to sponsor the Iso-Marlboro Formula 1 car alongside the Marlboro money that sponsored BRM at the time. He quickly realised he needed to find a winning team and as Ron Dennis was now running his own McLaren racing team the Marlboro money, thanks to John Hogan moved to McLaren where Hogans friendship with James Hunt came into play and Hunt was to give the Marlboro McLaren team the World Championship in 1976.
From then onwards, John Hogan, who never sought personal publicity, provided money to Giles Villeneuve to smooth his path into Ferrari and Marlboro were to become major sponsors of Ferrari. Hogan was also influential in helping Niki Lauda, Alain Prost and Ayrton Senna and Mika Hakkinen thanks to the support of the Marlboro World Championship team set up to fund up and coming talent.
Meanwhile, back in Switzerland with Philip Morris John Hogan was promoted to Vice-President of Marketing from which position he retired in 2002. In 2014 he joined the Club Members at their annual Monaco Grand Prix lunch at the old Yacht Club where he was greeted with great affection.
Many members of the present Grand Prix Drivers Club owe part of their career path to John Hogan and the Club sends condolences to his wife Annie and his children Ally and Andrew.