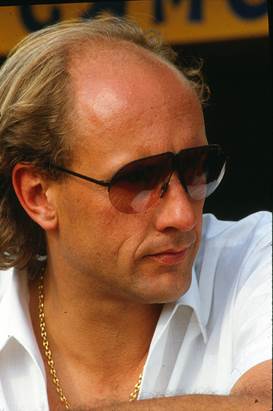 Hans Joachim Stuck.
Firstly apologies to Hans Joachim Stuck for missing his birthday which fell on January 1 of this year. Hans celebrated his 70th birthday after a long career in motor sport originally in the shadow of his father's successes driving for Auto Union in the 1930s.
However Hans Joachim quickly developed a successful career in racing and had his first Formula 1 Grand Prix in the 1974 Argentine Grand Prix driving a March 741-Cosworth. It was in sports car racing that he truly excelled. His first major win was in the 1972 Eifelrennen driving a Ford Cologne Capri and he won the Le Mans 24 Hour Race for the Rothmans Porsche team in a 962C with Derek Bell and Al Holbert.
Emanuele Pirro.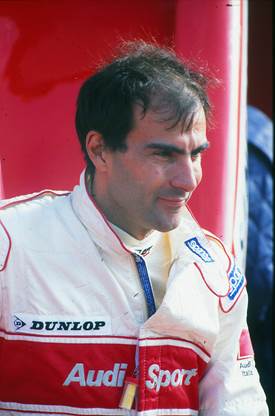 Today, January 12 we celebrate the 60th birthday of our current president, Emanuele Pirro.
Emanuele, raced in Formula 1 and Sports cars. He raced with Benetton and Scuderia Italia in the former and started his International sports car career in 1981 in the Daytona 24 Hour race with a Lancia Turbo. He raced for BMW on many occasions but in 2000 he joined the Audi team driving the legendary A8 and won his first race with them, the Sebring 12 Hours alongside Tom Kristensen and Frank Biela and the trio went on to win the Le Mans 24 hours that year.
Since then Emanuele has added Le Mans wins in 2002, 2003, 2006 and 2007.
The Grand Prix Drivers Club wishes Hans Joachim and Emanuele a happy birthday.