I cannot believe that today,( August 28), marks the sixth anniversary of the passing of our former President, Phil Hill, America's first World Champion Grand Prix driver.
[Row][Column]
I remember the first time I met him when he was the new young US driver on the block visiting Modena prior to the final sports car race in the 1957 World Championship. He was due to race a Ferrari 335S in that event which he won with Peter Collins.
It was September and Phil was at the Modena Autodrome, not to race but as a spectator at the 1957 Modena Grand Prix. His good friend Peter Collins was due to race a Ferrari Dino grand prix car for the first time in the event, Ferrari having produced two Dinos to be raced by Collins and Luigi Musso.
Up to then Ferrari had run in Formula 2 with a Dino but now he had opened out the engines with a view to producing a full 2.5 litre V6 for the 1958 season. I will always remember Phil on the starting grid in sports shirt and slacks talking to Peter Collins. He clearly wished that he was at the wheel of the car and yet Enzo Ferrari kept him in sports cars. Indeed it was not until a year later that Phil raced a grand prix car for the first time, in the French Grand Prix at Reims; and it was not a Ferrari!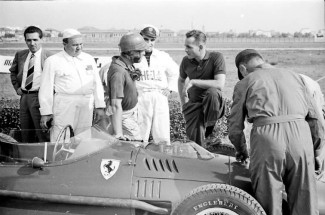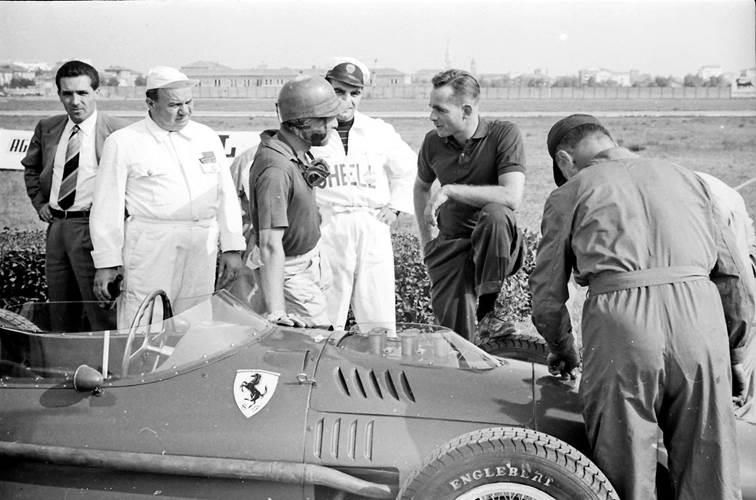 [/Column][Column]
Joakim Bonnier, who owned a Maserati 250F offered his car to Phil for the race and he went out and finished seventh, admittedly a lap behind. However,it was enough to give Enzo Ferrari the nudge and realise that what Phil really wanted to do was race in Formula 1. Exactly one month later Ferrari entered Phil for the German Grand Prix at Nurburgring with the Dino Formula 2 car. In practice he was second fastest Formula 2 runner and qualified ahead of Jean Behra's factory BRM P25. In the race he got up to 7th place but then was slowed by problems and finished 9th.
Back in Maranello Enzo realised that perhaps he had been mistaken and a few weeks later promoted Phil to the factory Formula 1 team alongside Von Trips, Hawthorn and Gendebien. In practice he lined up alongside Von Trips and Gendebien on the second row of the grid and finished third. Three years later he was World Champion.[/Column][/Row]