International motor racing and Formula 1 lost one of its greatest and enigmatic characters with the passing of Guy Ligier.
[Row][Column]
If one wanted to write a Hollywood script about a racing driver who started out with nothing, went on to race in Formula 1 late in life and then to found and run his own grand prix team then the Ligier story would be easy to adapt for the screen.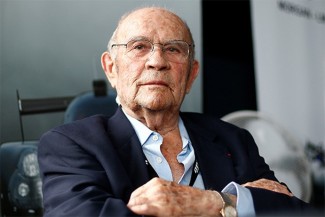 Guy Ligier was orphaned at an early age and left school to start work in a butchers shop. His story is truly one of rags to riches as he was determined to succeed in life as a builder. His first sporting successes came in rugby where he was a tough and determined player but behind it all he had a fascinating with wheels.
He did some motor cycle racing before turning to cars. He financed all of this through his construction company which prospered in the early 1960s when the French motorway network was being greatly expanded.
His motor racing career started when he was 33 years of age with a Porsche Carrera before moving on to Formula 2 and then GT racing.He finished 7th in his first Le Mans 24 Hour race in 1964 winning the 2 litre class with co-driver Robert Buchet.
Two years later he was back at Le Mans this time entered by Ford France in a Ford GT40 that he shared with Bob Grossman. At the Reims 12 hour race he won outright alongside his great friend Jo Schlesser in the GT40
That year, 1966, Guy Ligier moved into Formula 1 buying a Cooper-Maserati V12. Sadly at the Nurburgring he had an accident which badly damaged his knee. This did not stop him, however, and for 1967 he bought a Brabham-Repco BT20 with which he had more success claiming 6th place in the German Grand Prix at the Nurburging.[/Column][Column]
He then decided to go back to Formula 2 and by now he and Jo Schlesser had formed Ecurie Inter-Sport running two McLaren M4As. However, in the French Grand Prix when driving the new air-cooled Honda grand prix car, Schlesser crashed and was killed. Guy withdrew from Formula 2 but was later to develop his own sports car, the Ligier JS1 and later the JS2 which he ran at Le Mans in 1970 with Jean-Claude Andruet. The "JS" was in respect to his old friend Joe Schlesser.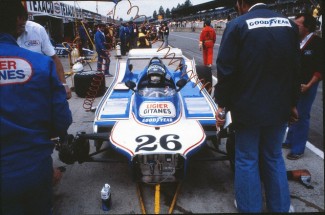 Guy Ligier was well respected in the Vichy area, where he was born, and was a close friend of an up and coming politician called Francois Mitterand .
Ligier was able to buy Matra-Sports in 1974 and developed his own Formula 1 team in 1976 with Jacques Lafitte as his first driver. He was instrumental in developing not only Lafitte but Patrick Depaillier and Didier Pironi. This marked the beginning of a successful period for French racing drivers. It was no surprise therefore when Guy Ligier was facing problems in financing the team his old friend, now President Mitterand of France, persuaded the government owned companies Gitanes, Elf and Lotto to help sponsor this truly French grand prix team. Ligier was also involved in the development of the Magny Cours circuit for grand prix racing but in 1996 he sold the team to Alain Prost who then ran as Prost Grand Prix.
Now in his sixties, Guy Ligier embarked on another career in the fertiliser business as well as building a new small factory to build micro cars which is still in production. Guy was a long time honorary member of the Grand Prix Drivers club.
From very humble beginnings but with a tough determination to succeed, whether in business, rugby or motor racing, Guy Ligier proved that there are no limits to talent and ingenuity.
[/Column][/Row]
Avec Guy Ligier, le bonheur était en bleu France
[Row][Column]
Guy Ligier né le 12 juillet 1930 à Vichy, disparu le dimanche 23 août 2015, à 85 ans. Guy Ligier, c'est une longue  histoire multi-sport et au  fond, un  nom qui a toujours appartenu au patrimoine sportif de la France.
Guy Ligier c'est aussi une histoire exemplaire. Orphelin à l'âge de 7 ans il débute comme apprenti boucher dans sa  ville natale de Vichy.
Avec ses premières économies, il achète un bulldozer et se lance dans le BTP: Ligier Travaux Publics à Vichy. L'entreprise décroche de nombreux marchés en travaux autoroutiers, ponts, barrages et aménagements. Sur le plan sportif,  son patron devient champion de France d'aviron en 1947 et connaît une carrière méritante en rugby à XV: il est international en équipe de France B et militaire.
Guy Ligier rentre tardivement dans le monde de la compétition automobile, malgré une toute première approche lors des Coupes parisiennes du Salon en 1957 sur Simca 1300. Il débute en 1964 en Formule 2 et dispute également des courses d'endurance avec quelques succès internationaux de classe, essentiellement en 1966 et 1967. En 1965, il aligne une victoire lors du 24e Grand Prix de Albi Sports pour Ford. Rien n'arrête plus Guy : En 1966, il devient Champion de France des rallyes en catégorie 'Grand Tourisme, Sport, Sport-prototype' sur Ford Mustang-Shelby 5L. (350CV) de l'écurie Ford-France, grâce à ses bons résultats obtenus dans les courses comportant des épreuves sur circuits de vitesse telles le rallye de l'A.C.O. (circuit Bugatti) et le
rallye du Limousin (circuit de Charade).  En 1966, le 22 mai 1966 à Monaco Guy prend le volant d'une Formule 1 et  s'aligne notamment contre Jim Clark, John Surtees, Jackie Stewart,  Graham Hill, Bob Bondurant, Lorenzo Bandini…. Il se bat contre les  géants de l'époque douze Grand Prix de Formule 1, obtient un point au  Championnat du monde des pilotes grâce à sa sixième place au Grand Prix  d'Allemagne 1967 sur une F1 Brabham-Repco.  Une carrière en Formule 1 qui lui  donne le privilège de faire partie  de-facto coopté par le  Club des Pilotes de Formule I le GPDC fondé en   1962 par Louis Chiron, Gianfranco Comotti, Albert Divo, Juan Manuel  Fangio, Nino Farina, Paul Frère, Toulo de Graffenried, Yves Giraud et  Robert Manzon.
[/Column][Column]
Insatiable, en 1967, Guy Ligier remporte les 12 Heures de Reims avec son  ami proche Jo Schlesser sur Ford. Il revient en Formule 2 un an plus tard, mais le décès de Jo Schlesser lors du Grand Prix de France 1968 conduit Ligier à annoncer sa retraite de pilote.  Guy Ligier reprend le volant en 1970 pour les 24 Heures du Mans à bord  d'une voiture de sa conception, la JS1 (JS comme Jo Schlesser) et  participe à diverses courses d'endurance avec ses propres voitures  jusqu'en 1974.
Guy Ligier est également, et surtout  connu comme constructeur automobile, fondateur  de la marque Ligier. Ligier a d'abord proposé quelques modèles de  voitures GT de route et commercialise notamment le célèbre coupé JS2  avant de se lancer dans la production de voitures sans permis.
Guy Ligier restera toujours dans le cœur des Français pour avoir fondé son écurie de course de Formule 1, en 1976, et dont le palmarès s'enrichira de  neuf victoires entre 1977 et 1996. Inoubliable, l'écurie Ligier se  classa deuxième au championnat du monde des constructeurs en 1980. Plus près de nous, c'est  le dimanche 19 mai 1996 qu'Olivier Panis signera la victoire du Grand Prix de Monaco avec la  Ligier JS43. "A ce moment là, nous n'étions qu'une écurie française privée, montée  avec des moyens financiers restreints" rappelait souvent Guy Ligier.  Mais une écurie qui avait conquis le cœur de tous les Français et qui  fut successivement  motorisée par Matra, Renault, Megatron, Judd, Mugen ou Ford.
Des souvenirs, Guy en avait de toutes les couleurs, dont ceux liés à ce fantastique début de saison 1979. "J'avais laissé  partir l'écurie sans moi, en Argentine et au Brésil, avec Jacques  Laffite et Patrick Depailler". Premier coup de théâtre: le 21 janvier, à  Buenos Aires, Laffite et Depailler se partageaient une première ligne  tout en bleu.
Au téléphone, Jacques hurlait: " Tu vas voir,  je te promets que je gagne demain." Il avait vu juste. A Interlagos, une semaine plus tard, Laffite et Depailler remettent ça,  aux essais comme en course.  Guy est sur le plateau de la Télévision  française pour vivre ça en direct.
Liquéfié. Le lendemain matin,  dans le froid de ce lundi 5 février,  il accueillit ses gars à Roissy. "Pendant plusieurs semaines j'ai vécu sur un petit nuage. Tout bleu".  Avec le recul du temps, ce double triomphe en Amérique du Sud était  l'acte fondateur de l'écurie Ligier. "La France profonde nous avait découverts et aimés".  Les Ligier arpentent les circuits jusqu'en 1996, avec  un dernier sursaut marqué par l'unique victoire d'Olivier Panis, au Grand  Prix de Monaco.
Avec Guy Ligier, le bonheur était en bleu France [/Column][/Row]