Since I was young I had always been intrigued by one of the many private owners who bought grand prix cars to race in the 1930s.
His name was Whitney Straight and it was rare in those days for an American driver to compete in grand prix racing but he was living in England at the time. He was also the first American  member of the Grand Prix Drivers Club.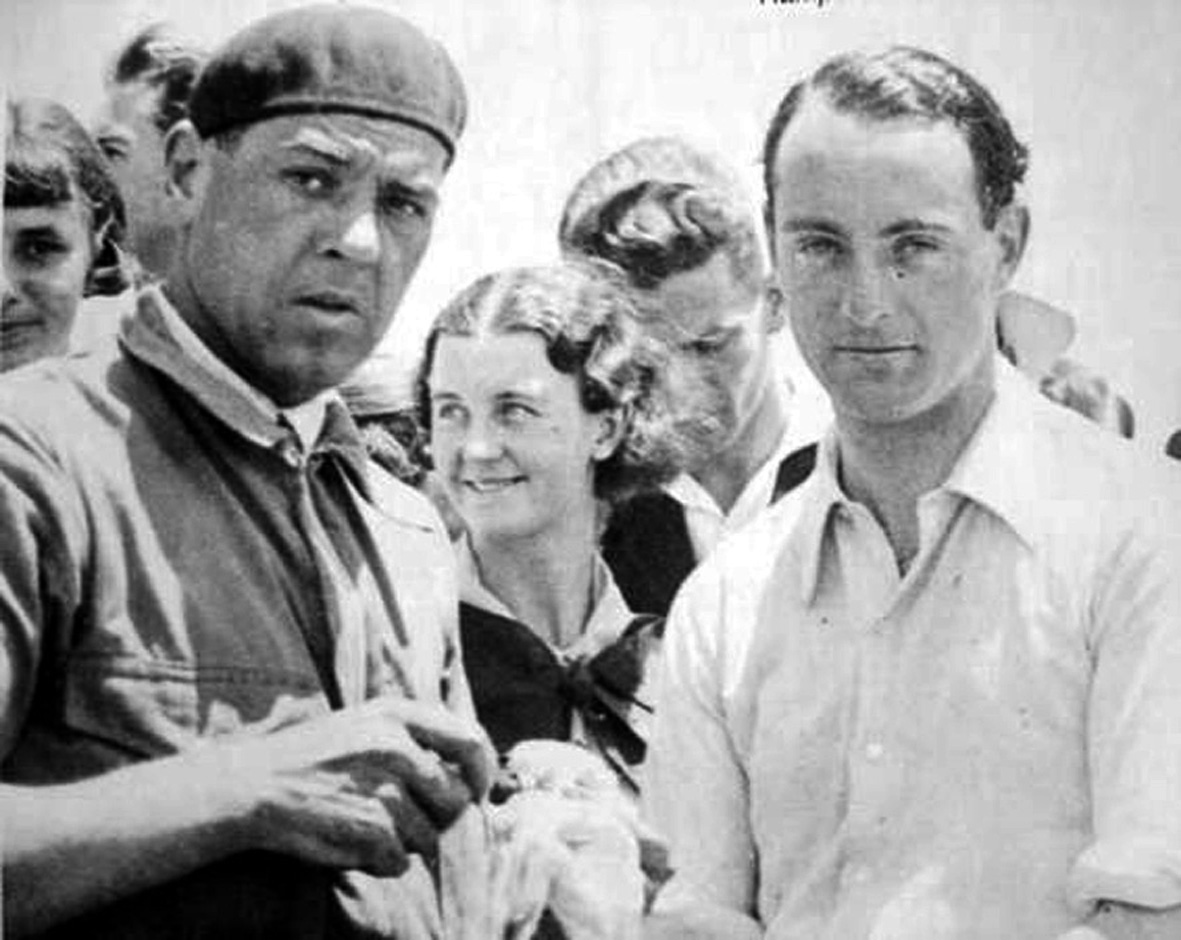 Whitney Straight's life story was one suffused with adventure, aviation and privilege.  His father, Willard Dickerman Straight, graduated from Cornell University with an architectural degree but joined the Imperial Chinese Maritime Customs Service as secretary to the Inspector General. Straight was a very ambitions young man and made his fortune in Peking.
It was in Peking he met Dorothy Payne Whitney, heiress to the vast Whitney family fortune. Two years later they were married and returned to the United States where their first son, Whitney Willard Straight, was born in 1912.
In the first World War Whitney's father rose to the rank of Major but in 1918, during the Paris Peace Conference, he died of pneumonia. His son Whitney was just six years old.
When his mother later married Englishman Leonard Elmhirst the family went to England and even as a young man Whitney loved speed and could fly a plane at 16, despite being too young to get a pilots licence.
At Cambridge he became involved with the motor racing set and befriended English driver Dick Seaman. They competed against each other, Seaman in his Riley and later his Bugatti, and Straight with a K3 MG Magnette.  Indeed, when Seaman left Cambridge and decided to become a racing driver it was Straight's K3 that he bought.
Straight then bought  a Maserati 26M that had been raced in 1930 by "Tim" Birkin.
He had a great season racing the Maserati and this led him to set up his own private team of Maserati's for the 1934 season. He ordered three new 8CM 3 litre supercharged Maseratis from the factory but kept his earlier Maserati 26M so planned to run the season with four cars. The older Maserati and two of the 8CM's were kept in England and given "snowplough" noses but the third 8CM was based in Milan . Tragically the Irish driver Hugh Hamilton was killed in the "Italian" car.
The cars were renamed Straight-Maseratis and painted white and blue, the American racing colours. Straight also designed his own emblem which featured the letter "W" but in elongated art-deco style so that it resembled the trident badge of Maserati.
The Straight team schedule for 1934, when they were essentially running four cars, was almost unbelieveable when one considers that sending cars around Europe was a much slower process than it is today. The logistics involved were immense particularly when you throw in the old 26M that "Buddy" Featherstonhaugh – a jazz musician who played baritone saxophone – was driving in the smaller British events.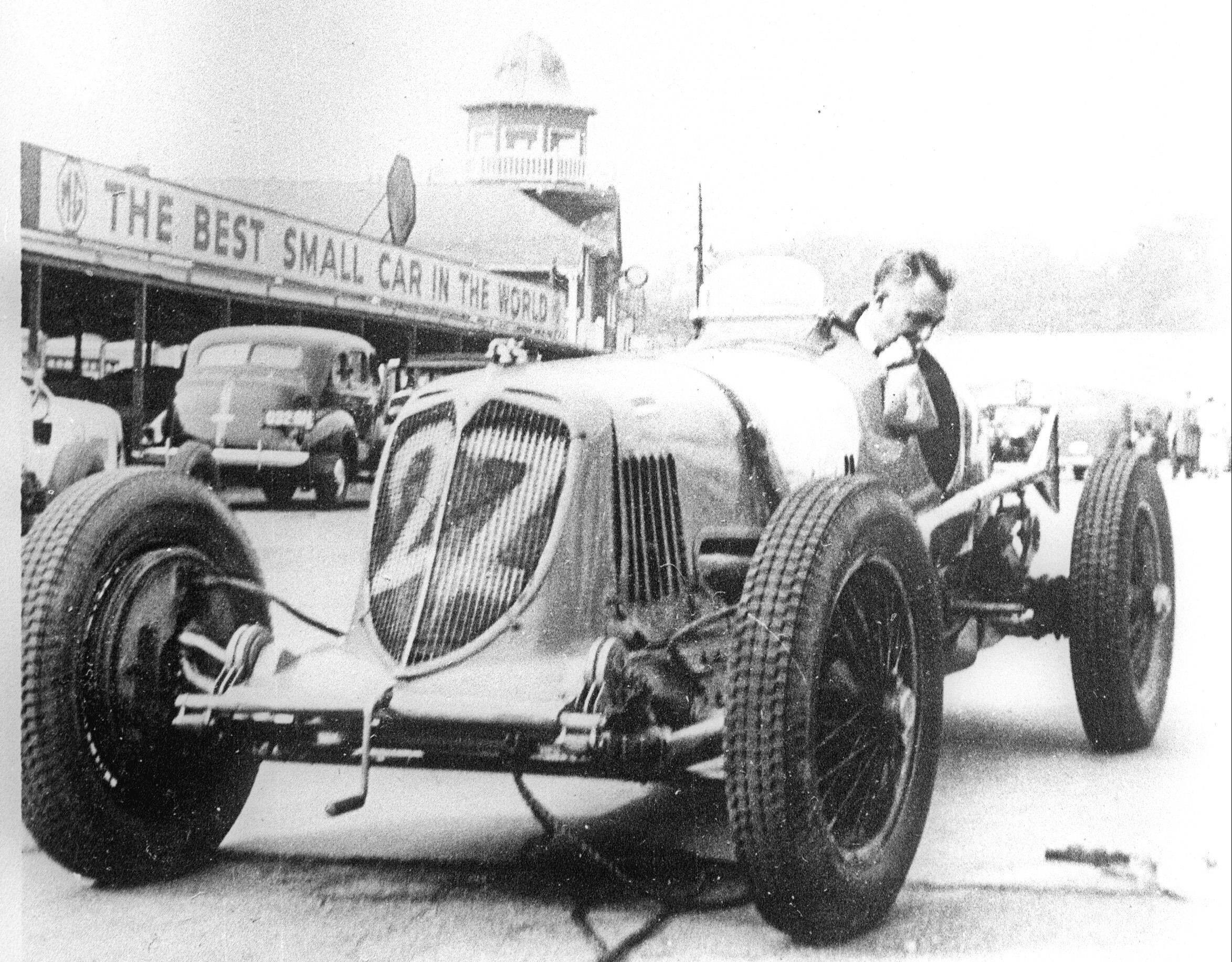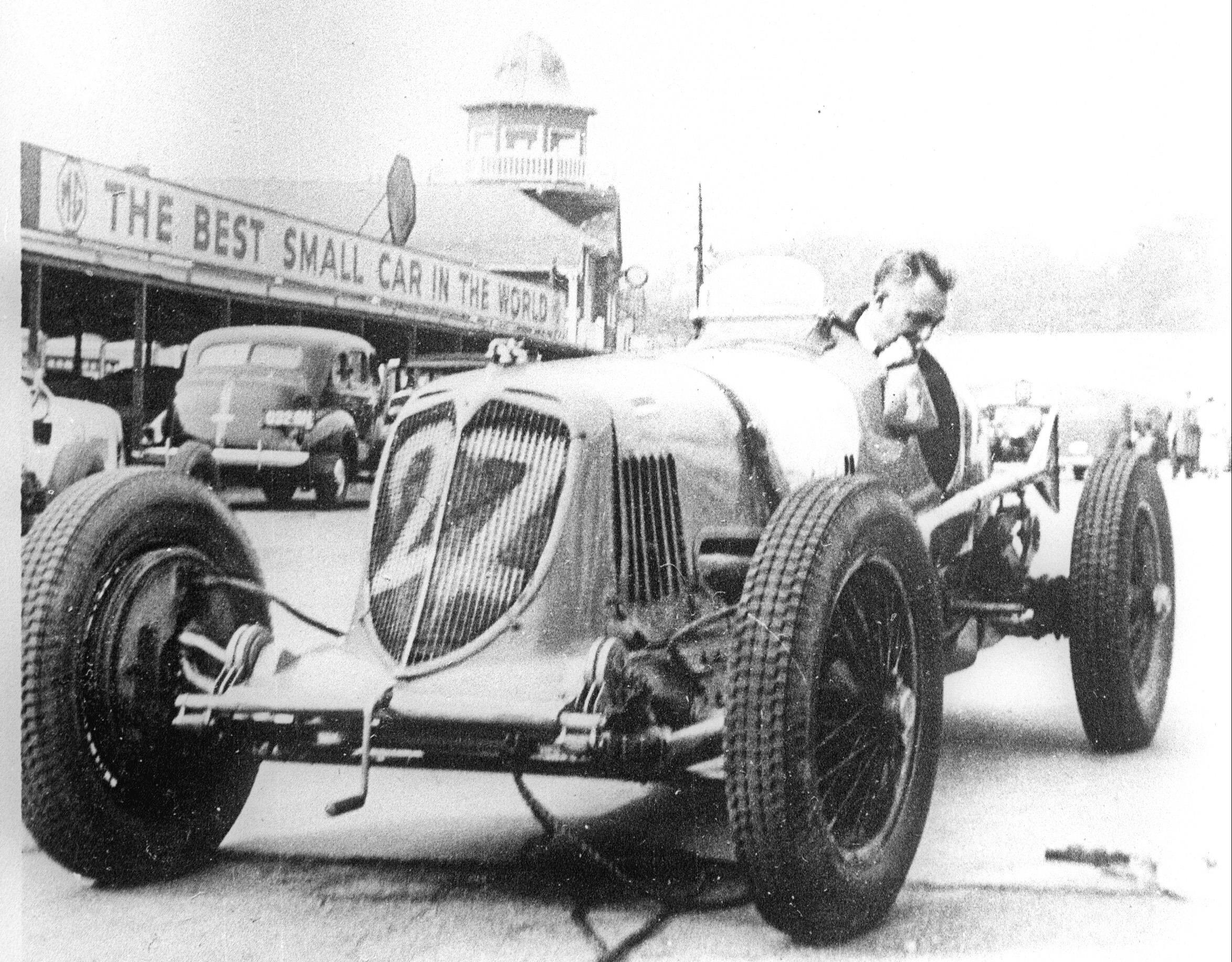 Though he had competed in his first minor grand prix event in 1933 with the 26M Whitney
Straight  opened the 1934 season literally with a bang. He crashed in practice for the Monaco Grand Prix but after repairs he finished 7th in the race. He was 8th in the Italian Grand Prix at Monza that year and had a number of victories in smaller grand prix events.
However, his various business enterprises were needing more attention and he decided to retire from racing at the end of the 1934 season. Fittingly his last race was s in the South African Grand Prix, a handicap event, where his brother Michael also raced but with a Railton-Terraplane sports car. Despite the handicapping it was Whitney Straight who swept home the winner. A fitting end to his racing.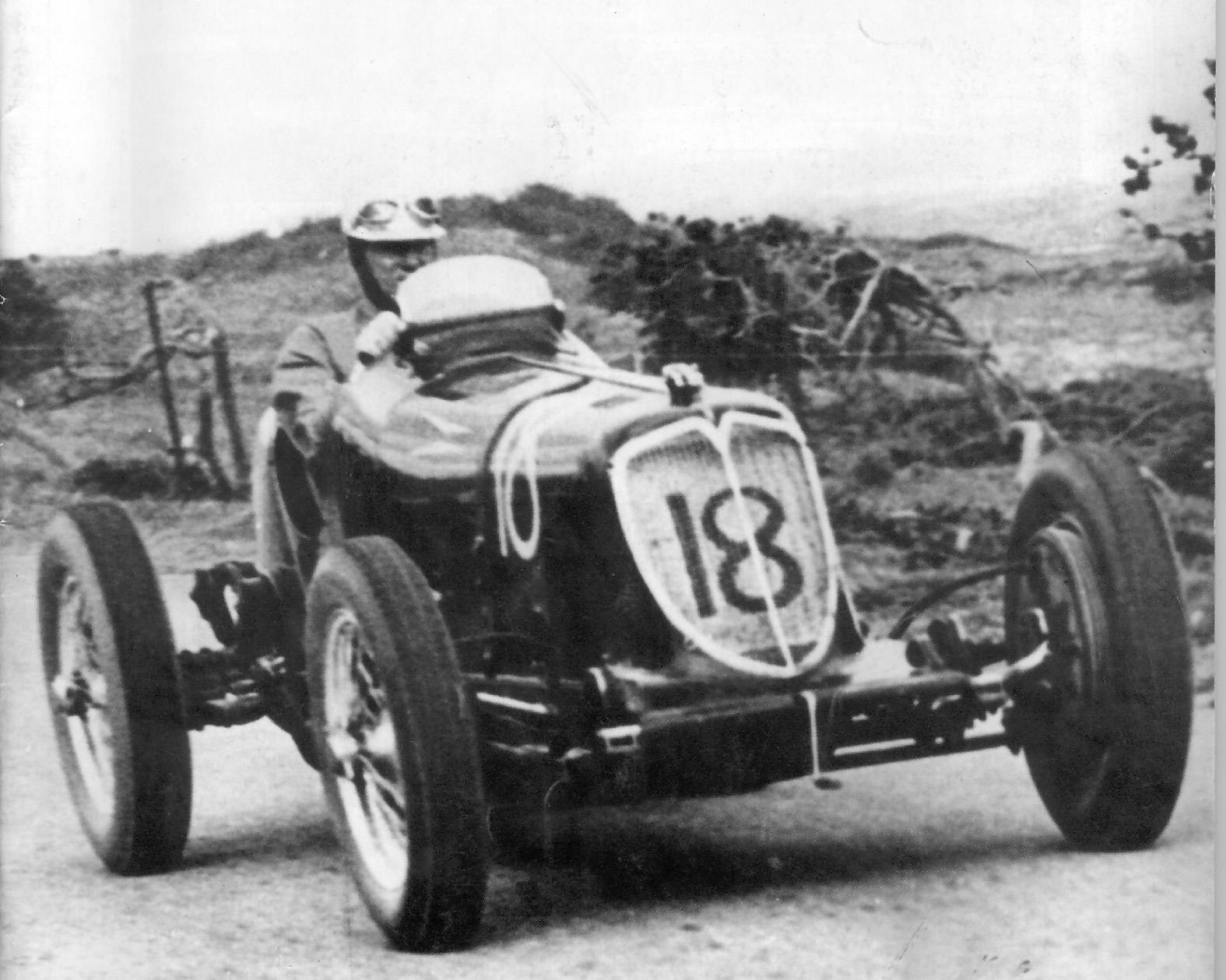 Whitney Straight had contacted Auto Union during 1934 and tried to buy one of their grand prix cars for the 1935 racing season but nothing came of the approach which also helped Straight make the decision to retire.
Accordingly,  he put his entire team up for sale including the three Dodge lorries he had used to transport them. The two "British " Maseratis 3011 and 3012 were included alongside the earlier 26M but they all lay around for some months before they found buyers. Indeed Whitney Straight decided to convert one of the 8CMs into a sports car but  it was totally impractical in London as it was a supercharged grand prix car with all the difficulties that can be imagined in London traffic even then.
Meanwhile Whitney Straight had started to set up flying clubs and ran some small airfields which was to lead to greater things. In 1938 he bought Western Airways Ltd which ran an air service in the South of England and traded as Western Airways Ltd with three de Haviland aircraft, a Dragon, a Rapide and a Puss Moth, flying out of Weston-Super-mere airfield.
On his retirement Whitney Straight developed his budding aircraft business the Straight Corporation, and even joined forces with Miles aircraft to design and build the Miles M11 "Whitney Straight" two-seater light aircraft..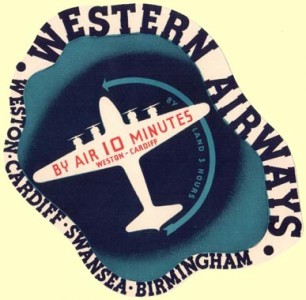 At the outbreak of war Whitney Straight enlisted in the Royal Air Force to fly Bristol Beaufort  night fighters and then moved to Hawker Hurricanes.  He was shot down twice, the first time being sent to a prisoner of war camp in France from which he escaped, and managed to get all the way to Spain with the help of the French Resistance.  Back in England he was promoted to Air Commodore and sent to Cairo in charge of transport planes, an experience that was to be of great help to him after the War.
With the War over he was offered the post of managing director and CEO of British Overseas Airways Corporation (BOAC). Meanwhile in the United States his cousin, Cornelius Vanderbilt Whitney, became President of the Aviation Corporation of America which was to change its name to Pan American Airways.
At BOAC he rose to deputy Chairman and then was appointed deputy chairman of Rolls-Royce and played a large part in the development of both companies yet he occasionally still turned up at race meetings.
Whitney Straight died on April 5 1979. He was a very talented racing driver and probably brought true professionalism to what, in the 1930's was a mainly amateur sport