An early member of the Grand Prix Drivers Club was Hans Stuck who had a successful career in racing even before World War II as a member of the Auto Union team in grand prix racing. However ten years before that, at the age of 23, he started his motor sport career driving a privately-owned Austro-Daimler in hill climbs.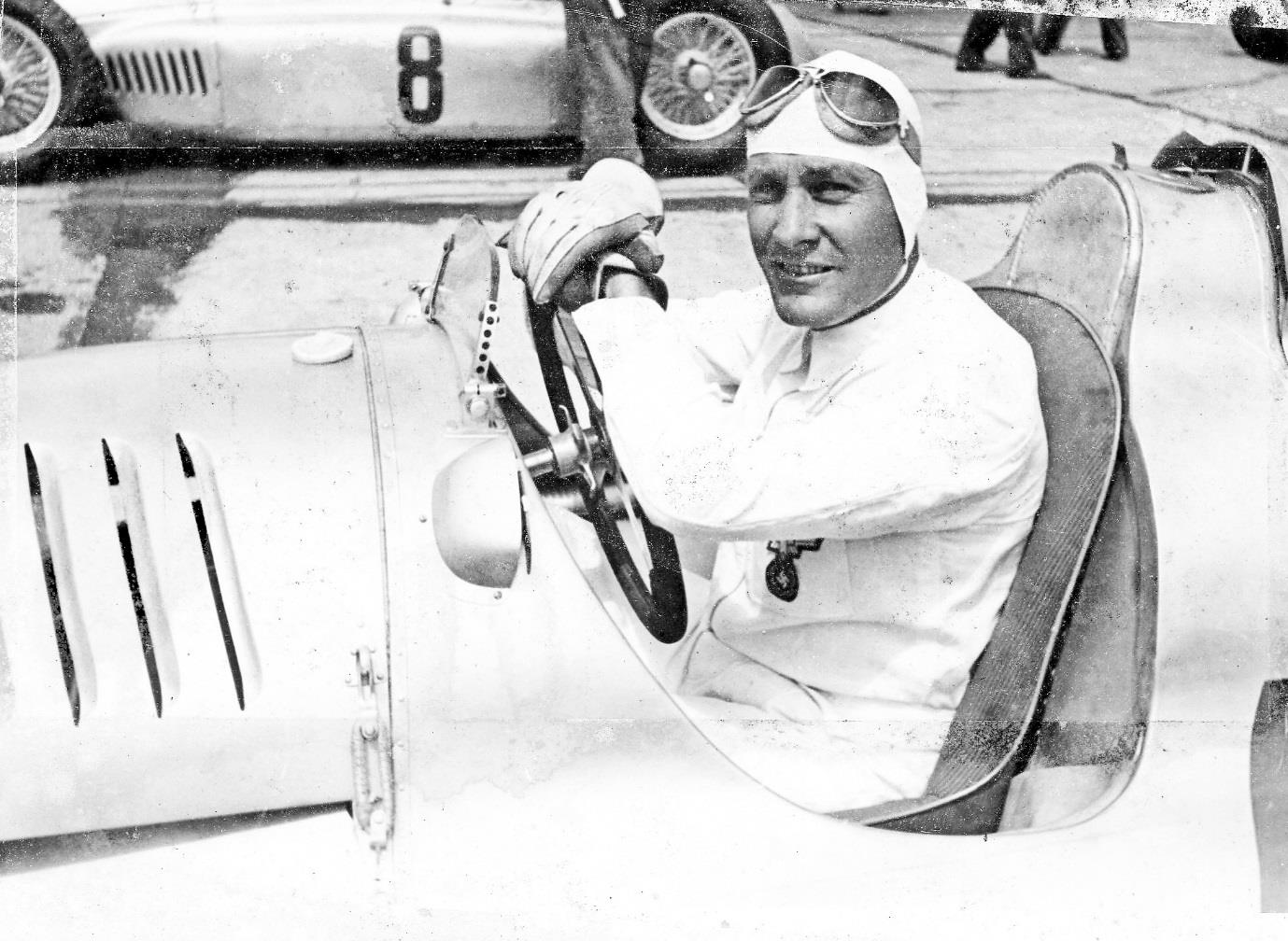 He later drove a Mercedes but his friendship with Ferdinand Porsche saw him involved with Auto Union from the start of its racing programme when it was  announced at the Berlin Motor Show in 1933. The Auto Union A types first race was the Avusrennen in May 1934 where Hans Stuck qualified fourth on the grid. On this occasion he retired with a broken clutch leaving his team mate August Momberger to give the team its first podium in third place.
Two months later, however, Auto Union entered no fewer than five cars for the German Grand Prix where they faced the full Mercedes Benz team. Despite being ninth on the grid it was Stuck who led the race at the end of the first lap and he held this lead to give AU their first grand prix victory.
As hill climbing was his metier he won the majority of his hill climb events in Auto Unions. Despite the fact that Mercedes were superior in 1938 Hans Stuck was usually one of the quickest Auto Union drivers and he was to become German Champion that year as well as European Hill Climb Champion.
At the end of World War II Hans Stuck was keen to get back into motor racing and had his first post-war race at the Prix de Geneve driving one of the little Cisitalia D46's but had to retire with a broken clutch however in the Prix de Berne, on the old Bremgarten circuit, Stuck took second place to Piero Taruffi both of them with Cisitialias.
In 1949 Hans Stuck joined Alex Von Falkenhausen's AFM team and ran in the Grand Prix de Laussane in August but his BMW-engined Formula 2 car retired with fuel problems. Though the 328 BMW engine was beginning to be uncompetitive  in Formula II Hans Stuck won his heat at Monza in 1950 defeating not only Alberto Ascari but Juan Manuel Fangio in their Ferrari 166's but ran the bearings in the Final. Soon afterwards the AFM's used Kutchen V8 engines which Stuck had helped develop.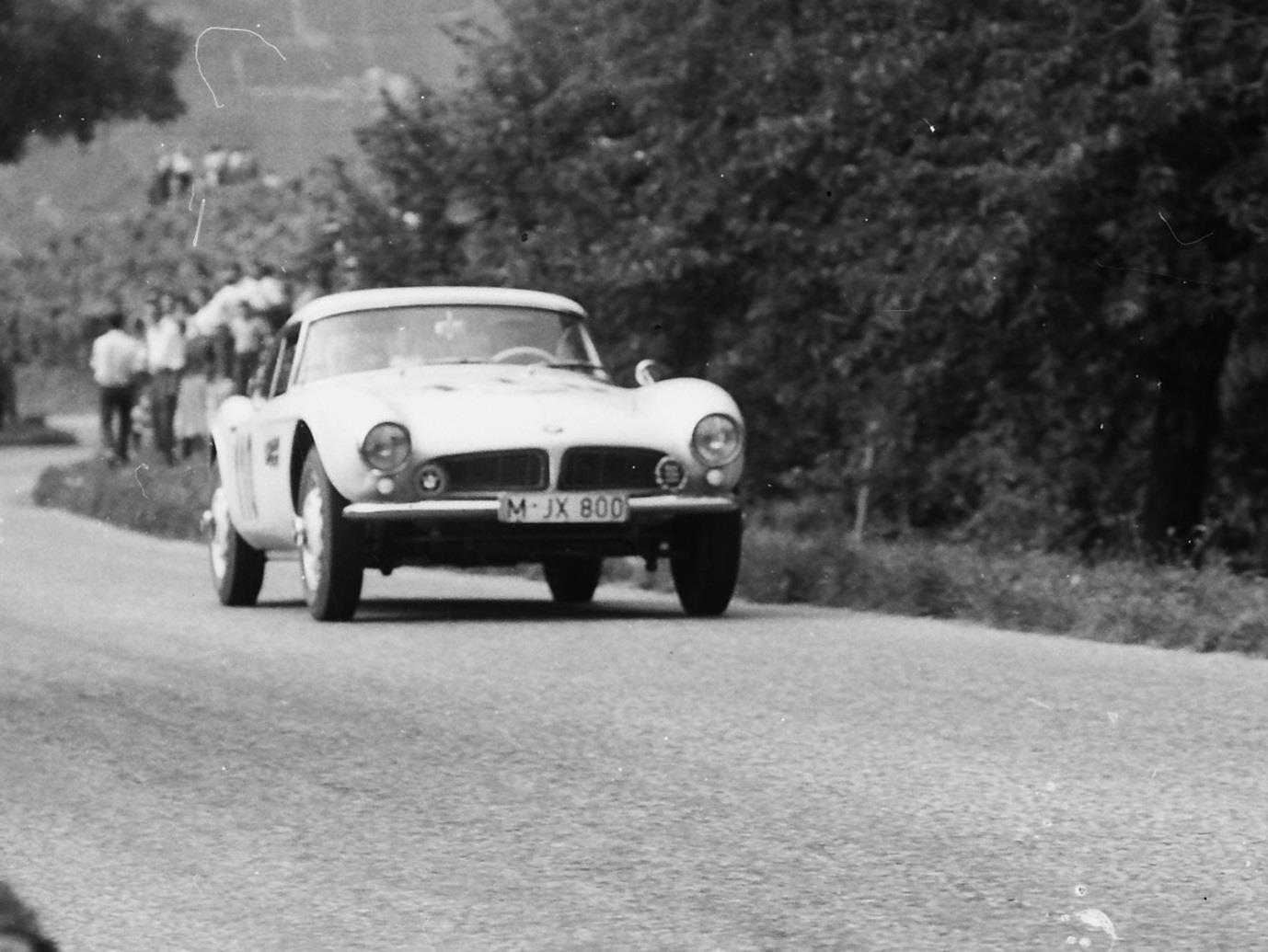 In 1951 at the age of 51, Hans Stuck was entered as reserve driver for the BRM grand prix team but the car was sadly withdrawn. Still racing with AFM, the Kutchen V8 engines proved to be unreliable;  did, however, win the Grenzlandring- Rennen ahead of Comotti's Ferrari.
Hans Stuck's enthusiasm for motor racing was unabated and he continued to run in hill climb events with the support of BMW. The writer recalls watching Stuck in action at the Ollon-Villars Hill Climb in 1958 with a factory BMW 507 and even then, at the age of 57 he could out-perform drivers thirty years younger than him. By that time his son Hans-Joachim Suck was six years of age.
Faced with a father who had been one of Germany's greatest grand prix drivers there was no doubt that Hans-Joachim, or Hans Stuck Jnr,  as most racing enthusiasts knew him would drift into motor racing. His father taught him to drive on the Nurburgring and in 1970 at the age of 19 he and Clemens Schickentanz won the 24Hour Touring Car race there in a Koepchen BMW 202Ti and he was on his way.
In 1972 he joined the Ford racing programme with the Cologne Ford Capris and won the Spa 24 hour race with Jochen Mass in that car.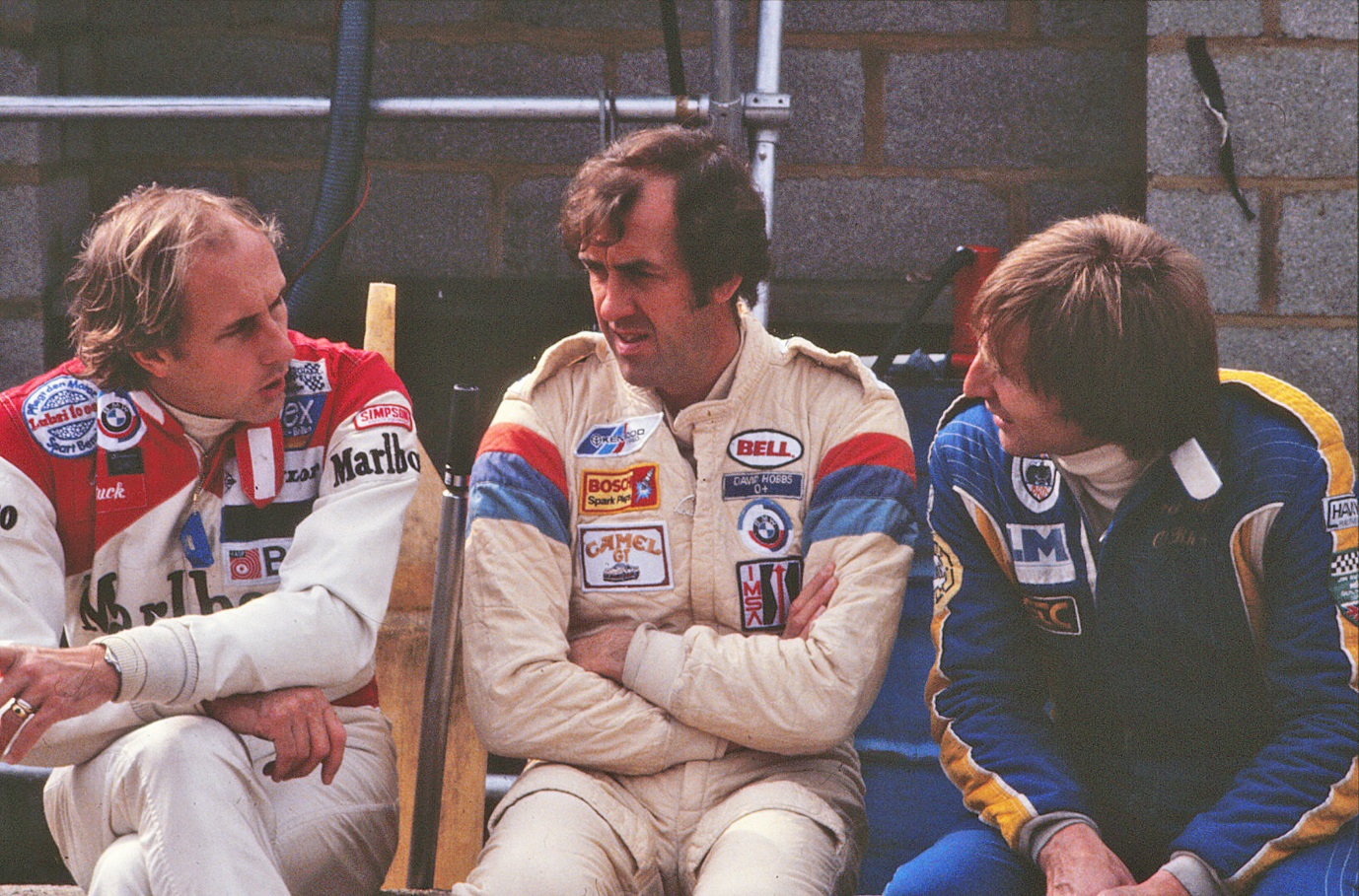 A year later, in 1973, he joined the March F2 team making his debut at Hockenheim in April and taking fourth place with his March 733. In his next race at the Nurburgring he put the March on pole position but broke a driveshaft near the end of the race when running second.
March brought Stuck into their Formula 1 team in 1974 but he continued to race a factory March in the European Formula 2 finishing second with four wins.
His grand prix Formula 1 debut was in the Argentine Grand Prix of 1974 with the March 741Cosworth alongside Howden Ganley but in his first three races for the team he suffered niggling problems and had to retire;  but in the South African Grand prix he finished in fifth place.
He continued with March until 1977 when he joined Martini Racing with the Brabham-Alfa Romeo and again he showed his promise with two third places in the German and Austrian Grands prix.His final two seasons in Formula 1 were again disappointments when driving respectively for Shadow and ATS-Cosworth.
However, throughout his entire racing career Hans Stuck maintained his early links with BMW. For example, in 1974 when racing in Formula 1 for March he won the 1000kms at the Nurburgring with Jacky Ickx in a BMW 3.0CSL  as well as races at Diepholz and Norisring in the same car. Then he won Sebring, the 100 mile race at Laguna Seca and the 6hrs of Riverside all in BMWs.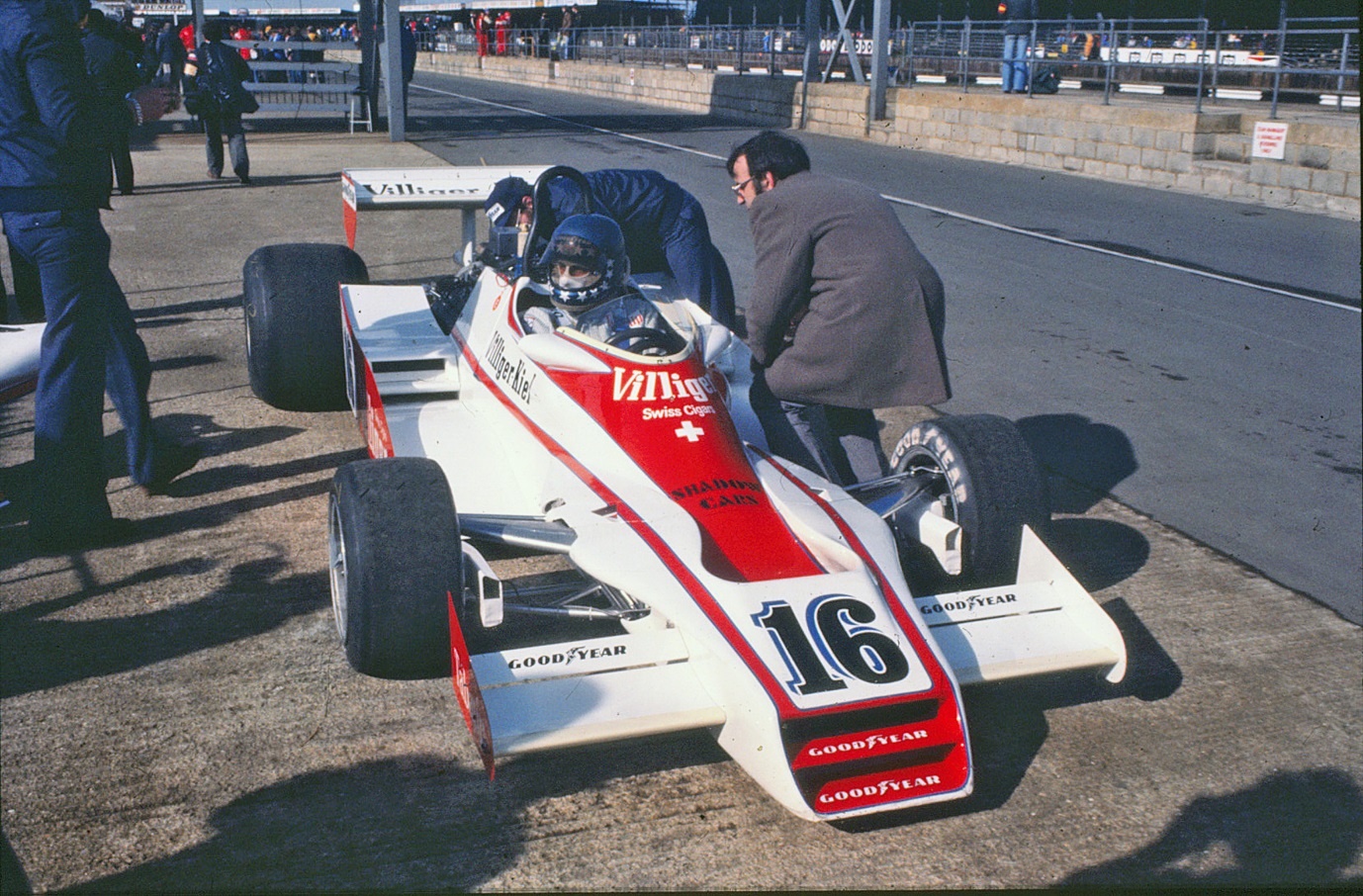 When he quit Formula 1 he drove for BMW in 1980 and 1981 but in 1982 he drove one of Peter Sauber's new Sauber SHS C6's at Monza and continued with the Sauber team that season as well as racing BMWs in European championship races.
However it was in 1983 he had his first race with the Porsche 956 when he shared Walter Brun's car with Harold Gros and by 1985 he was a full member of the Porsche 962 team in all the World Sports car championship races and a year later won his first Le Mans 24 Hour race driving the Rothmans Porsche with Al Holbert and Derek Bell. He was to win it again in 1987 and continued with Porsche but also led Audi's American Trans-Am Challenge with the Quattro winning the championship outright.
Hans was to compete in his last major race almost where he started, at the 2011 24 Hour Nurburgring classic. It was 2011 and he had been racing for 41 seasons, one of the longest careers in motor racing history. The car was a Lamborghini Gallardo and it was perhaps appropriate that two of his co-drivers were his sons Ferdinand and Johnannes. Always a gentleman and supremely loyal to the teams for whom he raced, Hans Stuck and his father have contributed a great deal to German motor racing history.