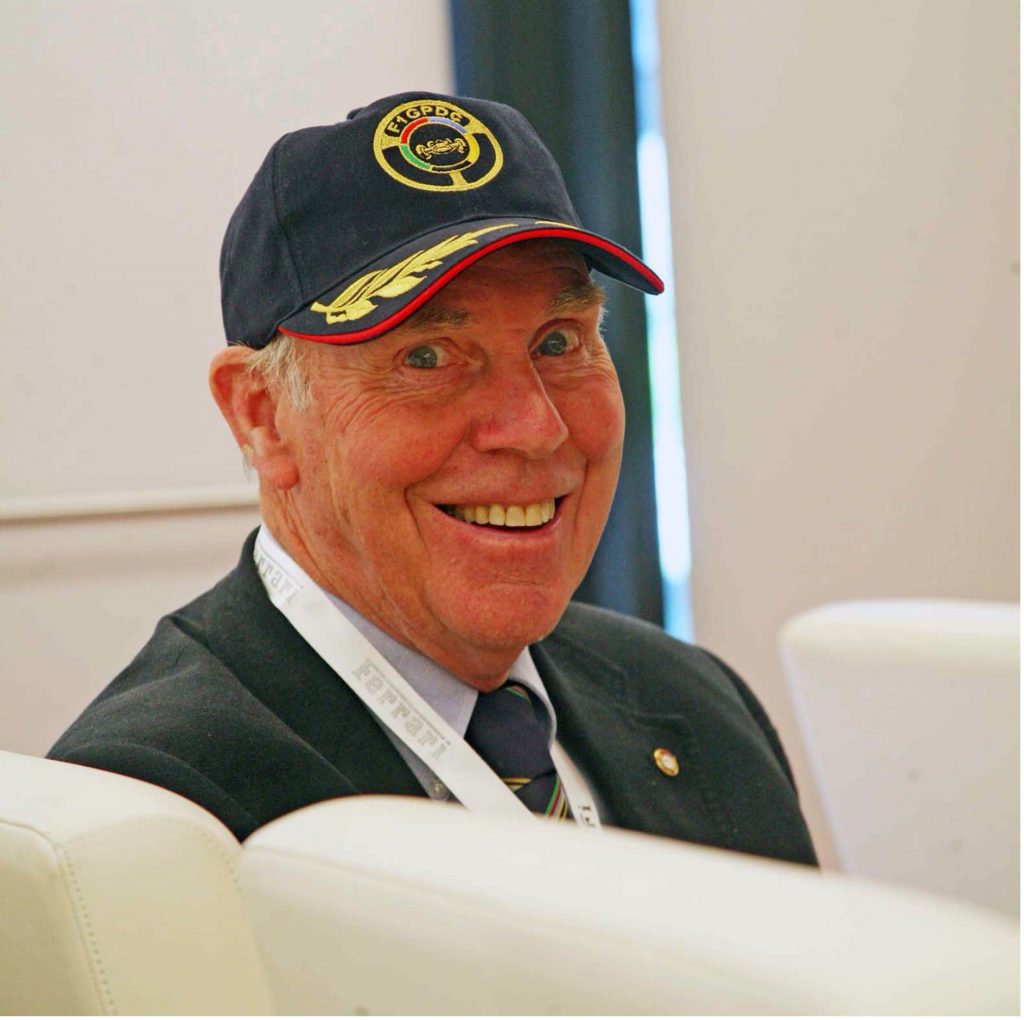 Some grand prix drivers cultivate a high profile for themselves but others, like one of our loyal Grand Prix Drivers Club members Richard Attwood, are extremely modest about their own achievements even though he raced for most of the leading teams, BRM, Lotus, and Brabham not to mention his sports car racing and his present appearances in historic racing.
Richard Attwood celebrates his 82nd birthday on April 4 and can look back on a remarkable career that started out in the 1960s when he was sent to Jaguar Cars to serve his apprenticeship before joining the family motor business in Wolverhampton.
At that time there were a number of Jaguar apprentices who started racing and so it was natural that Richard should race his Triumph TR3 but the arrival of Formula Junior changed all that.
He really came to the fore with the formation of MRP ( Midlands Racing Partnership) when Richard, Bill Bradley, Jeremy Cotterell and Alan Evans all bought Cooper Formula Juniors, the Evans car being for up and coming driver John Rhodes to drive.
As Richard recalls: "We all sorted out our own cars individually and we called ourselves a team because we would get better starting money that way. We decked out an old Commer bus from Don Everalls of Wolverhampton to put 3 cars in and went racing. John (Rhodes) was our star driver that year and he was brilliant.
" The following year (1962) only Bill Brandley and I could afford two new Coopers – a much improved car and this was why myself and Bill shared out several wins and did well.
"In 1963 we became the works Lola Team and it all went on like that until we ran out of cash at the beginning of 1967".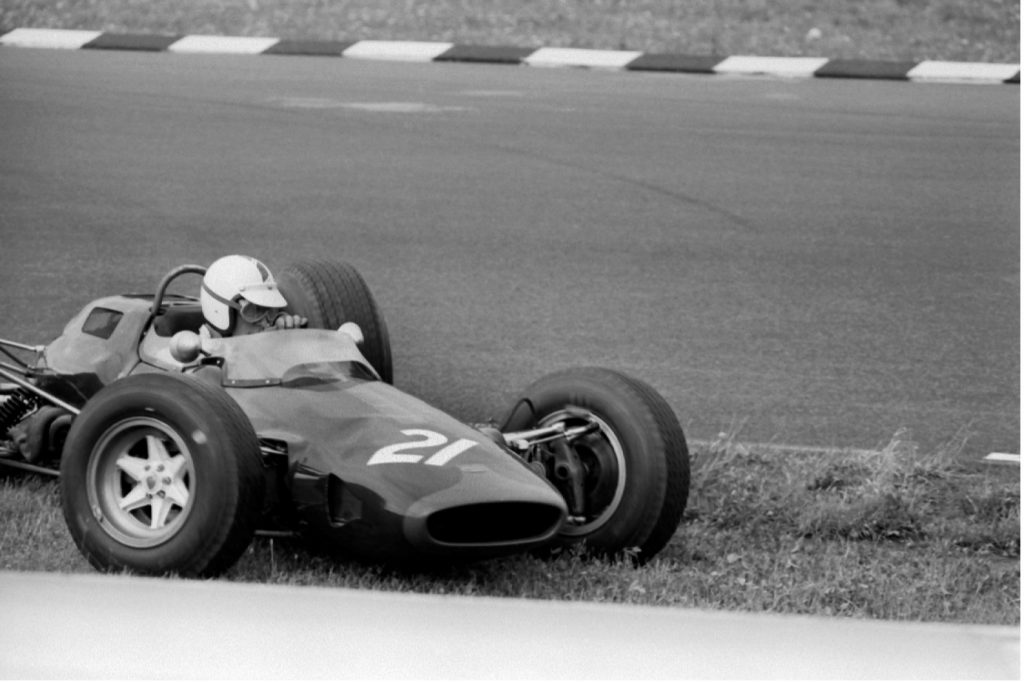 One of Richard's Jaguar apprentice friends was David Hobbs who, in 1962, was running a Lotus Elite with his father's Hobbs Mecha-Matic automatic transmission system.   "David and l did indeed meet at Jaguar Cars when we were both doing 4 year apprenticeships and have been best mates since and still meet up or whats ap each other" 
The Lotus race was in the 1000kms at the Nurburgring in 1962 with John Rhodes as their third driver. They ran in the 2 litre Prototype class and were going well but retired after 27 laps due to overheating'. That class was won by fellow Grand Prix Drivers Club member Hans Herrmann who shared a Porsche 718 with Graham Hill and finished third overall.
A year later and Richard made his debut at the Le Mans 24 Hour race driving the original Lola GT with David Hobbs. It was a fraught introduction to the race as the Lola GT was still being finished off at the circuit before practice started. However, it was running surprisingly well and went all the way through the night until in the morning when David missed a gear and crashed. Richard then began to establish himself as one of the leading sports car and GT drivers and at Le Mans in 1964 he co-drove one of the two new Ford GT40's with Jo Schlesser ( The other was driven by Richie Ginther and Masten Gregory) but both cars were out within six hours, the Attwood car catching fire.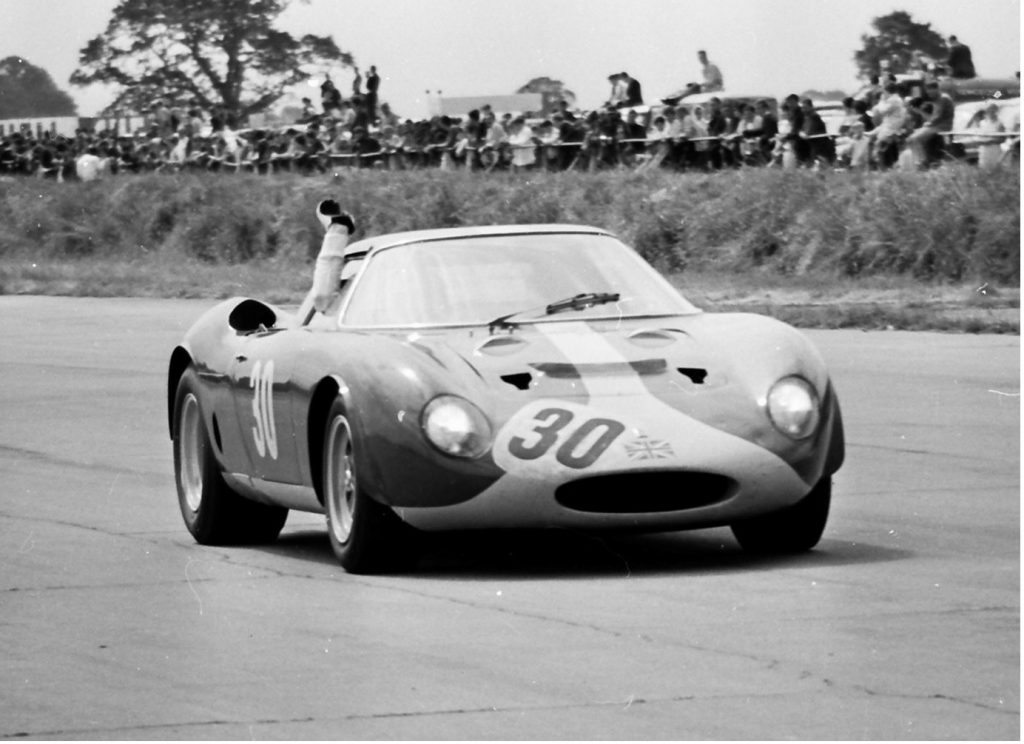 Richard's moving into the big time came shortly afterwards.
"My introduction to Grand Prix racing was in 1965 at the Monaco GP. I had had a contract with BRM the previous year but there was only one race I competed in and that was at Goodwood's Easter Monday meeting for F1 machines.
"I was entrusted with the P57 stack pipe car, not the latest 261 monocoque model. I finished 4th.
"Sir Alfred Owen was there that day, one of many races he was able to attend because he was a lay preacher so normally he would be doing his duties for the church on Sundays.
"After the race he congratulated me for my efforts and said he would try to find something else for me drive later on, to which l enthusiastically encouraged but there was no other opportunity offered that year.
"At the end of the season, l said l was no longer interested to solely have testing roles as there had also been testing duties with a 4-wheel drive single seater development that was totally unsuccessful.
"BRM's answer was to assure me l would be driving in F1 in 1965. So l stayed on because it is surely every driver's ambition to be in F1.
"I was going to be loaned out to the Reg Parnell racing team led by Tim Parnell, Reg's son, for the whole season with a works engine supplied for the Lotus 25 l would be driving.
"Tim was all in favour of this because it saved him looking for a driver with money and secondly he got a free engine. It was very much an economy team and they had the cast-off Team Lotus 25s which were three-year old cars.
"This was the main reason l should not have taken this deal. The first race was to be the Monaco GP. There was no prior testing but l went down to Hounslow to try to see if l fitted in the car.
"It seemed to be fine and I was sure l could drive it like it was but there was no one there to assist me as it was a weekend.
"However, there were several things that puzzled me. The instruments were as per period with self-sticker ticker tape letters to identify which gauges said what.
"But then there were other items identified too, which l thought were unnecessary. The steering wheel was thus marked and there was an arrow on the right hand side indicating where the gear lever was!
"I was to find out at the circuit who the culprit was.
" Mike Hailwood was to be my team-mate for this one race as a test trial to see if F1 was for him. Our paths had never crossed and of course l knew who he was and what his achievements were, a gladiator of motorcycle racing.
"When l met him he was quite offhand and not particularly interested in who he had been introduced to. He was quite shy in many ways and this was how he came across.
"He had heard of my background and knew l had been to a good public school and assumed l would be a bit of a toff.
"The ticker taping on the instrument panel had been all his own work and just the sort of tomfoolery he indulged in.
"I qualified 6th and Mike struggled with a similar car but with a customer engine.
"In the race my left rear hub carrier broke mid race and l ended up in the straw bales at the gasometer hairpin just missing Bruce McLaren as he was about to turn into the hairpin. Whether he saw me coming at such a speed out of the corner of his eye, l never knew.
"If l had T-boned him both he and l would have been severely injured .
"The prize giving was at the Hotel de Paris. Mike and l had had one or two meals together over the weekend. We were of course together on the Sunday evening and we had a ball, ending up singing in the streets arm in arm with a couple of girls and seeing the dawn break.
"After only 4 days we were total friends for life. I had never seen Mike on a bike in period but when l knew he was making a comeback at the 1978 Isle of Man TT races, I just knew l had to be there. Respect is a wonderful bond. Mike only did the one race, seeing it wasn't exactly what he needed.
"The rest of the year for me proved to be a let down because the Parnell Lotus was completely uncompetitive. I had another suspension failure at the Nurburgring and an off at Spa through me trying too hard in appalling conditions. At the end of the year l retired myself from F1 before l got hurt and anyway there were no vacancies available either".
Richard need not have worried because in 1967 he had the MRP Lolas to race in Formula 2 and a one-off drive with a Cooper-Maserati in the Canadian Grand Prix which reopened the door to Formula 1 when he signed for BRM but there were still sports car drives available.
In the Brands Hatch 6 Hours race that year he shared David Piper's Ferrari 330P and finished seventh and his old friend from MRP, Bill Bradley had become a Porsche enthusiast and in 1967 he bought a 906 Carrera 6 in which they took a remarkable second place behind Paul Hawkins' Ford GT40 and ahead of Nino Vaccarella's Ford GT40.
Richard was signed up by Porsche two years later and with Vic Elford they took second places at Brands Hatch and Watkins Glen.
In 1969 Richard was signed by the factory BRM team with the P126 V12 and it gave him probably his most important result, second place in the tight Monaco Grand Prix but it was not a successful season.
Then along came Colin Chapman who offered him a one-off place in Team Lotus with the 49 alongside Graham Hill and he took fourth place.
Frank Williams then offered him a drive with a Brabham BT30 Cosworth in the Formula 2 class and he took sixth place overall. But, as he remarked earlier, this was the end of his racing in grand prix events.
However it was also the beginning of his most successful racing with Porsche that culminated in that 1970 win at Le Mans sharing a Porsche 917 with Hans Herrmann. To this day he is rated by Porsche as one of the finest drivers to drive for them and in later years, once he had "retired", he was to buy his own Porsche 917 which he raced successfully in historic events.
Back in Britain he officially retired from racing as he was needed in the family motor business. When his father died in 1980 the business was sold to David Wickins the owner of British Car Auctions. This launched Richard into a new racing career in historic events which continues to this day and, apart from our President, Emanuele Pirro, is the most successful member of the Grand Prix Drivers Club in historic racing and remains, also, one of motor