Ayrton Senna's first victory in that record 11 consecutive wins for Mclaren came at the San Marino GP on May 1, 1988,
Race day this weekend in Russia will be the 28th anniversary of that win, as well as the 22nd anniversary of Senna's death at the same race in 1994.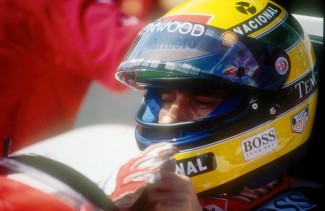 This is the first F1 race to be held on May 1 since Imola 1994, which therefore also means this will be the first time qualifying has taken place on April 30 since the death of Roland Ratzenberger in qualifying at that same weekend.
To mark the event, today a film called "Senna v. Brundle" has been released on Vimeo pay-per-view. The film is dedicated to Ayrton's Formula 3 season in 1983, which launched him straight into Formula 1. The story is told by the people whose careers were the most impacted by the arrival of this 23 year-old Brazilian: journalists, team-managers and the drivers he triumphed over. I was one of them and hence am one of the interviewees in the film. So is Neil Trundle, a team-manager in 1983 and Ayrton's chief mechanic in 1988 when he won his first World Championship with McLaren.
You may already have watched and read a lot about Ayrton, but this is the backstage account of the story before it became history, from the very people who were closest to the action. Having had a preview, I can strongly recommend it. The film is worth the pay-per-view fee many times over. Don't miss out!
Trailer and "the making of" on http://senna-vs-brundle.com/
To purchase a copy: http://vimeo.com/ondemand/svsb
The Instituto Ayrton Senna, has worked for more than 20 years now to improve the Education in Brazil.
Annually there are 1,800,000 students that benefit from the Services. Additionnally, 65,000 educators work in 700 municipalities of 19 states from all regions of Brazil.
"This project that idealizes Ayrton and benefits the fans who have already been established some time ago though the Instituto Ayrton Senna," says Bianca Senna, director of marketing and branding of the Institute and the driver's niece. "But now, we want to have an official Ayrton Senna channel on the Internet to display exclusive content that tells us a story told to us by those who lived very close with him or who inspired it."