Italian journalist Cesare Mannucci of Autosprint magazine managed to tie down Club member Sir Jackie Stewart after the Australian Grand Prix and quizzed him on his views about the current drivers in Formula 1 drivers today and his remarkably long term link with Rolex.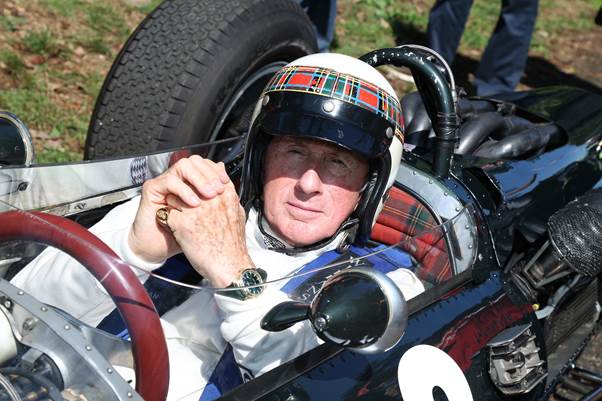 The article as published in Autosprint, and with their permission, is reprinted below in Italian with an English translation following.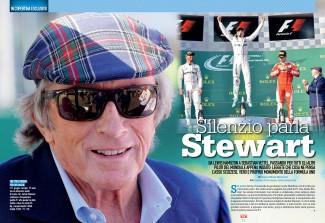 Mannuci first asked Sir Jackie on his views about Lewis Hamilton.
JYS :  I think Lewis has done a great job and has been very good for motor racing and Formula 1. He goes about his life in a different way to traditional established drivers and of course there is Mercedes Benz. That combination with Mercedes Benz is important for without Mercedes he would not be doing as well as he is.
 MANNUCCI :  " Is that credited to Ron Dennis ?
 JYS:    Yes, there is no question about that. Without Ron Dennis he would not have reached the level he currently is at today; but when you are good, you get there. It is just a question of the time it takes.
In his particular case he was like a rocket. I think he has got his own style and has been a great enthusiast since he was a kid becoming a champion karter. He has observed the manner of previous champions and opened a new market for Formula 1 because of his more extravagant lifestyle and love of modern music. That is another dimension. It would not have been the style of Graham Hill, Jack Brabham and certainly would not have been the lifestyle of Jim Clark, so I think it is a good thing that he is who he is. It is also important for us that Formula 1 keeps in touch with the youth market; and Lewis is a good example of youth today.
MANNUCCI : But the way he behaved in Monaco last year when he lost the Monaco Grand Prix. ?
 JYS:  Yes, he took that badly. If he had been more mature he would not have behaved in the fashion that he did and how he went about it was not right. But he is still a fairly young and enthusiastic driver. Graham Hill would not have done that; but remember that was a few decades ago. Lewis shows his emotions very clearly but Monaco was a mistake. I don't think it was right to abuse Niko Rosberg for inducing an error……Rosberg got into Mirabeau and he did the right thing.
MANNUCCI:  Do you think you should check your mirrors when you drive?
JYS:  I think that there is pressure particularly when you are up front. I learned from my shooting days how to handle pressure. When I was shooting professionally against great champions like Liano Receibien and Ennio Matarelli from Bologna and Herbert de Setioni I knew that if I missed a target I would not get another chancek; ever. I had to keep my mind focussed and learn how to handle pressure. It was like that on my arrival in Formula 1 for I realised I had to keep my mind focussed. The head has much more to do than the hands. Lewis is still learning to manage his head along with his emotions.
MANNUCCI :   Nico Rosberg ?
JYS :   I think he deserves his revenge and success and is currently in the best team. The conflict between the two drivers in my opinion could have been better managed by Mercedes Benz. Also I think you have to do certain things behind closed doors. I don't think everything should be obvious to the general public and the media. It is unfortunate that there is definitely animosity there and it can be costly in the long run.
 MANNCCI: Does Nico have the real racing spirit, and is he a good driver ?
JYS:  He is a good driver, a very sound and good driver which is what you need to deserve to be a World Champion. In order to win the Championship you have to be consistent and have the best car. Rosberg is consistently quick and occasionally Hamilton is quicker. That little edge has allowed Hamilton to do what he has done. To win the World Championship you do not have to be the best driver and Rosberg is one of the best drivers but Hamilton is regularly quicker.  Sometimes Lewis has been pretty negative towards Nico but Nico has handled that very well. He has a lot of dignity and he has a lot of style. It is tough because he is in the same team.
For example when I was racing against Jim Clark I was trying my best but he was in a different car in a different team. However, when I was with Graham Hill at BRM, for example, it must have been very difficult for Graham to see me win. But Graham dealt with it very well. His behaviour was impeccable and I could not have been in a better team with someone as good as he was and there has rarely been a union like that.
 MATTUCCI :   Sebastian Vettel ?
 JYS:  I have a very great respect for his driving, his consistency and his style of driving. Sebastian is very smooth and very clean. He reminds me a bit of how Alain Prost drove and I hope the way I drove and certainly the way that Jim Clark and even Juan Manuel Fangio drove. There are no nightmares and last minute corrections. He is a well put together driver and that was instantly recognizable when he was at Toro Rosso and won the Italian Grand Prix in terrible weather conditions in both practice and the race. In practice you could think that it is luck but in the race not so much so. He had several races like that and has only had the occasional glitch with Mark Webber; specially that day when they collided and he lost his cool. However, if you take a broad view of him he is controlled and Ferrari is the ideal team for him and he will have a great and strong influence on Ferrari. Maybe not as big as Schumacher had but he is the right man for Ferrari.
.MATTUCCI:  Does Sebastian have the technical culture and talent to bring Ferrari the Championship ?
 JYS :   I think so but I don't know how much that is as important as it was in past years because the communication requirements were different. Back then they did not have things like telemetry and sensors. The designers and engineers have more to do with the driving than the drivers and it means less for the driver to do. His style of driving is absolutely right. Schumacher's skill, apart from being a great driver, was that he could pluck people and find the right engines, designers and technical people at the time. And Schumacher had the talent to steal people from teams like Benetton and others. It is something that happens less today. The driver now has to concentrate more on being the ultimate driver and not necessarily the politician or the motivator. Of course you always have to motivate but the technology is so important there is not that much input from the driver as I do not think it is possible.
MATTUCCI :  Kimi Raikkonen ?
 JYS:  I like him as a driver. He has the confidence necessary to be a Ferrari driver.He may not be the greatest communicator but he is a good man. He would have done even better if he had rounded himself and maybe been a bit more open, a bit more available to the media and sitting down and having good conversations. There is nobody else in the business like him.
 MANNUCCI :  How about last year ?
JYS:  I don't know. He would like to say he did not care about it but actually he is a very natural driver and has natural ability that can be suffocated by the technology. Ken Tyrrell would not have put up with that. Neither would Ron Dennis or Frank Williams. There has to be a marriage between the technicians and the driver and that relationship is genuinely important in a driver's environment. 
MANNUCCI :  Fernando Alonso ?
JYS:  Maybe he is still the best driver out there alongside Vettel. For me he has the ability and the mind management to get the job done. Last year he was in an uncompetitive car and it showed but I would never write him off. Whatever happened, last year for him did not work. That was obvious and the engine did not work.
 MANNUCCI:  He lost the Championship whilst at Ferrari and he had trouble at McLaren the first year.
 JYS: Yes.I never quite understood why. But he never projected himself in the sport as much as he should have. When Ferrari was with Santander, for example, that company wanted to use their superstar very positively and he should have been doing appearances worldwide for them. For some reason he does not want to do that and that could also affect the team attitude. We all have our problems but the idea is to see the problems and fix them. In his own mind he is not able to be out on the world's scene in an area with the public.
 MANNUCCI :  Jenson Button ?
 JYS:  Very solid and good. He will always be up there in most cases but whether he is a consistent winner, I am not sure.
 MANNUCCI :  Daniel Ricciardo ?
JYS:  He is a tremendous asset for Formula 1. He laughs, he smiles, he drives very well. The new boy in town, very similar to me when I arrived at BRM. Certainly made Sebastian uncomfortable. He is too tall and it is a disadvantage but he has a good head.
MANNUCCI:  Daniil Kvyat?
JYS:  I don't know him well enough to properly comment. I see him as a good driver with still more to come.
MANNUCCI:   Sergio Perez ­?
JYS:  I expected him to go to a higher level. Three years ago he was exciting and he should have gone up there and got it done. The big teams have not looked at keeping him and I do not know why. There is something in there but for some reason nothing has taken him to the very top level. It is strange, when he lost the Malaysian GP when spinning two laps before the end it was unacceptable. He is above average.
MATTUCCI :  Nico Hulkenberg ?
JYS:  Very good but he is very tall for these cars. As a driving talent and a man I like him very much. He is a communicator, has good manners and is a complete package. Think of the great drivers of the past, Fangio, Clark, Moss, the ones who have done really well. They all have a little something that makes them special and Nico is not quite like them and is missing that something. He was nearly signed by Ferrari and it is dangerous to become a 'nearly there' man. He presents himself well, gets the job done, gets good money and  is a good sport.
 MANNUCCI:   Felipe Massa.
JYS:   Here is another nice man but maybe he is too nice and does not have the aggression that would make him do things. Maybe he has to be a little bit 'not the nice man' but obviously does a good job.
MANNUCCI:   Does Massa complain too much?
JYS:  It is not a nice experience to be second to Alonso, Barrichello can tell you that from being with Schumacher. In the end you have to break through that. It was like me and Graham Hill. You have got to exercise your authority and I do not think he has done that.
MANNUCCI:  Valtteri Bottas?
JYS:  A big talent and has to be a communicator and a motivator. Motivation comes from communication. You have got to excite people. If you excite people they love you and give more passion to your contribution and the team.
 MANNUCCI:  Felipe Nasr?
JYS:  I don't know enough about him. I will give you a good opinion about drivers I know but I do not know enough about him to be truthful.
MANNUCCI:  Marcus Ericsson?
JYS:  A bit the same way. It is too early for me to be able to judge him and to comment. He has gone to Formula 1 because of his past successes but I think we have yet to see whether he has what it takes to get right to the top.
 MANNUCCI:  Max Verstappen?
JYS:  A great asset and just as his team mate, Carlos Sainz did, Verstappen has immediately made an impression way beyond his father. He proved everybody wrong and that is nice and he has an extraordinary talent. We took his father no board( at Jaguar)  because of his experience. We needed him because of this but it did not work. He was there in practice and in testing and in 15 laps was as fast as anyone. When in a race you have got to be better right from the start.  Max however has  proved everybody wrong and that is good to see. It is exciting from the very beginning and he is a great asset to Formula 1.
 MATTUCCI:    Carlos Sainz ?
 JYS:  There is not much difference between Verstappen and Sainz. Sainz is a bit more conservative, not dignified but calmer and we have still so much of him to see.
MATTUCCI:  Romain Grosjean?
JYS:   He is a boy that has changed. He was almost unacceptable at the time he started.
As a team principal I am not sure or know if I would have kept him. But he has matured now and is a very talented driver. With the right car he will be excellent and is taking a big risk going with a brand new team and he is not a brand new driver. You only have a certain amount of time in your career to make an impression and if you go to a totally new team it is very difficult.
MANNUCCI:   Gutierrez?
JYS:  I don't know enough about him.
MANNUCCI:   Pascal Verlein?
JYS:   DTM is one thing, Formula 1 is another. To get to Formula 1 you have to win the national championships and the big titles. The Formula 1 grid is 22 people. Of the 22 drivers there are only six who are up there. Then there are only three amongst them that are exceptional and there is only one master. Same as in any racing business, therefore for the younger drivers it is tough.
 MANNUCCI:  Ryo Haryanto?
JYS:  Same, I don't like to say if I do not know. He has to deliver more performance. Look what Mark Webber did when he first arrived at the Australian GP in the Minardi. Look at what he did, his sheer talent helped his career.
MANNUCCI:   Jolyon Palmer?
JYS:   He has driven well in GP2 and looks like he has a good head: he even looks better than his father but has still  got  to prove himself
MANNUCCI:  Kevin Magnussen?
JYS:  Again his father drove for me. I like him. He is calm and has delivered very well. He was marked only as a reserve driver. He was in the position to do very well but the board of directors at McLaren chose Jenson because he had experience. Therefore the team had to have consistent performance and experience and they were not sure if a young driver would give them that. We have a lot more to see from him. I rate him.
Jackie and Rolex
MATTUCCI :   Every team has a watch sponsor: How did your partnership start?
JYS:  In 1968. It is 48 years in April 2016 when they saw something I did not see. André Heiniger, the finest executive in the watch industry, was their leader. Probably he will remain one of the incredible people who would have been good in any industry. He chose me with McCormack, Arnold Palmer and Jean-Claude Killy and we are all still ­there under contract. That says a lot about the company and the respect they have for me and because of that you work harder for them and there is no other company who would have kept three guys for such a long time. I am very proud.
MATTUCCI:  There used to be an award for the driver who made the pole ­ has Bernie killed the deal?
JYS:  It started at Daytona from 69 when there was a watch for the driver taking the pole for which you need the good timing, consistency and quality, all elements that Rolex have. Maybe I will try to encourage the company into still doing that. I do not know if other teams would allow their driver to accept a watch. There may be some resistance. At that time I was very pleased to receive a Rolex.
MATTUCCI:   Would the endurance environment fit better for Rolex than F1? 
JYS:  I brought Rolex to F1 and they got global exposure at the highest level of the sport. I had to work very hard to convince them. I was an ambassador and I would have loved to have them on the car. But they never wanted to sponsor a car. The association was rather with the sport than an individual team. They do not sponsor all golf games in the world but only the biggest and most famous ones. F1 provides them this visibility.
The Rolex identity exploded around the world and they never expected it quite at that level. It is a very wonderful dignified company and a very conservative company. They are not targeting the general public. They are targeting their very best dealers. It is a different philosophy.
MATTUCCI:   How many Rolex do you own and which one is your favourite?
JYS:   I own 12 Rolex and wear one every day. I will wear a different one for a dinner as I want to represent the company better than anybody else. I have had long relationship with them and many others: Ford Motor Company 40 years, Moet and Chandon 47 years, Rolex 48 years. I appreciate the longevity of relationships and I have been married to the same women, Helen, for 43 or 44 years. I hope I have the same integrity as they all have!