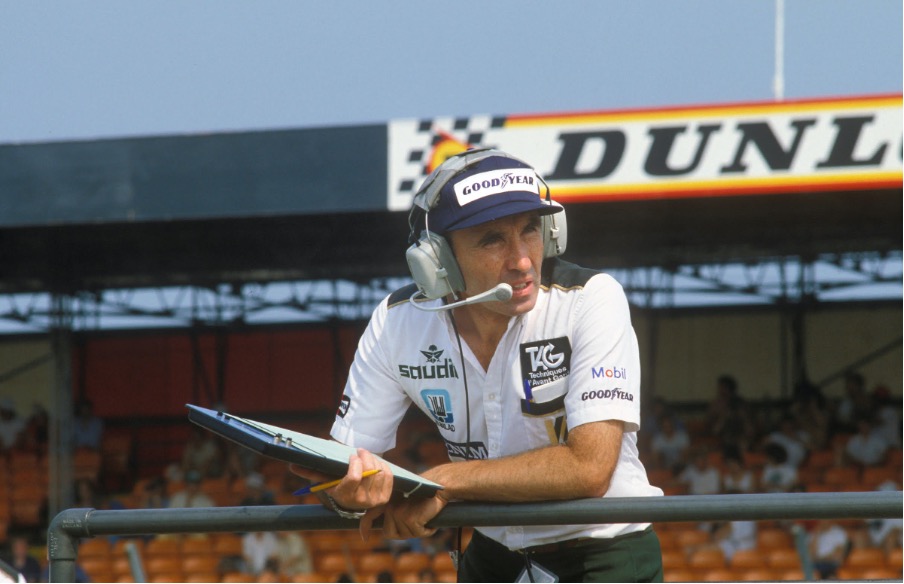 Frank Williams in his heady Formula 1 days at Silverstone. ( Grand Prix Photo Peter Nygaard)
The death of Sir Frank Williams on Sunday, November 28 truly did mark the end of an era when a determined enthusiast could launch his own Formula 1 team and not only make it a success but, in Williams Engineering, one of the most successful racing teams in the history of grand prix racing.
It is hard to know where to start when talking about Frank, a man who dedicated himself to cars and to racing from a very early age and knocked down many of the barriers within the sport and encouraged and brought on many drivers and created World Champions.
That he should have spent fifty years as a grand prix team owner, thirty-five of them in a wheelchair, as a paraplegic, is a true mark of his courage and determination.
He started racing in a modest Austin A40 saloon and graduated to Formula 3 and Formula 2 where he was a tough competitor but was always short of funds to buy the best racing equipment. I am reminded of a story about Frank's early days told to me by one of his great friends, Jonathan Williams (No relation) when they shared a house on the outskirts of London with Charlie Lucas. As Jonathan Recalled " Frank at the time would do anything for money and used to carry spare parts for Formula 2 cars along with his own car to sell to fellow competitors who had accidents at races. Our house in London had a garden that backed on the main rail line into central London and one morning having breakfast Charlie and I bet Frank £20 that he would not go to the foot of the garden, drop his trousers and "moon" to one of the passing trains. Frank, being Frank, immediately rushed outside and actually did that but Charlie and I locked the back door and left him outside for a few minutes longer: but Frank won the bet"
Most of the basic statistics are known to our members of the Grand Prix Drivers Club who either raced with him or later for him so it is best to remember him for his achievements. For example, it could be argued that the reason Saudi Arabia has a Grand Prix this year could be due to Frank's enterprise in going to Saudi Arabia and persuading Saudia Airways to sponsor his Formula 1 team so spurring an interest in grand prix racing in the Area. One of our members, Alan Jones, became his first Grand Prix World Champion, another, Keke Rosberg, his second, Nelson Piquet his third, Nigel Mansell his fourth, Alan Prost his fifth, Damon Hill his fifth and Jacques Villeneuve his sixth.
Frank was always friendly and helpful and I recall when I organised a large motor sport auction in Edinburgh with Jackie Stewart to raise funds for the Scottish Dyslexia Trust, Frank Williams was one of the grand prix team owners who was the first to contribute some Williams memorabilia that sold very well. There was also a shyness about him and you had to dig quite hard to get him to open out about his racing but he was a man greatly respected by his peers.
Perhaps the most appropriate quote by one of them, Bernie Ecclestone, was quoted in The Times. " He was one of the old-timers who went back an awful long way and one wonders that if people like Frank hadn't been around in the early days, whether Formula One would still be surviving today"
The Grand Prix Drivers Club sends its condolences to his daughter Claire who was Frank's eyes and ears when she took over Frank's role as team leader, and his two sons Jonathan and Jamie.
Graham Gauld