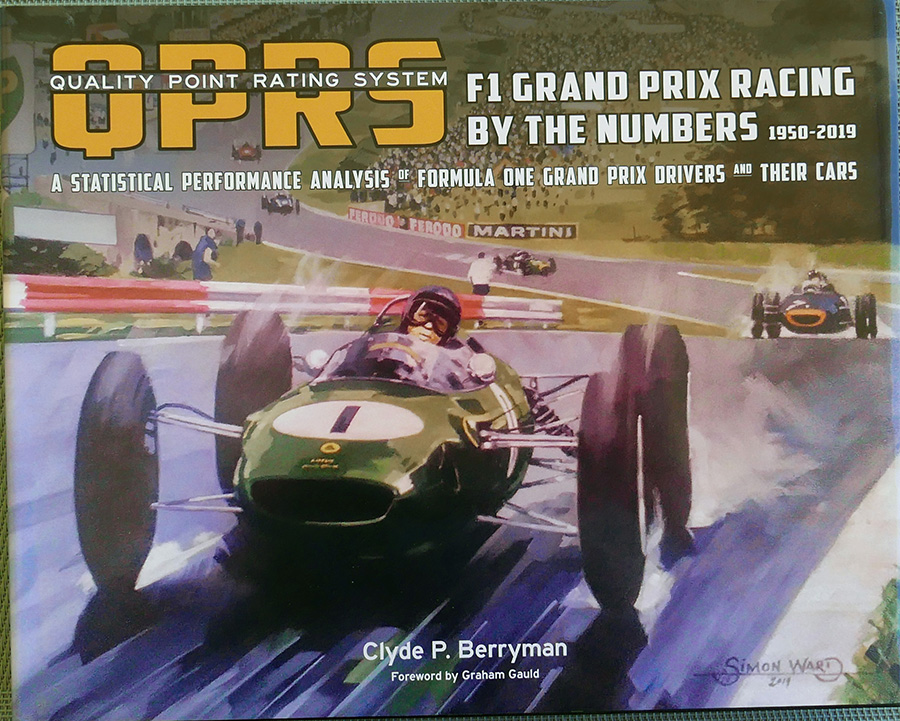 " Most people use statistics like a like a drunk man uses a lamppost, more for support rather than illumination  " said the 19th Scottish writer and poet Andrew Lang and in his remarkable book "QPRS: Grand Prix Racing by Numbers  1950-2019" Clyde Berryman has certainly always been so moved. I first met Clyde over 25 years ago when he was in the US Diplomatic Service based in the US Embassy in Paris and even then he was creating this monumental book on Formula 1 statistics. My quotation above is from the Foreword to this book that he asked me to write.
This is not the first sport Clyde has dealt with as he compiled a statistical record of American College Football which was accepted by the authorities as the best statistical record.
As any of us know who follow some of the enthusiasts Facebook pages there is no end to such polls as to who is or was the best racing driver and on the face of it a book on Formula 1 statistics that weighs 2,6 kilos and has nearly 550 pages sounds a bit of a bore but far from it as Berryman meticulously explains all the parameters he used which were not based solely on the driver but the statistical success each season of the various cars. Added to that there is a listing of Formula 1 race winners for each year in events that did not count for the World Championship. All of this is calculated by the QPRS system and through the years it has produced some fascinating results. If we take for example just one season, 1976, we find that the World Champion was James Hunt in a McLaren ahead of Niki Lauda and Jody Scheckter but using Clyde's system Niki Lauda scores highest ahead of Hunt and when it comes to the best individual grand prix cars of that season it is not a McLaren M23 but The Ferrari 312T as first and the Ferrari 312T2 as second!
The most controvertial statistics come near the back of the book where Berryman rates the World Champion on the basis of the "crushing superiority of the driver and the superiority of the car whcn compared with its rivals and we find that statistically Jochen Rindt driving the 1970 Lotus Ford 49C comes out the highest rated, three points ahead of Jim Clark in the 1965 Lotus Climax 33, Jackie Stewart in 1971 with the Tyrrell Ford 001/003 and Alberto Ascari in 1952 with the Ferrari 500.
In his ultimate top 100 F1 grand prix drivers using his system work out as Jim Clark with 372.6, Juan Manuel Fangio 369.3, Jackie Stewart 362.7, Michael Schumacher 3514, Sebastian Vettel 350.0, Ayrton Senna 347.6 and Alain Prost 342.6.
This the kind of book you can dip into anywhere and find out something surprising and Clyde has certainly taken Formula 1 statistics to a new level and it is a pity that any book has to have a seasonal time limit and here it is 2019 . One wonders how those statistics will have changed by the end of this season and how both Lewis Hamilton and Max Verstappen may have influenced them.
Another thing unique about the book is that Clyde Berryman has a great interest in motoring art and with his artist wife Gulay has illustrated the book not with photographs but a wide selection of Formukla 1 art by some of the leading artists in the World.
It is an expensive book but is mesmerising and gives a new approach to motor racing statistics.
P.S. QPRS stands for Quality Point Racing System which Berryman created to produce his statistics.
QPRS: Grand Prix Racing by Numbers  1950-2019  Published by Dalton Watson Fine Books (www.daltonwatson.com) priced US $95.00
Graham Gauld
---
Mention of books, above, I was leafing through the biography of Sergio Scaglietti the Modenese coachbuilder written by Enzo Ferrari's former private secretary Franco Gozzi. They were great friends and the book written in Italian and English is as amusing as it is informative.
I particularly liked the section when Scaglietti talked about the making of the film Grand Prix by John Frankenheimer. It was one of the few occasions when Enzo Ferrari allowed a film company into the racing department to get authentic factory footage, Frankenheimer was allowed three days with his crew and even this was achieved only by the help of Aleardo Buzzi who was Chairman of Philip Morris and a member of the Grand Prix Drivers Club.
As Scaglietti explained "Enzo Ferrari was stunned to see the chaos to which his beloved Racing Department had been reduced and struggled to get things back to normal and feel at peace with the world again. He was angry with everyone and kept on shouting at all and sundry. The only person he had any time for was the actor Adolfo Celi and he admitted in spite of himself that, yes, perhaps Celi would be capable of playing him if one day it should ever happen"  Of course it never did.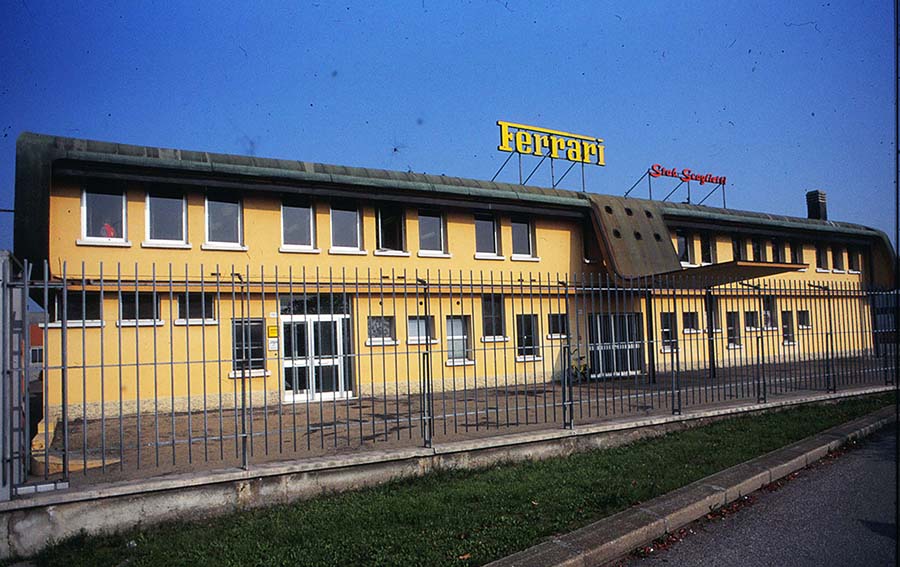 The old Scaglietti factory in Modena beside the old Via Email showing the Ferrari and Scaglietti names side by side.
Such was the bond between Ferrari and Scaglietti that when Fiat finally bought Ferrari Enzo insisted that they also buy Scaglietti which in fact they did.