Throughout the history of European motorsport, the aristocrats and the titled were the true pioneers. They were pioneers mainly because they were the only people who had the money to indulge in this new and gentlemanly sport at the dawn of the 20th century and they embraced racing with great enthusiasm.
A number of them were Scots and in an effort to open a small window into the very early days, and, perhaps what could be called the later days, I would like to tell you the stories of three of them who were as different as chalk and cheese, one born in the 19th century and two born in the 20th century.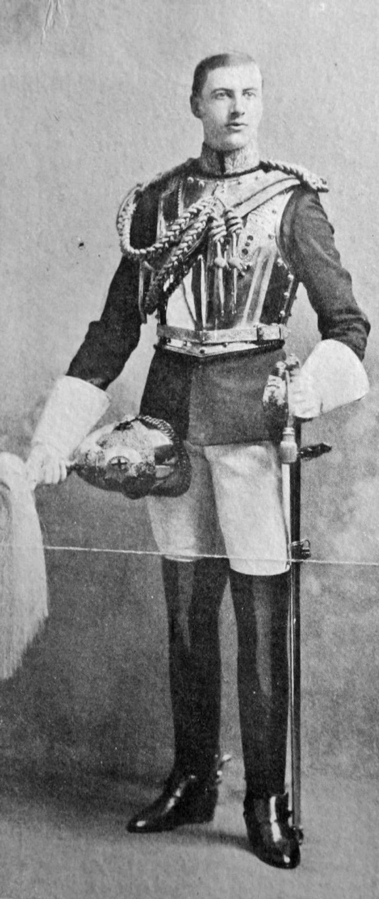 For the first story, I would like to talk about Scotland's first true racing driver, Andrew Fletcher who came from the village of Saltoun to the East of Edinburgh.
When I say he came from the village, he owned the village and most of the land around it and lived in the splendid Saltoun House. Fletcher embraced the new automobile and was impressed by anything mechanical. His good friend the Honourable Charles Rolls started motor racing and Fletcher decided to join in. He bought a 60 hp Mercedes entered for the 1903 Southport speed trials and in a match race, defeated one of England's greatest racing drivers. S.F.Edge. He was hooked.
Fletcher also raced abroad and there is a wonderful story told of when he competed in the 1904 Henri de Rothschild Cup in Nice, France with his Mercedes.
A local newspaper reported: "Just after passing Antibes, three 90 hp Mercedes racers were seen waiting on the road parallel to the railway line. Andrew Fletcher and Camille Jenatzy were quickly recognised as drivers of two of the monsters, whilst Braun was known at once to be in charge of the third. He (Braun) is generally accompanied by his Collie dog chauffeur, begoggled and leather coated!
No sooner had the crawling train gone past than Jenatzy flew past, followed by Fletcher to the delight of all." I love the scene this description conjures up.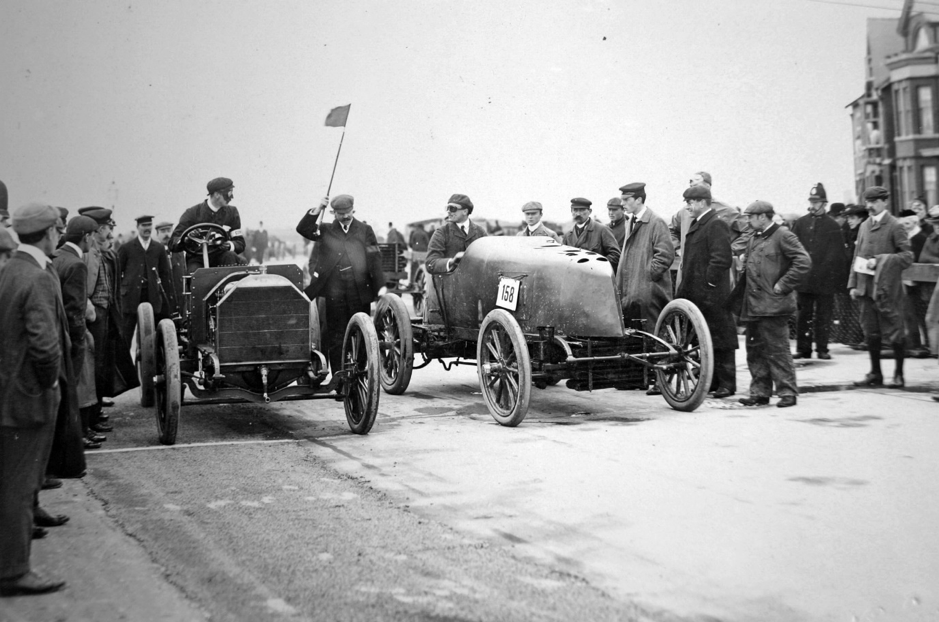 Andrew Fletcher's motor racing finished a year later when his friend Charles Rolls became interested in these new-fangled aeroplanes so Fletcher decided that he too should get into aeroplanes. He turned to his "man" and said, "….go to France and buy some aeroplanes."
As a result, six Bleriot aeroplanes arrived in Scotland! Andrew Fletcher's grandson also called Andrew Fletcher who formerly raced Chevron's in the European 2 litre SportsCar Championship, and owns the Frazer-Nash Le Mans Replica that almost killed former member Roy Salvadori, remarks of his grandfather.
"Grandfather, in that era of 1904-1914, had no idea what the word "business" meant. However, he knew what the words playboy, shooting, fishing, gambling, drinking and womanising meant."
The other, more modern, Scots aristocrat was one who became a personal friend and was undoubtedly another great character. He was Sir James Scott Douglas whose family came from Kelso in the Scottish Borders not far from Jim Clark's birthplace in Chirnside.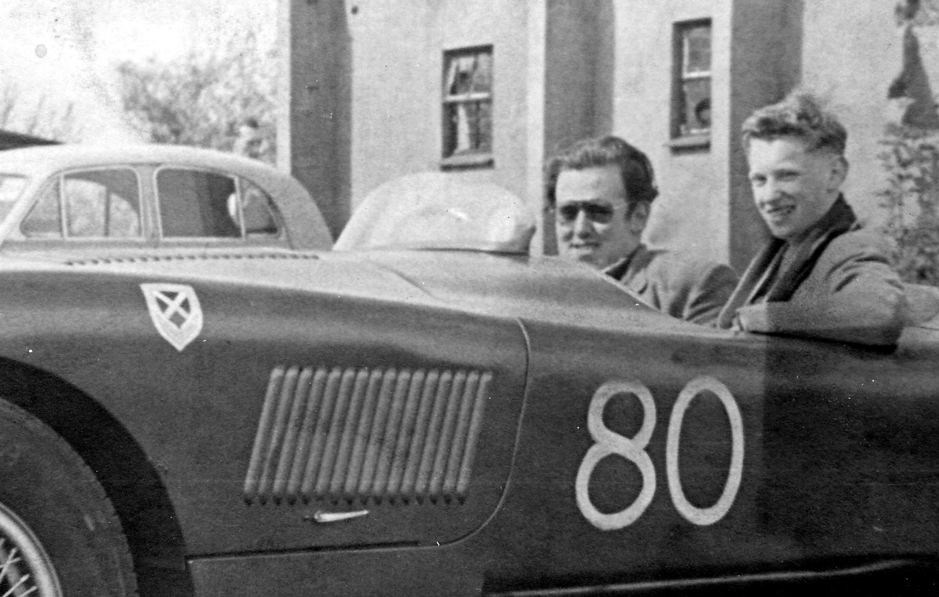 "Jamie", as he was called, was big, jolly, chubby and was only persuaded into serious motor racing because in 1951 David Murray had started a racing team called Ecurie Ecosse. Murray needed to run three identical Jaguar XK120's in order to get some seed money from Esso Petroleum. Murray already had Ian Stewart and Bill Dobson but in a bar in London he met up with a florid-faced, 21-year old Sir James Scott Douglas and with his usual boisterous enthusiasm Jamie agreed to run his Jaguar as the third man.
He had run an MG on a couple of events so was the least experienced of the three but he was to go on to help out with some good placing such as 3rd at Spa with his friend Guy Gale.
When Murray decided to switch to proper new Jaguar C types for 1953 Jamie went out and bought one to join Ian Stewart and two newcomers Jimmy Stewart (no relation, but the elder brother of Jackie) and Ninian Sanderson. That year the team had a Cooper-Bristol F2 car and a Connaught and to his sadness, Jamie found he could not fit into the cockpit of the Cooper-Bristol but drove the wider bodied Connaught on at least one occasion.
All this time, Scott-Douglas was quickly running through his immediate family inheritance but when a relative died and left him a second small fortune he attacked that with as much enthusiasm as he attacked his motor racing.
By the end of 1953, he decided to retire from racing and bought an ex-Royal Navy Destroyer from WWII which he fitted out in luxurious fashion and parked it in Monaco harbour. He also bought a new Boano-bodied Ferrari 250GT to go with it.
However, he then lost some more money in a deal with Harry Schell that went wrong, and by now it was 1957.
Visiting the Ferrari factory in Maranello that year I spotted a reddish/brown coloured Ferrari in the service department and Enzo's secretary Romolo Tavoni confirmed that the car was owned by a Mr Scott-Douglas and that the owner was living in the Hotel Real Fini.
Needless to say, I called in only to be hauled up to his plush suite amply stocked with Scotch whisky and the like. We hadn't spoken for some time and he told me that times were getting tough for him. When I asked why, he remarked that one day in a bar in Marseilles a year or so before, he had met someone who told him he could make a fortune if he bought some guns and took them to Algiers in North Africa. If he took them to a certain low-life bar he could sell them to the rebels in the Algerian war of independence.
Jamie, always one to mix finance with pleasure, explained how he had bought a pile of rifles and the like and sailed for Algiers. He then visited every bar in Algiers but could find no one who wanted to buy the guns so he set sail again, knowing he could not bring the guns back to France. So what did he do? He promptly threw them over the side of the yacht into the Mediterranean!
It may come as no surprise to know that Jamie, soon afterwards, had to sell the yacht and the Ferrari and returned to England with his tail between his legs. Not only was he again short of cash but was suffering from health problems and could not keep his weight down. Eventually, he joined the Daily Express in London selling advertising and occasionally used to be a noted judge at Concours d'Elegance, but not for long, as he died of a heart attack, seriously overweight, at the age of just 39.
Thankfully not all aristocrats were quite as foolish as dear old Jamie. Another Scots aristocrat was not only a better driver than either Fletcher or Scott-Douglas but he did not enter motor racing with a silver spoon in his mouth as his father – the Marquis of Bute – did not approve of his son's fascination with motor racing. As a result, Johnny Dumfries worked on building sites and sold boxes of tools to racing mechanics in order to raise the money to get into Formula 3.
He was good, was chosen by Mercedes-Benz to race their latest racing coupe at Le Mans alongside a young Australian called Mark Webber. When both of them literally took off on the Mulsanne Straight and flew into the trees about 20 feet in the air Mercedes realised they had gotten the aerodynamics wrong.
Johnny Bute, the Marquis of Bute, at the Classic event he organised on his estate on the Island of Bute in the early 1990s. Just visible behind him is the TWR Jaguar with which he won Le Mans.
Then Johnny was approached by Scuderia Ferrari in Formula 1 with a testing contract but when first Bernie Ecclestone offered him a contract with Brabham then Colin Chapman offered him a drive with Lotus alongside Ayrton Senna, he took the Lotus contract. He later won Le Mans in a Jaguar and raced until 1991 when his father died.
Racing driver Johnny Dumfries then became the 7th Marquis of Bute but to add irony to my original story about the wealthy aristocracy Johnny admitted that shortly after he became Marquis the bank manager informed him that his father had left him an enormous six-figure overdraft!
With his usual determination, Johnny decided to sell Dumfries House in the Scottish Borders that had been the home of his grandmother and which held one of the finest collections of Chippendale furniture in the World. It was bought by a consortium led by Prince Charles and today the whole estate has been transformed. His main home in Scotland is the 18th-century mansion, Mount Stuart on the Isle of Bute built by his great-grandfather.