Reg Parnell was a long-time member of the Grand Prix Drivers Club and his racing career covered more than thirty years as a driver and continued with him as a team manager and team principal in Formula 1. He was also very good at seeking out new racing talent and one of the most interesting and successful finds was John Surtees.
Some years ago John explained the background as to how he came into motor racing and the role Reg played in his career. Our conversation at John's house was disturbed from time to time by little Henry Surtees, who was a toddler at the time, and every time John would break off and quietly urge Henry to leave us in peace. Tragically Henry was to be killed in a freak racing accident about sixteen years later.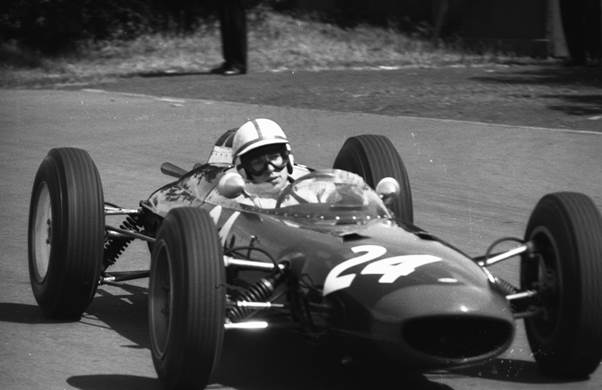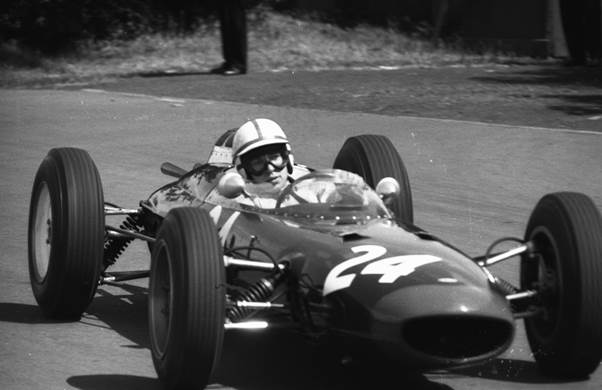 As John recalled:   " The first time I ever met Reg was when I was put at a table with him at the Park Lane Hotel in London. On the same table were Mike Hawthorn and Tony Vandervell.
"That was in 1958, the year when Mike died in a road accident. We had two lots of sportsmen's activities that year one was the Daily Express Sportsman of the Year and the other was the BBC Sportsview personality of the year and we met up at the first one.
" Needless to say they were all on at me about racing cars and Reg Parnell announced that  I would try an Aston Martin at which Tony Vandervell said, no, he's a motorcyclist like me he will drive a Vanwall. Tony then made a very uncomplimentary comment about David Brown the owner of Aston Martin. Mike then chipped in saying he liked bikes and in fact, we were to run in the Press Trial together. We had both done it the previous year and the 1958 event was due to happen shortly.
"Then nothing happened.
" I just carried on with the bikes and in 1959 Stirling Moss won Nurburgring with an Aston Martin DBR1 and shortly afterwards Reg phoned me. He said they had been talking and were are going to arrange to go down to Goodwood and I would drive an Aston Martin.  I said I was going to be with John Hartle so do you mind if I bring John Hartle as well?  Reg said all right bring him along so we duly turned up at Goodwood and he put me in the cockpit of a DBR1. He remarked it was a bit different to the normal cars as it was the one Stirling had used to win Nurburgring. He added they didn't talk about it because it had a Maserati gearbox in it but David Brown was not supposed to know about it.
" So I went out and had a few laps and John Hartle had a few laps but then had a moment and had a spin so he came in and Reg handed the car back to me.
"After a few more laps I thought this could be quite good and so I continued. Nothing much was said and everyone appeared to be happy. When I stopped and got out the car Reg said  ' You'd better sign this' and handed me a contract. So I asked him what this was for and he told me I had lapped quicker than Stirling did so sign this. I told him I was not signing contracts, I'm a motorcyclist and I am tied up. Reg then said I should try a Formula 1, Aston Martin were building and we left it like that.
"The next thing that happened was the phone rang and it was Tony Vandervell. ' What the hell are you doing driving one of those things If you're going to drive any cars you're going to drive a Vanwall.  I'll fix things up. So, sure enough, he sent the Vanwalls down to Goodwood, David Yorke was there and Roy Salvadori went motoring round in it to warm it up. Then they gave it to me and Roy didn't seem to think much about it, and neither did I,  so they worked on it and found the chassis was broken and it was the only time I sat the Aston Formula 1 car.
"Tony Vandervell then said he was going to build me a car and Tony's secretary told me not to excite him but keep him calm as Tony had had some heart trouble.   
"Well he actually went along and bought a Lotus 18 which he converted to hold one of his Vanwall engines then, of course, he built the special rear-engined car, the VW14..
" I must admit that it was now the end of 1959 and I had never really thought about car racing too much but my motorcycle team, MV-Augusta had talked about cutting back my racing programme so that I only rode in selected events. Count Augusta had stopped me riding my own machines in case it clashed with other MV races, but my contract went to 1961. I thought there was nothing in my contract to say I couldn't drive a car so I thought, I'll drive a car.
" I decided not to take up any offers but thought that I would perhaps buy a car. John Cooper had a Formula II Cooper-Climax which I bought for £2300. Ken Tyrrell was there and offered me a drive with the Cooper Formula Junior at Goodwood.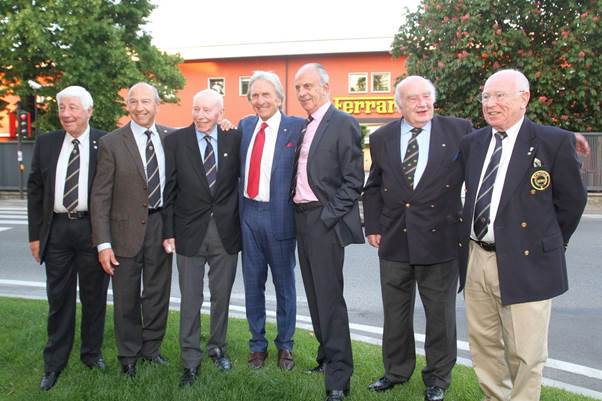 So I went to Goodwood for the first car race I had ever seen and drove the Cooper Junior,  had a dice with Jim Clark in the Lotus 18 and finished second with Trevor Taylor third in the other Lotus. I then drove my Formula II car at Aintree and finished fourth.
"Then Colin Chapman rang and wanted me to drive for Lotus in Formula 1 so I went and had a test at Silverstone. Innes Ireland was there and ran a few laps and then I was told to have a go. I was equal to Innes, I think, and then stuffed it into the banking at Stowe but just damaged the nose. So Colin wanted me to drive at Silverstone for him in the Daily Express Trophy meeting but it did not last long as an oil seal broke"
However, from then on John Surtees fitted in his first season in Formula 1 with Lotus between races with his factory MV-Augusta and he was on his way to a brilliant grand prix and sports car career.
Finally, in 1961 Reg Parnell, who had first suggested John consider entering motor racing, came back into his life when he was persuaded to join Yeoman-Credit racing team that was managed by Reg Parnell.  " Yep, Reg said, we've got the Cooper works team with you and Roy Salvadori. There would be two teams running parallel, Yeoman-Credit and Cooper Cars a two-pronged attack. However, what we ended up with were stock bog-standard production cars, not the works cars. I think sometimes John Cooper, and even myself, we are dreamers, because of our enthusiasm. We put together pictures thinking that everybody else is as enthusiastic as we are and then the practicalities come along. This is the difference between someone like myself and, say, Jackie Stewart, I am a dreamer and he is a practical calculating person.
" However we put the team together though Roy was not so happy about me being in the team because I was fairly intense about it all but he had the experience so overall we had a pretty good little team. However, we were still a private team competing against the works. I suggested to Reg some mods to the Cooper but to be honest, it didn't really get us anywhere and I said the only thing we should aim to do is become a manufacturer and the only person likely to challenge Colin Chapman was Eric Broadley at Lola and his little team.
"I approached Eric who lived around the corner from me in Bromley and funnily enough I looked at the contract the other day and saw that we had reached an agreement that for 1962 we would build and develop these cars and Eric would sell us the cars at £3500 each.
" Meanwhile Ferrari had approached me and I had gone out to see them but I felt I was not experienced enough and  having raced in Italian teams I realised I had to go there as a complete driver and not a learning driver"
Over the Winter of 1961/61, Yeoman-Credit decided to use the name of their holding company Bowmaker as the sponsor for 1962 and so the first Lola T4 grand prix car was produced and made its debut on April 1, 1962, at the non-championship Brussels Grand Prix with John Surtees at the wheel. Three weeks later both Surtees and Salvadori lined up at Goodwood with identical Lola's but Surtees now had one of the few Climax V8 engines in his car.
"Stirling Moss and I were having a dice late in the race after we had both had stops and we kept breaking the lap record one after another he was pushing on and I was pushing on and then he had his terrible accident.
"Initially the Lola was very unpredictable and certainly difficult in changing conditions. I consider myself quite good in the wet but it was a very difficult car in the wet and it wasn't until Spa that we really got to the bottom of it. We were in the garage jacking up the cars for some wheels and I was looking at them and I noticed the height off the ground that showed we were getting quite a lot of twist in the car and on the bumps of Spa it didn't want to go straight which was rather disconcerting.
"When Eric got back to England he got to work and anyone looking at the cars after Spa would have noticed a lot more extra tubes had appeared around the cockpit and suddenly the car was transformed. 
"All the time dear old Reg Parnell was coming up with new ideas. We were going to have Maserati engines and he was always wheeling and dealing. Above all, he was a tremendous enthusiast. He was a straight-up guy but I would qualify that by saying that he would perhaps pass on something that looked promising because of this enthusiasm and believe that something else would work Reg felt he had to do this to make up the gap between the equipment he had and what other people had.
" In that very early stage of my career, it might have been better if Reg had been stronger. All of my change from one discipline on two wheels to another on four wheels meant I needed some stability and the fact that I stayed with Reg for two years showed the degree of faith I had in him. Yes, he was a meddler, but so was I.
At the end of 1962 Enzo Ferrari came back and this time John Surtees agreed to join Ferrari and was to become World Champion in 1964.
Graham Gauld