The whole Coronavirus affair reminded me of my two-year stint in Hong Kong back in 1993 – 94 and the motor racing community. Obviously there was no actual motor racing in Hong Kong but the Automobile Association of Hong Kong organised the odd motor racing event at Pattaya in Thailand and there was also the annual Macau Grand Prix weekend.
However there was a stalwart motor racing community in Hong Kong partly from ex-pats but also with local drivers and I became friendly with three of them. I tended to call the Three Musketeers as they always ran as a team in races in the Far East.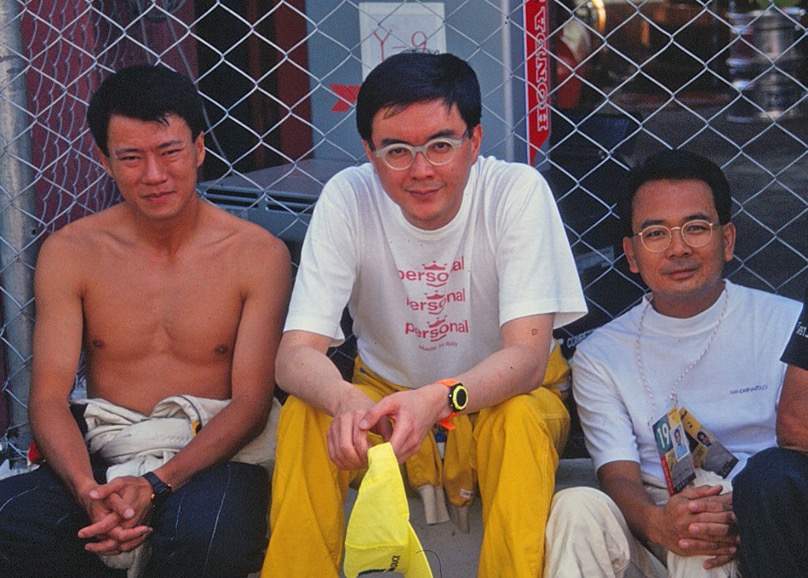 The oldest member of them was Kevin Wong whose father had founded the Kee Wah bakery in Hong Kong in 1938 which became very successful. Kevin started out racing with a Mini that was quickly replaced with a Cortina GT that he ran in Guia race in Macau in 1967. The following year he bought a BMW 2002 to compete in the Guia 101 endurance race.
He soon changed to Porsches and his older brother, Fritz Wong founded and became President of the Porsche Club of Hong Kong. Meanwhile Kevin had started up his own Financial company but he went back to the family business and expanded it considerably and today he is Chairman of the Kee-Wah bakery that specialised in typical Chinese wedding cakes.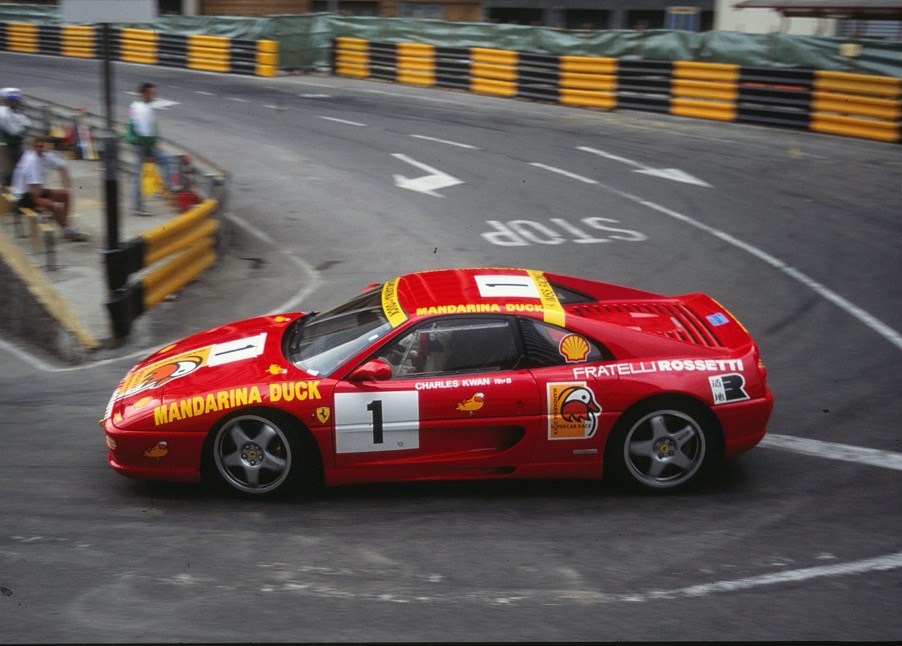 Kevin Wong with his Porsche Carrera at Shah Allam circuit in Malaysia.
Kevin was a typical private entrant who enjoyed his racing but was never a champion in his class. He specialised in BMW's and from 1990 to 1993 competed in the All Japanese Touring Car Championship with BMW M3's.
With very few circuits the Hong Kong drivers had to travel to Thailand, Malaysia and Japan to race their cars as mainland China had not yet embraced motor racing because cars were not freely available to the average Chinese person even up to the 1990s.
Winston Mak , like Kevin Wong, also raced Porsches and was another private entrant who was financial manager of one of the casino's in Macau, He was the youngest of the trio and he too was happy to race but was never the thrusting winner.
The true star of the trio was, however, Charles Kwan Siu-Cheung, probably most successful Chinese racing driver of the eara who ran his own business.
He started out with Karts and then won his first evemt with a race prepared Ford Capri. This led to him buying a Lotus Esprit for the Supercar race at Macau but he crashed heavily and destroyed the Lotus which is pretty easy at Macau which is not only tight with an almost imporrible hairpin bend but for the uphill part past the hospital it is very narrow and does not brook mistakes.
The following year, 1985, he ran a Lamborghini Countach before turning to Porsches .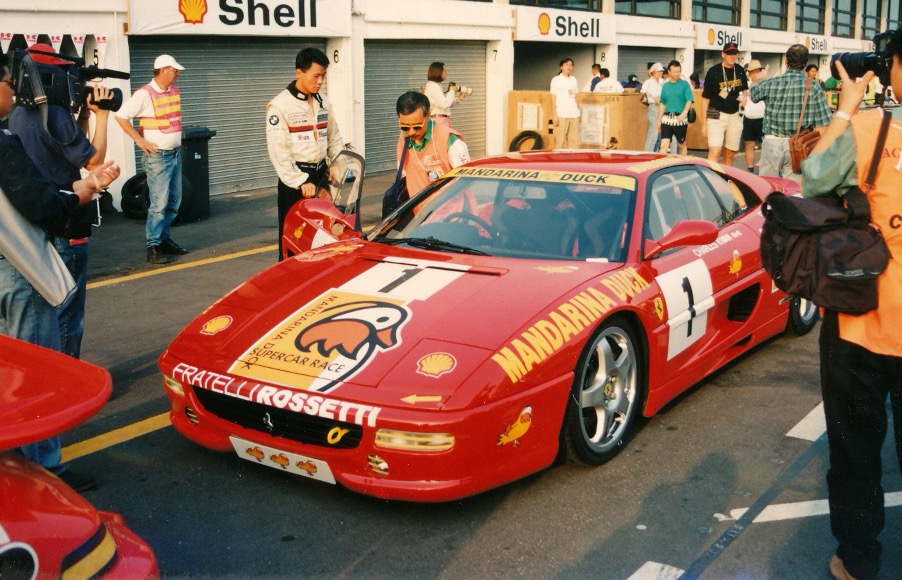 He really came to everyone's notice in the early 1990s when he competed in Macau, the Japanese GT Championship, the Porsche Carrera Cup series in Asia and the South East Asia Touring Car challenge usually driving Porsches.
The first major race held in China was held on a street circuit in Zuhai just across the border from Macau in March 1993. Though a low key event, it was the first step in obtaining an International racing licence in China. That year I was invited to the ground breaking ceremony for a proper ground-up racing circuit to be built on the outskirts of Zuhai. It was not completed until after I had left Hong Kong and as far as I am aware did not host many races. At that first street race the Musketeers were heavily promoted as they had race internationally.
Later Kevin Wong and Charles Kwan set up their own racing team O-ver Take Racing.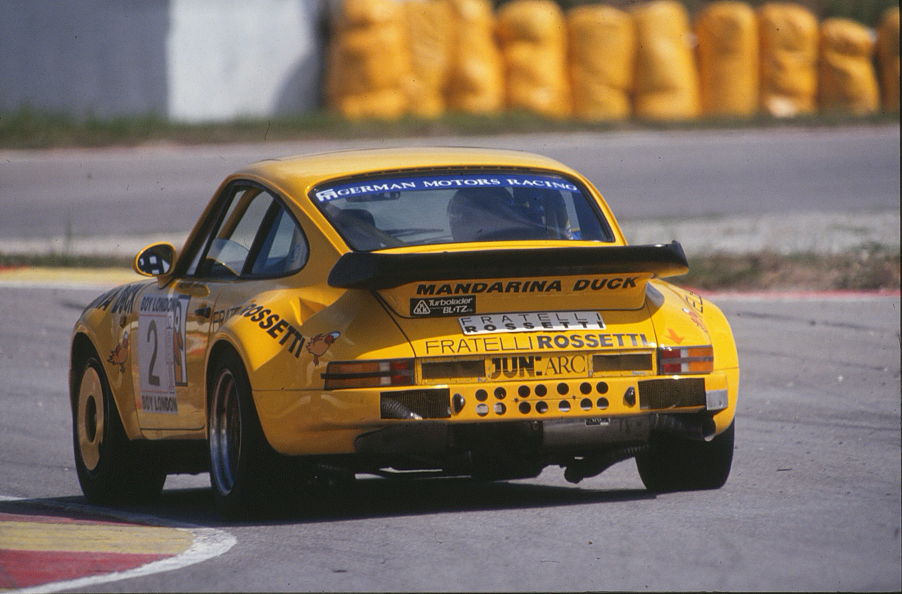 Charles Kwan was invited to Europe to thanks to his success in the Asian Porsche Cup series and drove at Hockenheim before returning to Hong Kong.
Charles also created a ripple in the Ferrari ranks when he ran one of the first Ferrari 355's at the Macau GT race in 1994 and won the race outright.
It was the first race win for a Ferrari 355 anywhere in the World.
This led to his sponsorship by San Miguel which was the largest selling beer in the Phillipines and Hong Kong and was the first Chinese driver to be signed up to race for the German Schnitzer Motorsport team in the Touring Car race at the Macau Grand Prix where he finished fifth behind Jo Winkelhock and Steve Soper . This wled to him becoming a regular Schnitzer driver.
Today all three of my Hong Kong Chinese friends have retired from racing and one of Kwan's final races was in the Zuhai round of the FIA GT Championship sharing a Ferrari 360 Modena with Brithsh ex-pat Matthew Marsh who today is the lead F1 television commentator for East Asia.
None of these drivers was a champion but all three were pioneers that led to the development of motor racing in China and led up to the present day Chinese Grand Prix.