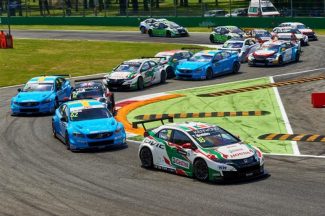 The FIA World Touring Car Championship moved to Monza last weekend and Club member Tiago Monteiro continued his first round success driving his Honda Civic.
Though not the quickest car on the grid ,Tiago managed to turn a bad start, which saw him lying ninth overall, he worked his way up to third at the end of the first race.
In the second race he started on the front row of the grid and finished second overall.  Afterwards he admitted that he was unsure of how he would get on. " I was far from even thinking that I would be on the podium at all, let alone twice!".  However the two results not only were enough to retain the overall lead in the Championship but he was able to increase his points advantage to 15. Now he is headed for the third round in Hungary in two weeks time.