The reliability of grand prix cars today is hardly ever questioned. Technology and engineering progress has now ensured that the chances of any of today's cars actually breaking down, or being dangerous to drive, has almost been ruled out but it was not always that way.
One was reminded of this in a conversation with Grand Prix Drivers Club member Tony Brooks recorded a few years ago, long after he had retired from racing. His observations on racing a grand prix car in the mid-1950's are reminders of just how dangerous it was and how cars that appeared to be promising turned out to be extremely dangerous.
It was not that grand prix cars were not tested properly, but that new designs and how they might handle, could not be predicted by turning to computer simulation for such a thing did not exist.
In the case of Tony Brooks back then, his racing career came to everyone's notice probably when he was racing a Frazer-Nash Le Mans Replica, a car which, in itself was acknowledged as being dangerous. Roy Salvadori was involved in an accident in one at Silverstone which led to him being given the last rights in hospital, but he miraculously recovered to have a very successful career.
Tony had started out racing a Healey Silverstone but then switched to the Nash and towards the end of 1955 was offered the chance of his first race in a grand prix car by Connaught. He was sent to the Syracuse Grand Prix in October that year where the opposition was fairly strong with a number of up and coming Italian racing drivers such as Luigi Musso and Giorgio Scarlatti but also the great Luigi Villoresi and Harry Schell in factory Maseratis. Connaught sent two cars to the race, the second one being driven by Les Leston who was also starting out in his grand prix career, so for young Tony Brooks, it was a formidable introduction to this ultimate form of racing.
Motor Sport racing correspondent, who was really the only British motoring journalists who took in some of the lesser non-Championship races and was present at the race where Tony Brooks made motor racing history. In practice, he surprised everyone by finishing third fastest and so shared the front row of the grid with Luigi Musso and Luigi Villoresi with their factory Maserati's whereas Les Leston – who was more than seven seconds slower than Brooks – languished at the back. At the start, Brooks fumbled it as he had never started in a race in a grand prix car before which let Harry Schell pass him. However, by lap four he had overtaken Schell and then, to the surprise of the Italians, caught and passed Luigi Villoresi to put himself into second place. Eight laps later and he swept past pole sitter Luigi Musso and led the race. Musso fought back but by the end of the race Tony Brooks had made history and won a grand prix race in a British car since 1923.
Clearly, Brooks was the coming man and he was signed up by BRM to race alongside Mike Hawthorn in the new P25 front engined 2.5-litre car in 1956. So what were Tony's impressions of the P25?
" I think it was the worst grand prix car I ever raced. Really, the car was almost undrivable. The initial car was a short chassis version and Mike Hawthorn turned one over at Lavant corner at Goodwood and in the British Grand Prix we led the race for the first few laps with Mike in front and me in second place by dint of the fact the car had very good torque and very good acceleration on full tanks in a straight line. It was quick but after a few laps my accelerator linkage broke and I lashed it up and got back to the pits where they tried to do a better job".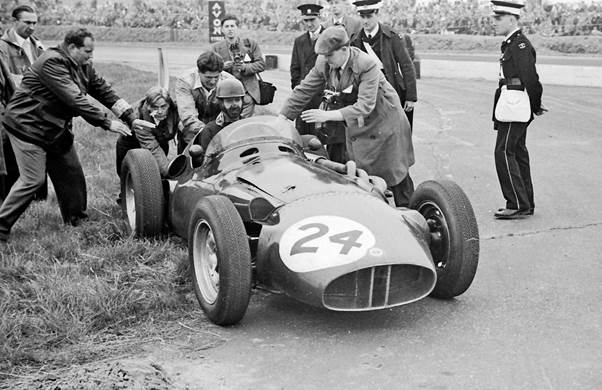 The writer was not only present at the race but was at Club Corner at Silverstone when Brooks wheeled his car on to the concrete apron beside the track and got out to try and trace the problem. Fellow racing driver Mike Anthony was spectating and ran over to help and temporarily solved the problem of the throttle cable by asking for a pencil which he forced into the cable and then helped push start Brooks so that he could slowly get back to the pits.
"Once the mechanics had properly fitted the cable I came back on to the circuit and continued but the throttle was sticking and I had been going through Abbey curve flat – I must have been raving mad. Back in those days you had more problems with oil leaking on to the circuit and in the time I had been in the pits Abbey had become a bit more slippery so with the sticking throttle I had begun to lift off slightly then accelerate again but on this particular lap I got about six feet on to the grass. Normally you would put on a little bit of lock and come back on to the circuit but that car simply went completely out of control, spun off to the outside of the circuit, hit the bank turned itself over, threw me out and set itself on fire which was the only decent thing that car could possibly do !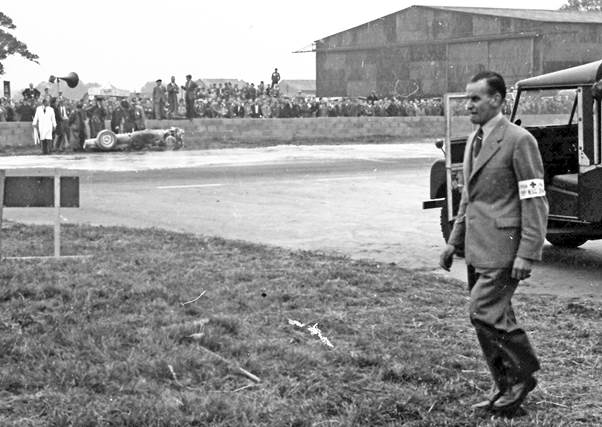 " With that BRM you could not corner it in what I would call a geometrical way by that I mean, like a bicycle, but the BRM wouldn't slide and wouldn't drift.
"Mike had been given a longer chassis version of the P25 but I was driving the short chassis one, the same as the one he had turned over at Goodwood so that really was a car not fit to drive. It was the car that had the single disc brake on the back so the other problem was that even if you managed to keep it on the road, after a few laps you ran out of brakes. Though it was a good idea having two discs on the front and one on the rear it just wasn't man enough for the car so that's probably the worst car I ever drove. However, being young and trying to make my mark I felt that I had to persevere which I shouldn't have done".
It was no surprise when at the end of the 1956 season Tony Brooks took up the offer from Tony Vandervell to drive the Vanwall, a car which not only looked the part but proved to be a great car. Indeed in 1958, the Vanwall dominated with Stirling Moss, Tony's teammate, winning three grands prix and Tony Brooks another three which won Vanwall the World manufacturers championship that year. At the end of the 1958 season, however, Vanwall withdrew from grand prix racing partly because of the death of Stuart Lewis-Evans in the Casablanca Grand Prix that year leaving Tony without a drive for 1959.
Then along came Enzo Ferrari to offer him a contract not only to race in Formula 1 but in sports cars.
"The Dino was a very good car and of course it was the last of the Ferrari front-engined cars which were already dated and I only drove it for one season. The Coopers and later the Lotuses were much better on slow to medium speed circuits but nevertheless, we could have won the Championship in 1959 with the Dino but Ferrari were very unlucky that year. For example, we had been first and second in the Aintree 200 a few weeks before the British Grand Prix that was to be held there that year, but the Ferrari factory went on strike and we could not run so we should have collected some points there. Then they cancelled the Belgian Grand Prix which was the only circuit you could say was a Ferrari circuit, then in the Italian grand prix I was a tenth of a second slower than Stirling in practice and afterwards, they decided to put a new clutch in the car. I travelled about 100 metres in the race before the clutch gave up, so no points there, where we should have picked up some because basically the Dino was a reliable car and I had a reputation for not being particularly hard on cars. So, I still had a chance for the Championship and we went to the American Grand Prix which was at Sebring that year. On the very first lap "Taffy" von Trips, my teammate, promptly rammed me up the backside. I came into the pits to check the car out for, as a result of my Silverstone experience with the BRM three years before and an accident I had had in an Aston Martin at Le Mans both of which were due to mechanical problems, I had decided I would never again drive a car that was sub-standard. I realised when I came into the pits my chance for the Championship had gone as I had lost a minute and the obvious thing was that I could have gone on without coming into the pits but I had been stupid twice before and I was not going to chance it being third time unlucky.
"At Le Mans in 1957 with the Aston Martin, the problem was I was stuck in fourth gear about three o'clock in the morning and had just taken over from Neil Cunningham-Reid.
I had had this problem before and had managed to solve it. We were lying in second place and with thirteen hours to go I did not fancy continuing in fourth gear and steadily moving down the field. So, on my first lap after taking over, I was looking down trying to get the damned thing out of fourth gear and when I looked up again I was coming into Arnage. I almost got round it but the Aston ran up the sandy edge of the corner, flipped and trapped me underneath it waiting for the next car to come round and run over me.
" The next thing that happened was Umberto Maglioli in his Porsche came round, couldn't see me in the dark, and hit the Aston, knocking it off me and I was able to scramble clear.
" I was badly injured and was still recovering at the time of the British Grand Prix where I was due to drive a Vanwall which is why Stirling Moss took over my car when he had trouble in the race and we jointly won the race. I was quite pleased, because I had managed to get out of my sick bed and put the car on the front row of the grid.
" So, as you can see the BRM and Aston accidents were caused by me trying to persevere with cars that had a serious problem and that was what made me come into the pits at the American Grand Prix with the Ferrari. I knew I had blown my chance of winning the championship as I finished third in the race, but I am very proud of the decision I made because I am now here telling the story".
Graham Gauld