As one reaches the twilight years it is necessary to sift through decades of "stuff" and, in my case, notes and the like, tear them up and throw them away. Any stranger looking at pieces of paper on which I have written notes would be forgiven for thinking a hen with ink on its claws had walked over the paper so they are no use to anyone else.
Some time ago I wrote about my late friend Count Vittorio Zanon who had a remarkable collection of cars and in turn had been a financial backer of Italian grand prix driver of Michele Alboreto. One day, in his office in Turin, he told me the story about his Lancia D25  sports car so before scrapping my notes let me tell you the story.
The Lancia D25 was a sports racing car that raced in the 1953/54. It was a good car with between 265 and 270 bhp and a good chassis which made it relatively easy to drive. Its main rival, the Ferrari 375MM had more power but did not have the chassis flexibility that is useful for long distance sports car racing.
The Lancia sports racing cars of that period were designed by the legendary Vittorio Jano and started out with the D20 which was a Coupe. Jano started to pen the design in 1952 and five of them were prepared for the 1953 Mille Miglia finished in dark blue and white rather than red, Italy's racing colours.
Pininfarina built the bodies and power came from the Lancia V6 engine similar to that in the Lancia Aurelia sedan but now producing 245 bhp with dual overhead cams. It was a mixed debut with Felice Bonetto finishing third behind winner Giannino Marzotto in a Ferrari 340 spyder and Fangion in a disco volante Alfa Romeo, and Biondetti 8th overall. The other three retired.
The D20 then became the D23 which was in fact the D 20 with the roof taken off so making them into spyders but clearly this was a stop gap as Jano was already working on the car we are talking about, the D25 which had a 3.1 liter engine save for the cars that ran in the 1954 Pan American Road Race which had 3.3 liter engines.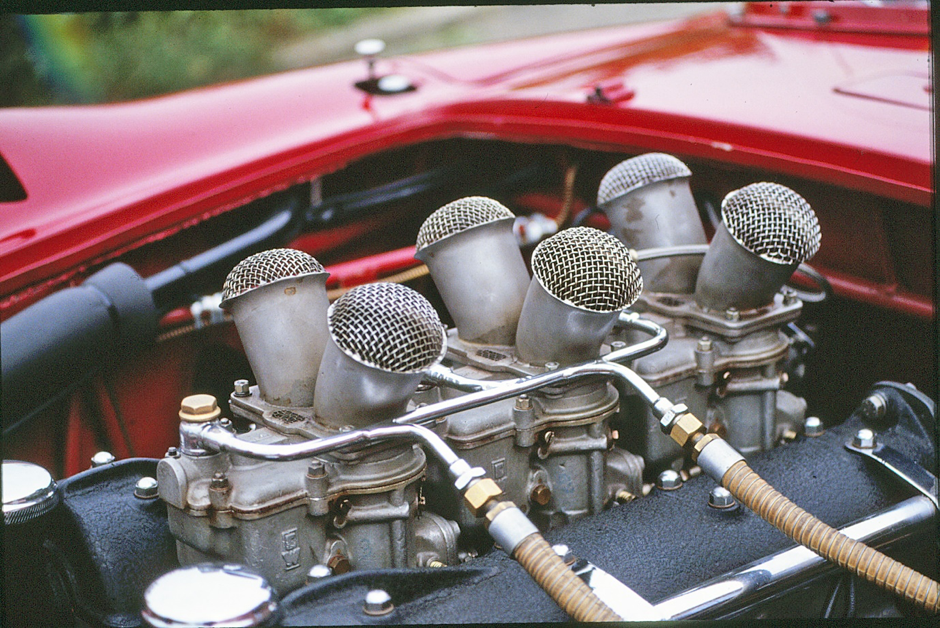 In August 1953 the first Lancia D24 appeared and the work Jano had done on the new car paid off as it was clearly a winner. Piero Taruffi won the 1953 Targa Florio with D24 chassis 005 with Eugenio Castelotti setting fastest lap in another D24. Alberto Ascari won the Mille Miglia that year also in a Lancia D24 and the factory planned to do the Carrera Panamericana at the end of the season. For this they realised they needed full width windscreens as their drivers would be carrying co-drivers (Navigators, really) and the poor passenger had a difficult time as Lancia decided to fit huge 50 liter fuel tanks to the car on the left hand side where the passenger sat.
There was another interesting point that comes into the story later. Because the regulations for "Prototypes" in International sports car races back then called for chassis plates and engine numbers to match manufacturers faced a few problems and so occasionally spare engines would be restamped with a number to match the chassis number. Likewise if a car had to be replaced the same thing was done with the chassis plates.
Lancia took five cars to the Pan American Road Race. Juan Manuel Fangio drove D24/0004, Piero Taruffi D24/0003, Eugenio Castelotti D24/0001, Felice Bonetto D24/0002 and Giovanni Bracco in an earlier D23/002.
The race was a both a Lancia triumph and a tragedy for Fangio, Taruffi and Castelotti finished first second and third in a clean sweep. However Felice Bonetto was killed when he went off the road and hit a concrete lamppost. The wreckage of his car (002) was taken back to Turin and put into storage. However, after all the insurance details had been completed the car was rebuilt and registered as a brand new car with chassis number 0005.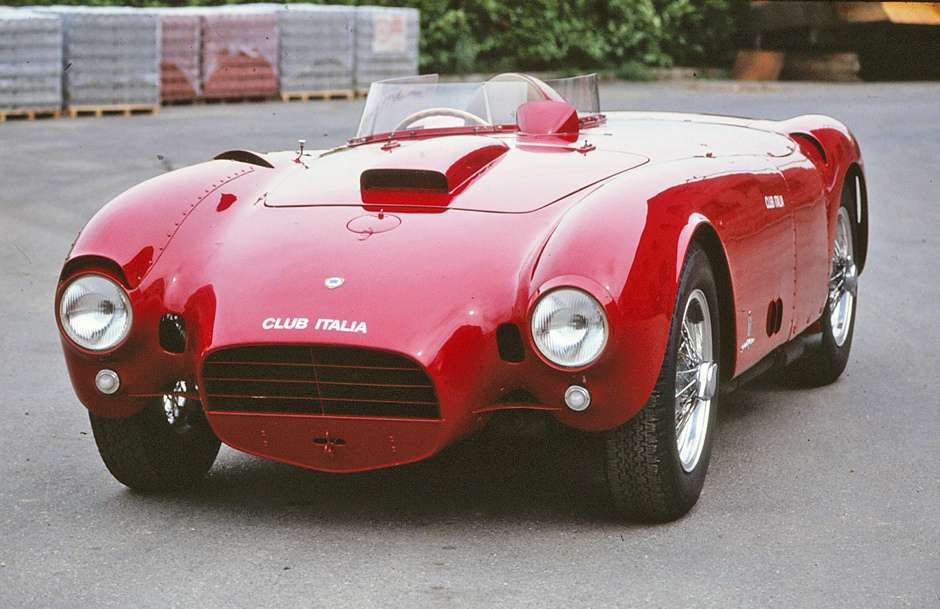 This is the car that Count Zanon owned.
In 1956 with Lancia out of racing, Gianni Lancia presented D24 /0005 to President Peron of Argentina as a personal gift but after Peron was overthrown it was sold to a private owner in Argentina. Count Zanon saw the car when he visited the Argentine GP in 1972 and ten years later was able to buy it. The bodywork was in a bad state so Zanon had the body taken off, which he kept in store, and then had a new body made for the car using Pininfarina's original designs and it is, to this day, the only factory D24 in private hands.
Lancia themselves have an original car D24/0004, the car used by Fangio to win the Pan Americana, but, back then, due to the kind of plate changes mentioned above, Lancia had changed the chassis number from 0004 to 0002 so Lancia replaced it with its original chassis no 0004 to go into Lancia's own private museum. A third car is in the Biscaretti Museum in Turin but it does not have an engine.
Count Zanon had his car totally torn apart and checked over. He wanted to check out everything and got a ballistics  expert Maurizio Coronato, take a look at the chassis plate. As he explained "……As the chemical reagents worked their magic on the polished surface of the metal, the number 0005 – the last number and the one with which the vehicle was exported – was found to be covering another 0002 and, between the two, there were traces of another identification number which was unfortunately illegible. The glorious 0005 is therefore the possessor of another secret, which merely increases the aura of mystery and glamour that surrounds it".
Count Zanon told me he was almost totally convinced that the missing number was 0002 and that his car was in fact the car in which Felice Bonetto was killed in the Pan American Road Race. As he told me, one of the reasons for changing the number to 0005 was probably because factory driver Alberto Ascari was famously superstitious and would not have wished to drive a car in which his team-mate was killed.
Nearly twenty years ago, Count Zanon, kindly gave me a beautiful leather-bound copy of the book he commissioned on the entire history of not only his car but the Lancia D23-25 series of sports racing cars and I have leaned heavily on the information in that book for this story. It is often difficult for today's enthusiasts to understand the goings-on with racing cars at a time when different laws and countries demanded heavy paperwork to identify cars going briefly in and out of their country and re-numbering of chassis and engines, if not commonplace, certainly took place which is why most historians are faced with many headaches when trying to compile histories of iconic cars such as the Lancias.
Following his death at the hands of cancer the car was kept and then sold and is today in a European collection. It is the only true D24 built in period though one or two replica B24's have been built.