We welcome a new member to the Grand Prix Drivers Club in Bertrand Gachot who, though born in Luxembourg, is the son of a French diplomat in the EU. Today retired from racing, Bertrand is CEO of Hype Energy, one of the first energy drinks companies and provides sponsorship to the Force India team.
Luxembourg has produced relatively few leading racing drivers but in the 1980s Bertrand Gachot, who was born there on December 23, 1962, swept the boards in Formula Ford not. He was picked up by West Surrey Racing and went into Formula 3 in 1987 and had a season-long battle with Johnny Herbert in the British Formula 3 Championship eventually finishing second.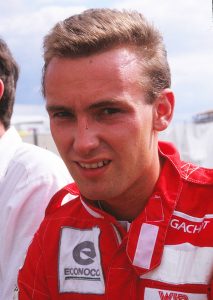 He followed Johnny Herbert into Formula 3000 for 1988 with the Spirit/Toms team in a Reynard 88D and was to finish 5th overall in a Championship won by Roberto Moreno that year. Determined to move into Formula 1 Bertrand signed for the new Moneytron Onyx team which did not work well, nor did his 1990 season with the Coloni team which was a total disaster.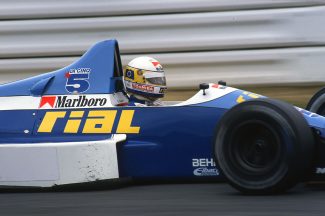 However, for 1991 he was embraced by Eddie Jordan and at last, he had a competitive car. He finished 5th in the Canadian Grand prix and sixth in the British and German grand prix which was his best season in Formula 1. However, an incident in London when he was imprisoned for three months for assaulting a taxi driver, broke the momentum of his Formula 1 career but he returned to Jordan at the end of the season.
His Formula 1 career ended in 1995 with the unreliable Pacific team that was dogged by mechanical problems. Bertrand had worked hard to help raise the sponsorship for the Pacific team and it was a sad time for him
He had plans for the 1996 24 hour race at Le Mans entering a WR LM94. He had arranged for the Korean company SsangYong to develop an engine but the car did not get beyond the pre-qualifying stage. The car later did race on the small Bugatti circuit qualifying well but retiring in the event.
Bertrand has never lost his interest in Formula 1 and racing in general and we look forward to welcoming him to the next GPDC event.