Forty-nine years ago this month in Casablanca, Britain hailed its first World Formula 1 Champion, Mike Hawthorn. Now, in 2017, we record our first four-time World Champion in Lewis Hamilton.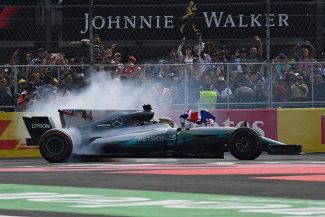 He did not win the Mexican Grand Prix last Sunday but his performances in the second half of the Grand Prix season were such that such a win with still two races to go, was not only on the cards but almost inevitable. One says, almost, because of the first lap incident saw him puncture a tyre and put him back to last place, forty seconds behind the leader. The film script was about to be written and the tension lasted until the flag fell.
Lewis Hamilton has now won more World Championships than any other Briton, one ahead of Jackie Stewart, two ahead of Jim Clark and Graham Hill and the single wins of John Surtees, James Hunt, Nigel Mansell, Damon Hill and Jenson Button. He could well win more.
But a World Championship is also won by the car the winner drives, and here we must acknowledge the dominance that Mercedes has established in recent years. The company has now not only won four World Manufacturers Championships but four in consecutive years 2014 to 2017 another remarkable performance.  (Three with Hamilton and the fourth, last year, with Nico Rosberg).
Formula 1 today is no longer a stage where you can enter with a chassis of your own construction and an independent engine supplier like Cosworth. It is a serious battle between major manufacturers like Mercedes, Renault and Ferrari each wanting success to be reflected in commercial road car sales. This certainly applies to Mercedes and Renault and in the case of Ferrari, it is their primary source of advertising.
In a sense, it is sad that the final two races in the Championship will appear less important this year but there is no doubt that the season of 2017 has proved to be a true battle of the giants in which Mercedes Benz, a week before, clinched the manufacturers title in Texas and this weekend, when Lewis Hamilton won the title.
The Grand Prix Drivers Club salutes two great World Champions.