In some ways I feel sorry for the modern enthusiast who tunes in and watches all the Grand Prix races so easily available on television. They know the names of the drivers, absorb the guarded interviews, and know what they look like but have no chance to see their heroes in the flesh. So grand prix drivers today are generally  mere images on a screen.
It was not always like this and it was quite common to see current grand prix drivers of the 1950s competing in all sorts of events and not just in Formula 1. There was virtually no television coverage of races and such races as were televised were put out days after the event because they had been done on film that needed to be processed.
Also, back then, there was little or no celebrity culture such as we have today and so grand prix drivers were relaxed at these sometimes minor events and if a spectator wished to chat they would usually spare a moment or two and sign an autograph.
I was reminded of this recently when looking up some photographs I took at one of the events in the European Hill Climb Championship in 1958. In those days the championship was as important as modern International GT events with manufacturers competing against each other. So let me take you back to that event.
It was September 1958. I was on my way to Modena and stopped off at the little Swiss village of Ollon which hosted a round in the European Hill Climb Championship. It is hard to believe, but this Championship was big in those days and on that occasion two of Germany's leading teams, Borgward and Porsche were battling it out head to head with a bunch of grand prix drivers taking part.
Apart from the factory teams the entry was made up of private entrants and I was surprised to see my fellow countryman, Innes Ireland, on the entry list. At that time Innes was one of the new boys in International racing and had not get joined Team Lotus and begun his grand prix racing career. He had pulled his Lotus Eleven Climax sports car all the way from England to take part in the event.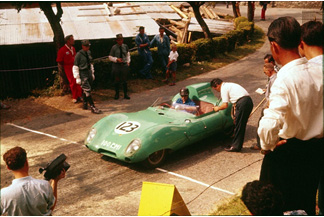 The car he was driving had been bought for him by Rupert Robinson an army friend of Innes's brother in order to help Innes climb the motor racing ladder. So why had he gone all this way for a hill climb event ? I pointed out to him that even if he won his class he would only win about £20. At this Innes smiled, winked, and then remarked that he had persuaded the Swiss organisers to give him £200 starting money which was a lot of money in 1958.  This also illustrated the important ingredient of racing in those days; starting money.
Things like commercial sponsorship did not exist, save from contracts with tyre companies or fuel and oil suppliers, and organisers offered starting money to attract foreign entrants for their events. They got their money back through spectator entry money and the like. At that time Innes was virtually unknown but the organisers were so keen for foreign entrants they were prepared to pay him this amount to come and start.
However, the main interest that day centred on one of those great battles between manufacturers in this Championship. On this occasion it was two German companies competing against each other, Porsche and Borgward.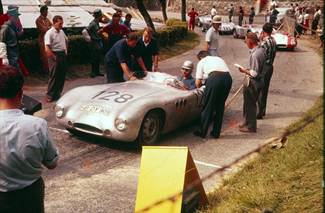 Borgward had produced a superb sports racing car with a 1500cc engine that was capable of challenging Porsche with the RSKs and had assembled a team of top drivers to drive them including Frenchman Maurice Trintignant, Swiss grand prix driver Jo Bonnier and German driver Hans Herrmann. Lined up against them were, Wolfgang Von Trips , Edgar Barth and Jean Behra driving the factory Porsche RSKs.
Can you imagine a hill climb event today with all those grand prix drivers taking part?  As it turned out it was Edgar Barth who won with the Porsche followed by Bonnier, von Trips, Herrmann and Behra.
So, as far as enthusiaists were concerned, were those the days ? Many people who were around at the time would agree.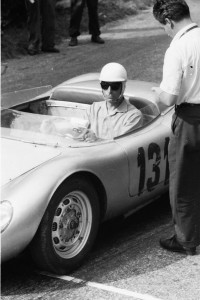 Footnotes:
Needless to say Innes Ireland duly won his class and so happily dragged his battered old Lotus Eleven back to England along with a cheque for £220 and a pot. Note from the photograph his old Lotus even had a fake English registration number painted on the front: RMI were Innes' initials, Robert McGregor Innes Ireland.Six months later he made his grand prix debut with a factory Lotus 18 and was on his way. He was to become a very active member of the Grand Prix Drivers club.
As for Borgward, the company went out of business in 1961 with financial problems.
Graham Gauld