For many people in motor racing the first weekend of April brings back sad memories of the death of Jim Clark at Hockenheim on April 7 1968.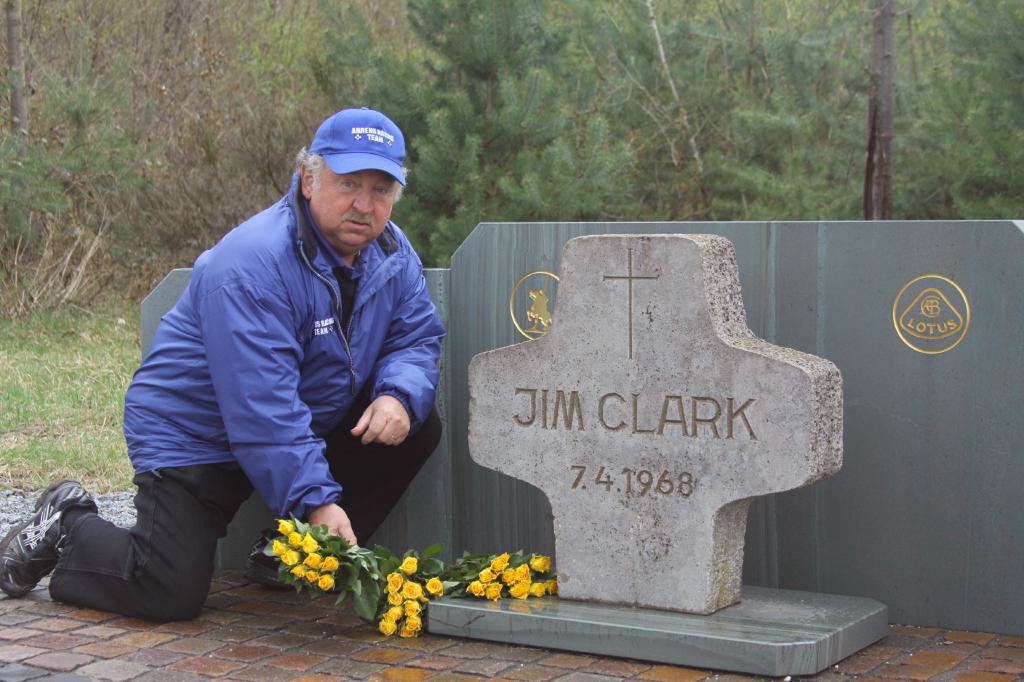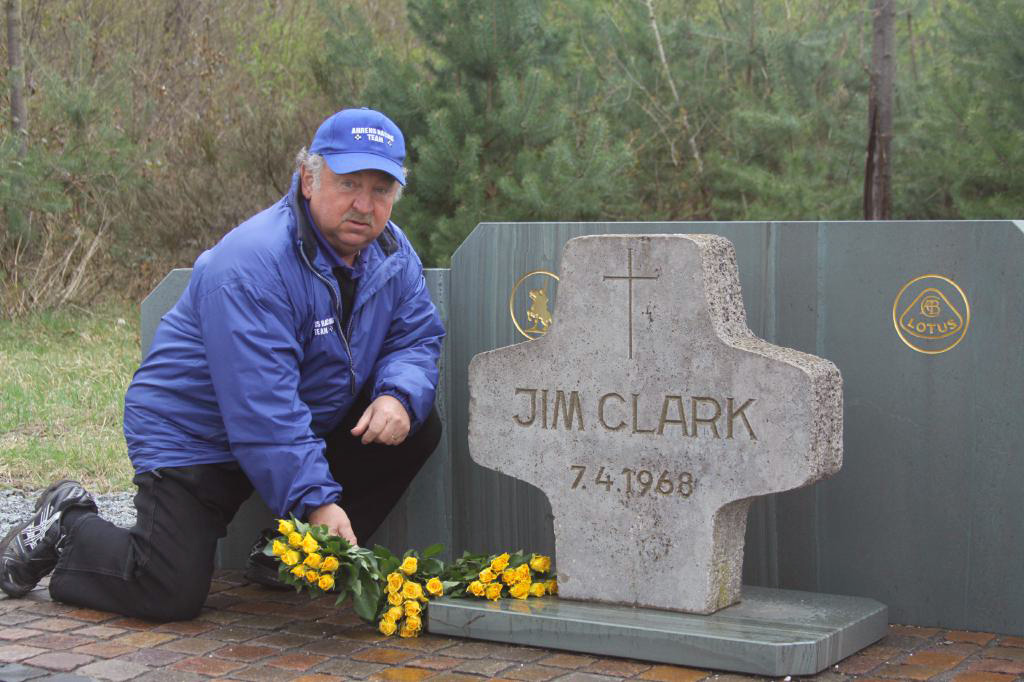 It is a particularly sad day for our member Kurt Ahrens who not only competed in that fated Formula 2 race but was actually leading the race when Clark crashed.
As he recalls: "During the Formula 2 race at Hockenheim I had set the third fastest time in practice and thus would be on the front row next to my fellow Grand Prix Drivers Club members Jean-Pierre Beltoise and Henri Pescarolo with their Matras. For Jimmy things were not going well. He would start on the third row but for the German TV sports magazine "Aktuelles Sportstudio" in Wiesbaden that did not matter. As a World Champin Jim was of course asked to come there for an interview and I was there as well since I was the fastest German in this important German race.
"So we drove together to the TV studio. Jimmy and I were sitting in the front of my Mercedes 280 and my friend Eckhard Schimpf was in the back acting as an interpreter. We talked about private topics and Jimmy told us about the farm, his sheep breeding, grouse and clay pigeon shooting and his return to farming again. Jimmy got to know I was not a professional racing driver like nearly everyone else on the grid at Hockenheim, but that I was a hobby racer who had to work in his father's company on Monday after the race".
During the return trip from the TV studio Kurt's Mercedes hit a problem. They stopped at a petrol station and put thick 40SAE oil into it then added : "….but none of us had enough money with us. It was only after a long talk with the petrol station attendant that we got the twelve litres of oil we needed. Jimmy paid him by signing autographed photos of himself and we continued to Hockenheim driving very slowly. We finally got to the Lux-Hof hotel in Speyer at two o clock in the morning. Jimmy then put his arm around my shoulder and said " never mind. It was not your fault". We both said "see you tomorrow" and ten hours later he was dead".
Kurt also remembered the Nurburgring 1000kms race six years before when Jim Clark drove a Lotus 23 against all the factory Ferraris. "…we all shook our heads in disbelief when with this little car that had only 220 bhp simply drove away from the entire field. Back then we said that someone who can do this now will become World Champion one day. One year later he was the Champion".
A few days before the Hockenheim Race Jim Clark was invited to a private dinner party at the home of another member of the Grand Prix Drivers Club, Claude Le Guezec, at his home in Paris. Claude was competitions manager of Matra and in Claude's visitors book when he left that evening Jimmy had written "……I hope that the only blue I will see this weekend is in my mirror". This was a reference to the two blue Matra's entered for the Formula 2 race for Jean-Pierre Beltoise and Henri Pescarolo.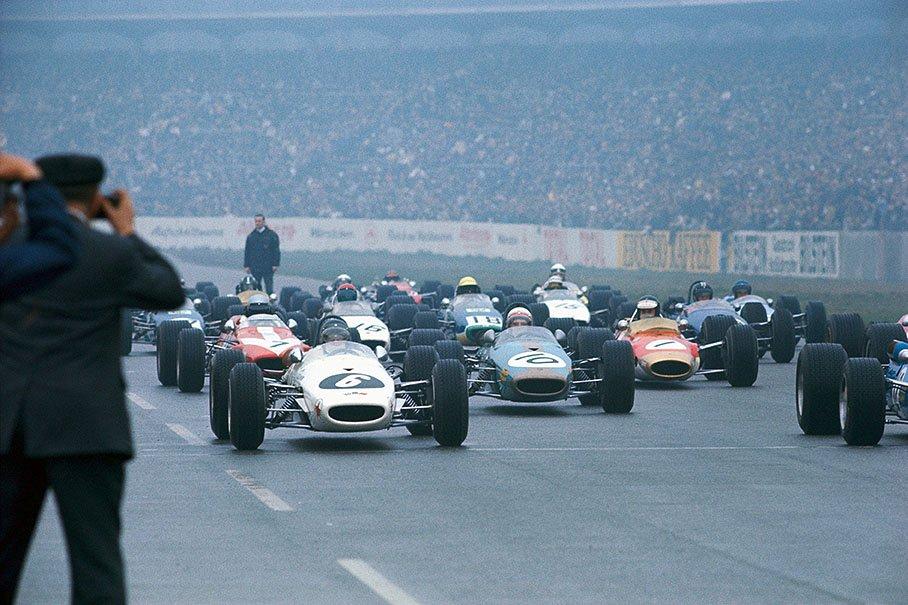 At the circuit Claude noticed that Lotus were having problems and Jimmy Clark was helping to fit the wheels on his car. Claude offered to send over a couple of Matra mechanics to help them. Claude remembers with a laugh: "…when I made the offer Graham Hill looked up with a smile, placed the fingers of one hand on his nose and making the gesture of pulling a chain with his other hand. Obviously that is what he thought of French mechanics".
Another of our Club members, Derek Bell was in the same race. It was his first Formula 2 race and he was driving a Brabham BT23C and stayed at the same hotel as Jim Clark. In practice Derek had qualified fifth fastest with Jim Clark two places behind him on the grid.
Both Graham Hill and Jim Clark were not pleased with their Firestones and with everyone else on Dunlops the difference was hammered home.
In the first heat there was heavy rain and Jean-Pierre Beltoise took the lead in his Matra but on the fourth lap it was Kurt Ahrens who passed him and took the lead in the race. A lap later on one of the long curves Jim Clark's Lotus twitched and plunged off the road hitting a tree killing Clark instantly. Shortly afterwards Kurt Ahrens retired with a broken camshaft. "I didn't know about Jimmy's accident until I came into the pits as the car was well off the road and I just didn't see it".
Speculation about the cause of Jim Clark's accident has rested mainly on a private report done after Clark's car was flown back to the Air Accident Investigation Branch at Farnborough where one of the chief engineers Peter Jowitt – who was also a senior British motor racing scrutineer – concluded that it was probably caused by a slow puncture on a rear tyre. However, Derek Bell had a different theory. The previous day he had noticed that Lotus had a problem with the metering unit on Jim Clark's car. Derek Bell : " In my own mind Jimmy came up to that corner and the engine cut out because of this problem with the metering unit. Jimmy would probably go on to opposite lock and then the engine suddenly cut in again and Jimmy goes off the road. I don't say that is what happened but that is my feeling about it".
So, on that wet April day forty-eight years ago Jim Clark was killed. Ironically his close friend Jackie Stewart was far away in Spain on his mission to improve safety on motor racing circuits. Stewart's views on safety were met with a lot of derision at the time but after the Clark accident they were taken more seriously and as a result all motor racing is immeasurably more safe.
Ein trauriger Tag für Kurt
Für viele Menschen im Motorrennsport bringt das erste Wochenende im April in Hockenheim (7. April 1968) traurige Erinnerungen zum Tode von Jim Clark zurück.
Es ist ein besonders trauriger Tag für unser Mitglied Kurt Ahrens, der nicht nur an diesem unseligen Formel-2-Rennen teilgenommen hat, sondern der im Moment des Unfalls von Jim Clark in Fuehrung lag.
Er erinnert sich: "Fuer dieses Formel-2-Rennen in Hockenheim erzielte ich die drittschnellste Zeit im Training, was mich in die erste Startreihe neben meinen Grand Prix Drivers Club Kollegen Jean-Pierre Beltoise und Henri Pescarolo in ihren Matras brachte. Für Jimmy lief nicht alles gut. Er würde aus der dritten Reihe starten, aber für das deutsche TV-Sportmagazin "Aktuelles Sportstudio" in Wiesbaden spielte das keine Rolle. Als Weltmeister war Jim natürlich zu einem Interview eingeladen und ich war auch dabei, da ich der schnellste Deutsche in diesem fuer Deutschland wichtigen Rennen war. Also fuhren wir zusammen zum Fernseh Studio. Jimmy und ich sassen vorne in meinem 280 Mercedes und mein Freund Eckhard Schimpf saß im Fond und fungierte als Dolmetscher. Wir sprachen über Privates und Jimmy erzählte uns von der Farm, seiner Schafzucht, Wildgaensen und Tontaubenschießen und seine Liebe zur Landwirtschaft. Jimmy erfuhr, dass ich kein Profi Rennfahrer wie die meisten anderen im Starterfeld in Hockenheim war, sondern dass ich ein Hobby Rennfahrer war, der am Montag nach Hockenheim wieder im elterlichen Betrieb zu arbeiten hatte".
Waehrend der Rückfahrt vom TV-Studio hatte Kurt's Mercedes ein Problem und sie hielten an einer Tankstelle und mussten 40SAE Öl nachfuellen, dann fügte er hinzu: "… aber keiner von uns hatte genug Geld dabei. Erst nach einem laengeren
Gespräch mit dem Tankwart erhielten wir die benoetigten 12 Liter Oel. Jimmy bezahlte ihn mit handsignierten eigenen Fotos und wir setzten uns wieder sehr langsam fahrend nach Hockenheim in Bewegung. Endlich kamen wir im Lux-Hof Hotel in Speyer so gegen zwei Uhr frueh an. Jimmy legte seinen Arm um meine Schultern und sagte: "egal. es war nicht deine Schuld". Wir sagten beide "wir sehen uns morgen" und zehn Stunden später war er tot".
Kurt erinnerte sich auch an das 1000 km Nürburgring Rennen sechs Jahre zuvor, als Jim Clark einen Lotus 23 gegen all die Werks Ferraris fuhr. "… Wir alle schüttelten unglaeubig den Kopf, als er mit diesem kleinen Auto, das gerade mal 220 PS hatte, dem ganzen Feld vorne weg auf und davon fuhr. Damals sagten wir, dass jemand, der das zustande bringt, eines Tages Weltmeister werden kann. Ein Jahr später war er der Champion".
Wenige Tage vor dem Hockenheim-Rennen war Jim Clark zu einer privaten Dinner-Party daheim bei einem anderen Mitglied der Grand Prix Drivers Club, Claude Le Guezec, in seinem Haus in Paris eingeladen. Claude war Rennsport Manager von Matra und in Claudes Gaeste Buch, als Jim an diesem Abend ging, hatte er geschrieben "…ich hoffe, dass das einzige Blau, das ich an diesem Wochenende zu sehen bekomme, in meinem Rueckspiegel erscheint". Dies war ein Hinweis auf die beiden blauen Matra's die für das Formel-2-Rennen für Jean-Pierre Beltoise und Henri Pescarolo genannt waren. Tatsaechlich merkte Claude auf der Rennstrecke, dass sie bei Lotus Probleme hatten und dass Jimmy Clark sogar mithalf die Raeder an seinem Auto zu befestigen. Claude offerierte ein paar Matra Mechaniker zu Hilfe zu schicken. Claude erinnert sich lachend:" … als ich mein Angebot machte schaute mich Graham Hill laechelnd an, hielt sich mit einer Hand seine Nase zu und machte mit der anderen Hand die Geste die Spuelung zu ziehen. Offensichtlich war das was er von franzoesischen Mechanikern hielt".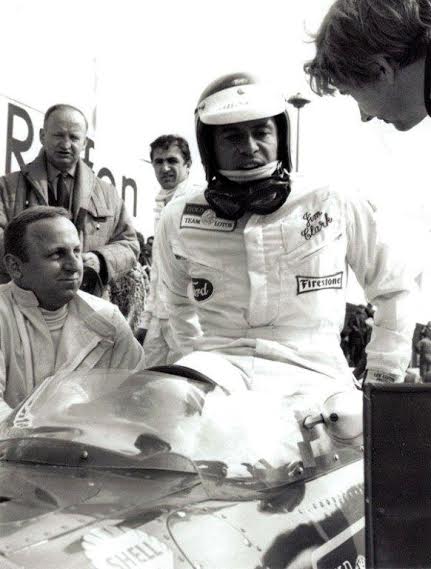 Noch ein anderes Clubmitglied, Derek Bell, nahm am selben Rennen teil. Es war sein erstes Formel 2 Rennen und er fuhr einen Brabham BT23C und wohnte auch im selben Hotel wie Jim Clark. Im Training qualifizierte sich Derek als fuenftschnellster mit Jim Clark zwei Plaetze hinter ihm in der Startaufstellung.
Beide, Graham Hill und Jim Clark waren nicht zufrieden mit ihren Firestones und mit allen anderen auf Dunlops war der Unterschied unmissverstaendlich deutlich.
Im ersten Lauf war starker Regen und Jean-Pierre Beltoise ging mit seinem Matra in Fuehrung, aber in der vierten Runde wurde er ueberholt von Kurt Ahrens, der die Fuehrung uebernahm.
Eine Runde spaeter in einer der langen Kurven zuckelte Jim Clarks Lotus und flog von der Strecke prallte auf einen Baum und Jim war sofort tot. Kurz darauf beendete Kurt Ahrens mit einer gebrochenen Kurbelwelle das Rennen. "Bis ich an
die Boxen kam, wusste ich nichts von Jimmy's Unfall, da sein Wagen weit abseits der Strecke lag und ich ihn einfach nicht sehen konnte".
Spekulationen über die Ursache von Jim Clark's Unfall beruhten hauptsaechlich auf einem privaten Bericht, der von einem der leitenden Ingenieure, Peter Jowit, der auch ein britisher Senior Kommissar war, verfasst wurde, nachdem Clark's Auto nach Farnborough zum Air Accident Investigation Branch zur Untersuchung zurueckgeflogen wurde. Der besagte, dass der Unfall vermutlich von einem schleichenden Plattfuss an einem Hinterrad ausgeloest wurde.
Derek Bell hatte jedoch eine andere Theorie. Am Tag zuvor hatte er bemerkt, dass Lotus ein Problem mit dem Dosiergeraet in Jim Clark's Auto hatte. Derek Bell: "Meiner Meinung nach kam Jimmy in diese Kurve und der Motor setzte ploetzlich wegen der Dosiergeraetprobleme aus, wahrscheinlich ging Jimmy auf Gegensteuerung, dann sprang der Motor ploetzlich wieder an und Jim flog von der Strecke. Ich sage nicht, dass das so geschah, aber das ist mein Gefuehl dafuer".
So, an diesem nassen Apriltag vor achtundvierzig Jahren kam Jim Clark ums Leben. Ironischerweise war sein enger Freund Jackie Stewart weit weg in Spanien in Mission um die Sicherheit auf Rennstrecken zu verbessern. Stewart's Ansicht ueber Sicherheit wurde damals oft belaechelt, aber nach dem toedlichen Unfall von Clark wurde sie ernsthafter in Betracht gezogen mit dem Resultat, dass der