Of all the founder members of the Grand Prix Drivers Club the one who is probably least known to racing enthusiasts is Yves-Giraud Cabantous and yet his career in racing had some memorable highlights. For example he was the first French driver to score points in the newly created World Championship when he finished 4th in the 1950 British Grand Prix driving a Lago-Talbot.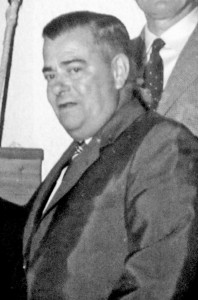 Born Yves Giraud in October 1904, and as a youth he took piano lessons and aimed to be an orchestral conductor but it was not to be as he became interested in cars. His father died when he was quite young and when his mother re-married Yves added his step-fathers name and became Yves Graud-Cabantous. His stepfather encouraged him to become a doctor but instead he joined the Salmson company as a mechanic.
He had his first event at the age of 20 driving a Noel given to him as a Christmas present by his setp-father. The Noel was a two seater fitted with a 1000cc Austin Ruby engine in the hill climb at Argenteuil he finished fifth in his class.
Meanwhile he had started work as a mechanic with the Salmson company and he was soon reacing Salmsons. In 1931 he took part in his first le Mans 24 Hour race driving a car be had built up called the Caban which used a Salmson chassis and a Ruby engine. Sadly he retired with electrical problems but returned the following year with the same car and finished 9th overall.
Dur8ing the 1930s he raced a number of cars starting out with Salmsons and then his Caban and was a regular class winner. In the 1937 Bol d'Or and at Le Mans  he drove one of the ugly Chenard-Walcker "tank" sports cars but then moved to Delahaye one of the most popular racing marques of the period.
Yves was always a quiet, amusing  and charming Gentleman driver of the old school who did not court publicity which is why most of his racing exploits are unknown, now, those many years later.
In 1947 he joined forces with Louis Rosie in Ecurie France racing a sports Delahaye and then a Talbot T26 in minor grand prix events. He won the Coupes du Salon at Montlhery and won the 1948 GP de Paris with Talbots becoming French racing Champion that year.
By now he was racing in the major grand prix events in a Talbot and when the present World Championship was created in 1950 he took part in the first World Championship Grand Prix, the British Grand Prix at Silverstone. Entered officially by Talbot-Darracq alongside team-mate Eugene Martin he drove well against the full Alfa Romeo and Maserati teams. In practice the four Alfas of Farina, Fagioli,Fangio and Parnell filled the front row followed by Prince Bira in the Maserati and then Giraud-Cabantous. He was to go on to finish 4th behind Farina, Fagioli and Parnell in their Alfa Romeos scoring 4 world championship points so becoming the first Frenchman to win points in the World Championship. His great Friend Louis Rosier finished 5th in the same race and he too was in the points.
Yves was to go on to race at Le Mans with the factory Nash-Healey at Le mans in 1952 and 1953 meanwhile racing his own private Talbot-Lago in non-championship races around Europe. Indeed it was in 1953 that the writer met him at the Charterhall circuit in Scotland with his faithful Talbot-Lago alongside Louis Rosier in a 375 grand prix Ferrari.
Despite the fact that he was now fifty years of age the lure of Le Mans brought Yves back to the circuit in 1954 driving a factory VP 750 and again in 1955 with VP but that was his last Le Mans race.
Though technically retired and working hard to develop his transport business he still had time to race a Ferrari 212 Export Berlinetta in the Reims 12 hour race in 1957 and his last event was a six-hour race for up to 1500cc sports cars. He was entered and practiced in a little Italian Giaur but was a non-starter in the race.  A sad end to a long racing career.
Yves Giraud-Cabantous was a founder member of the Grand Prix Drivers Club in 1962 and was a regular attender at events up until his death in 1978 at the age of 68. Though his is, perhaps, one of the forgotten French racing drivers he nonetheless was fast, consistent and great company at events.