Grand Prix drivers these days tend to stick to that one discipline once they have reached Formula 1 but for Emanuele Pirro, the new President of the Grand Prix Drivers Club, variety was, and still is, the spice of his racing life.
Even today he can wax just as enthusiastically about racing a historic car that was racing before his period, as he can about the many cars he raced in his racing career.
He is the motor racing enthusiasts' enthusiast.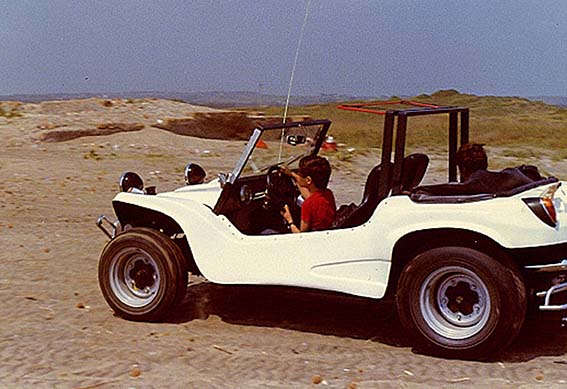 Born in Rome, Emanuele's father liked cars, had a shop that sold domestic appliances, white goods, pots and pans, and when Emanuele was 11 his father rented an early go-kart and here his enthusiasm for racing started.
Clearly his father wanted to encourage him for when he was six his father bought him a small motorcycle "….and then when I was about seven he taught me to drive when I don't think I could even see through the steering wheel!
" I have two pictures of my dad in the Mille Miglia but he gave up racing when he got married".
So clearly his father was sympathetic towards Emanuele's aspirations.
The Pista d'Oro kart circuit, twenty miles from Rome, had been built and it hosted the only Karting World Championship to be won by a woman, Suzanna Raganelli, (Ronnie Peterson finished second !).
" When I started racing karts a number of young drivers had moved on to motor racing, Riccardo Patrese, Eddie Cheever and Andrea de Cesaris, for example, so luckily there had emerged the idea that if you were good in karting you could be good in cars.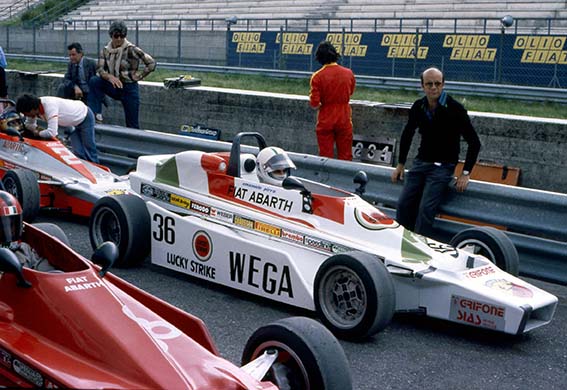 " I don't believe in luck but sometimes circumstances can go your way and in those days Fiat was strong with the entry-level Formula Italia using Fiat engines. This was so successful that they replaced it with Fiat Formula Abarth that was launched in 1980 and they produced 52 cars to run in the Championship.
" I was approached by a team who offered me a drive if I paid 50% of the cost of the car and we shared 50% of the starting money. My dad was brave enough to believe in me and picked up a group of small sponsorships from his friends and we hoped for the best".
Emanuele was just 18 and so qualified for the Abarth Junior Championship but he went out and not only won the Junior section but the overall championship and he was on his way because with the good prize money he and his father broke even.
At the same time Cesare Fiorio was competitions manager for Lancia and was very much pro young Italian drivers and despite the fact Emanuele was preparing to move up into Formula 3, Fiorio invited him to travel with the team to the Daytona 24 Hour race in 1981 but to bring his helmet and overalls just in case.
"Just before the race Cesare invited me to Mugello for a short test drive with the Lancia Beta Monte Carlo that was going to run at Daytona and which to my inexperienced eyes was a huge monster.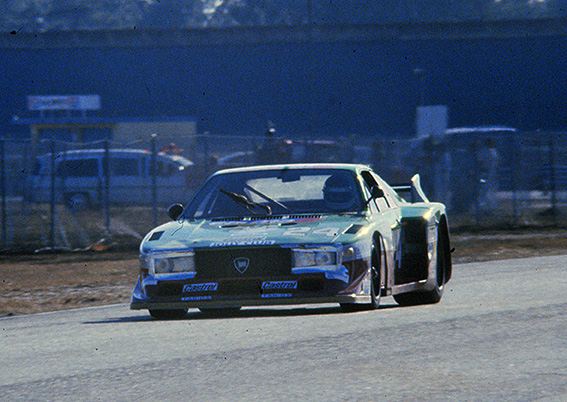 "Mugello is four hours away from home and as I could not afford a hotel I got up at 4 o'clock in the morning and drove to Mugello for the test. Beppe Gabbiani was doing the main testing that day. I saw him pass on the pit straight and he was so fast I felt that I could never drive that fast. However, we went to Daytona and Cesare put me in the Lancia Beta Monte Carlo with Martino Finotto and Carlo Facetti and we ended up finishing fifth overall, we won the class and scored World Championship points.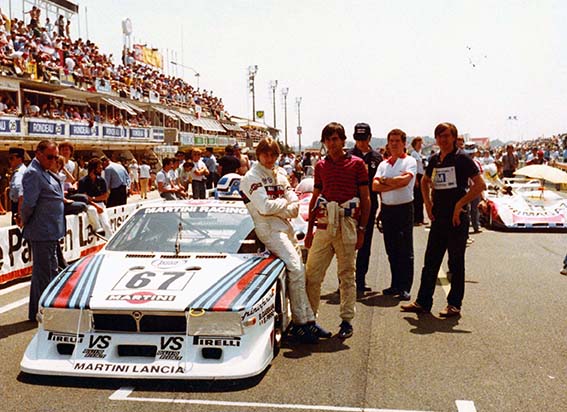 Cesare then gave me another chance and entered me for Le Mans in 1981 with Beppe Gabbiani and at the Kyalami race that year with Michele Alboreto but I had no official contract with Lancia he would just call me up and I would do it".
During that 1961 season Emanuele had started racing in Formula 3 with a small private team running a Martini. The owner had been running a Martini in the 1960 Italian championship and offered Emanuele a drive in the final round that year provided he paid for the tyres! As usual his father talked a company into paying for the tyres but he drove well enough to be offered the drive for 1961 in the European Championship.
" You must understand that like many drivers I was living day to day. I had given myself a gap year from my Engineering studies at University and added to that in 1982 the Martini was not the best car; the best car was the March.
"At Zandvoort I blew up my engine, as we tended to suffer from detonation in those days, and we did not have a spare engine. So we went to Novamotor and asked for help but they couldn't didn't have a spare. Mario, my team owner, found another engine from a different Italian tuner we put the engine in and went straight to qualifying. With this engine I found myself in front of the third works Martini and I couldn't believe it.
" Then, at the end of the season at Imola, I put our car on pole position and after qualifying I was approached by Hughes de Chaunac of Oreca and Gianpaolo Pavanello of Euroracing, both Marlboro sponsored, who offered me a drive with $5,000 dollars a year for the following season. I was so excited jumped up and down in the garage but imagine if we had not borrowed that engine at Zandvoort this might not have happened so sometimes circumstances just play your way.
"Also this brought me into the Marlboro team and they were the ones who found me a place with Onyx Racing with a March 842 BMW in Formula 2 for 1984 the last year of that formula".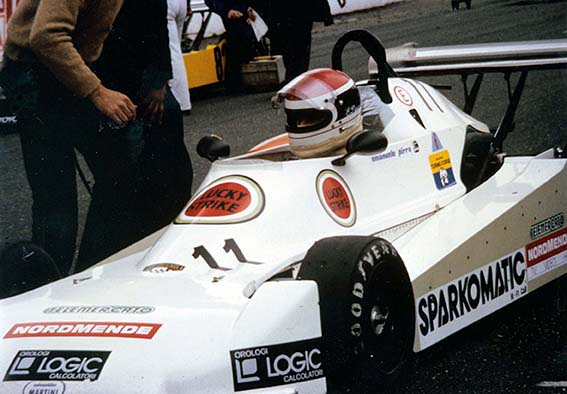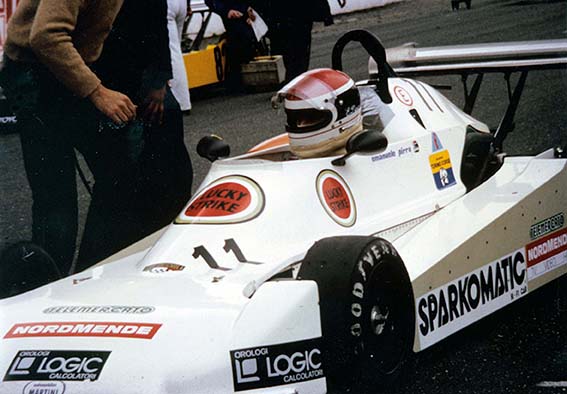 That year Pirro finished 7th in the championship and he stayed with Onyx for 1985 in the new Formula 3000 with a March 85B Cosworth. " It was probably the worst car I ever drove because it was the beginning of the flat bottomed cars and basically nobody really knew how to make a flat bottomed car work so from an extremely grippy, agile, fast car with a screaming 2 litre engine, which was a pleasure to drive, I was now into a big, heavy, yes more powerful, bulky car but not so much fun. I was to drive for Onyx in Formula 3000 for two years until 1986".
Despite his dislike of the car he won at Thruxton and Vallelunga in the 1985 season and was third in the championship in 1986.
In 1985 Emanuele had also moved to London and half way through his first season in Formula 3000 he had a telephone call from Mike Earle at Onyx to say he had just had a call from Bernie Ecclestone to say that he wanted Emanuele to drive for him at Brabham in Formula 1.
Marlboro agreed to let Pirro out of his contract and gave their blessing.
" Bernie rang me and I went to talk to him.At the time he had Nelson Piquet and Francois Hainault who was really struggling with the car. He asked me if I thought I was good enough for Formula 1 and I said, honestly I don't know. He told me to go and get a seat fitting and I had a few laps of Silverstone in the Brabham and the arrangement was that I was to go to Detroit for the US Grand Prix but I was not to talk to anyone.
"He called me a couple of days later and told me they were having some issues with BMW because our results that year were not as expected and they are pushing for their own driver. We made an agreement with them and so Marc Surer will be driving in the two American races. He said he would come back to me after those two races but he never did".
Ironically Pirro had been racing for BMW in the World Touring Car Championship in 1985 with Roberto Ravaglia and Gerhard Berger with the Schnitzer team which he enjoyed and felt this was a good Plan B if his single seater career came to an end.
At the end of 1986 his run with Onyx in F3000 had finished and with no Brabham F1 drive he signed for a full season of the World Touring Car Championship in 1987 with BMW.
There were two factory cars and four drivers with former European Championship winner Ravaglia as the number 1 driver.
Emanuele was partnered in the second car with Roland Ratzenberger and Ivan Capelli was to run with Ravaglia.
Pirro and Capelli were the ones who started the races and at the driver change Ravaglia would then drive whichever car was leading.
" In the first few races I was leading and so I was then paired with Roberto Ravaglia and Ivan with Roland.We were scoring good points and fighting with the Heggenberger Ford Sierra Cosworth.At Brno the prop shaft broke in my car so Roberto jumped into the other car and he won so making him World Champion with me third.
"At the end of the season my good friend Stefan Johannson, who was driving for McLaren at the time, rang me up and said Marlboro were going to do a big commercial to be directed by Tony Scott, in Phoenix Arizona and Alain Prost could not do it so would I like to do it as they paid well.
"So I did the film and then Ron Dennis called me and told me in confidence that McLaren would have Honda engines the following year and a big testing programme was going to be set up at Suzuka. Would I like to be the test driver. At the same time they organised for me a Formula 3000 deal in Japan so I moved to Japan in 1988 and that year I took 108 flights from Europe to Japan and back because McLaren testing in Japan was Tuesday, Wednesday and Thursday every week
"Then Ron Dennis told me that Larrouse were interested in me driving for them but added that there might be other opportunities at McLaren and to tell them I was interested but not to commit.
" In that week I then had an offer from Tyrrell and from Benetton so having given up on my single seater career I now had three offers in Formula 1".
This was Flavio Briatore's first season with Benetton and Pirro concedes that he felt he was chosen to fill a gap and that Briatore was looking ahead to greater things. His season with Benetton was clouded by five retirements and a fifth place in the Australian Grand Prix at the end of the season.
" Obviously I thank Flavio for the drive but I don't think he ever saw me as the horse to win the bet. Then at Monza I read in the press that Flavio had signed Nelson Piquet and it was not a nice thing to read. Obviously I would have preferred Flavio to tell me about this before it appeared in the press but with experience I now realise that you cannot warn a driver in advance but at least a few minutes before the press announcement would have been a nice gesture. However, Marlboro were still helping me and I joined Scuderia Italia for the 1990 Formula 1 season".
However we have overlooked a telephone call Emanuele received in 1989 from Ferrari. They wanted to talk to him and could he come to Maranello the following day.
He explained he had to fly back to Japan the next evening but would be back in a few weeks time; but they insisted it had to be the next day.
When he explained this was impossible they drove to Rome very early the next morning and offered Emanuele a testing contract with Ferrari in Formula 1 but not a full contract.
" I tried to explain that I felt very loyal and grateful to Ron Dennis and if they offered something more, not in terms of money, but as a contract, I could go to Ron Dennis and explain that I had been offered a contract with Ferrari. But this did not happen. When I told Ron Dennis about this he was furious, not at me, but that Ferrari had made the offer".
At the end of 1991 Emanuele Pirro left Scuderia Italia and to himfinally leaving Formula 1 was not a big deal. However he was still involved with BMW in Touring Car racing and in the prestigious Macau Touring Car race he had beaten the DTM Mercedes cars. This led to Mercedes approaching him with a big contract and a lot of money to race for Mercedes Benz in the 1992 German DTM series.
" I told the BMW boss that I was going to talk to Mercedes and in hindsight this was a mistake. I just felt I did not want to hide things and told them I was a professional driver and just wanted to talk to them.
" I then decided I was happy with BMW and didn't really want to change so I thanked Mercedes and stayed with BMW.
"I then discussed the new seasons contract with BMW and pointed out that I wanted to stay with the same BMW Schnitzer team for DTM and we shook hands on that.
"However,when it casme tot the press conference they announced they would run two teams, Schnitzer with Ravaglia and Winkelhock and Bigazzi with me and Steve Soper. To me I felt that was very bad, I felt betrayed. Biggazi was a good team but I felt my relationship with BMW had been ruined and a year later I quit.
"Charlie Lamb was very kind and explained he was sorry I was leaving BMW but that another manufacturer was coming into racing and that I would be the perfect driver for them. This was Audi".
As we all know, Emanuele's career in racing with Audi was to see him win Le Mans five times and today he is one of Audi's motor sport ambassadors. His career with Audi will wait for another day.
So, as can be seen, Emanuele Pirro is not just a talented racing driver but, in this modern professional dog-eat-dog World, he is a man who was both honest and open with those for whom he drove, but equally suffered by being the gentleman he truly is.
Graham Gauld