The Brabham family have been immersed in motor racing for nearly seventy years and today we welcome the youngest of Sir Jack Brabham's sons, David Brabham to the Club.
Though born in London David is Australian through and through. We might have lost him to Australian football had it not been for karting which first attracted his interest despite the fact that his father had not only become World Champion but his brothers were already in racing.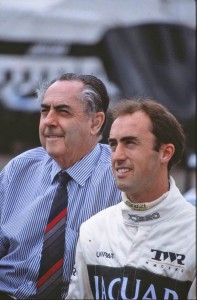 He then started on the familiar route of Formula Ford but his breakthrough came in the Formula 2 race held alongside the 1987 Australian Grand Prix in Adelaide. He won outright despite starting from near the back of the grid. Following success in Formula Atlantic he eventually ended up in England where he won the British Formula 3 Championship.
David moved into Grand Prix Formula 1 in 1990 ironically, but appropriately, with Brabham. It was hot a happy season with a row of retirements mainly through electrical problems so that his 15th place in the French Grand Prix was his best performance. He then left Formula 1 and joined Tom Walkinshaw's Jaguar team winning the 1000kms of the Nurburgring in 1991 and for the rest of his racing career he proved to be an outstanding driver in GT racing around the World. In 1994 he returned to Formula 1 with Simtek but again it was a disappointing year in a new car.