On his business card, Derek Daly uses the phrase "be Extraordinary" to attract your attention but it is really not necessary as Derek not only lightens up a room and certainly attracts your attention. In his brash, cocky, matter-of-fact style and like all Irishmen, has a way with a story.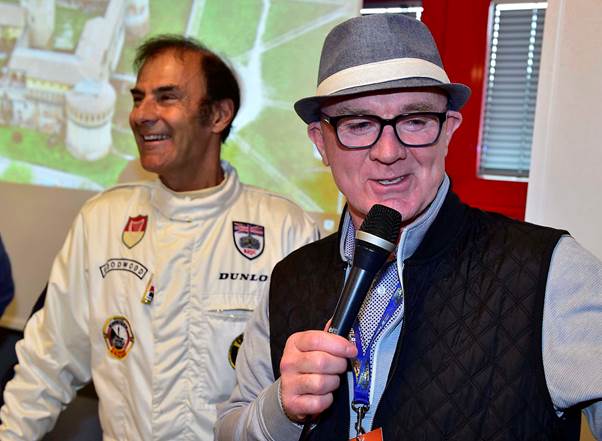 Earlier this year he flew over to Italy for the General Assembly of the Grand Prix Drivers Club that was held at Imola and immediately regaled most of those attending with some of his many stories.
It was also a chance to pin him down and talk, not about his remarkable career in racing but to concentrate on his early days. For Derek Daly had no silver spoon in his mouth and as we will see he worked hard physically and mentally to create a lucrative career racing not only in Europe but in the USA where he currently lives.
Born and brought up in Dublin Derek's father sold vegetables in a corner store in the city.
"We had no connection or cars in any shape or form other than my dad delivering vegetables to customers with the van but I was always a car guy.
"When I was young it was almost impossible to get Formula 1 results on mainstream media; it just wasn't covered.
"By pure chance one of the ladies who came to the shop to buy her groceries said that her brother was coming over from England to race at a place called Dunboyne. I had never heard of Dunboyne but coming home from school I saw a racing transporter, in our neighbourhood, so rushed home and told my dad. He then told me I could see the racing car that evening at seven-o-clock. So we arrived, I saw the racing car and my dad said he would take me to the race the next day. So we went to Dunboyne and I remember in clear HD video in my brain the noise, the smells, the numbers, the drivers and right there and then I was going to become a professional racing driver, nothing else mattered; I was twelve years of age!
" That driver whose racing car I had seen the night before turned out to be Sid Taylor with what I think was a Brabham BT8, a white car with a green stripe down the middle and an Irish shamrock".
As Derek grew up the urge to go racing never left him and he was still in his teens when he gathered enough money together to race a few stock cars until eventually, he was able to buy his first proper racing car.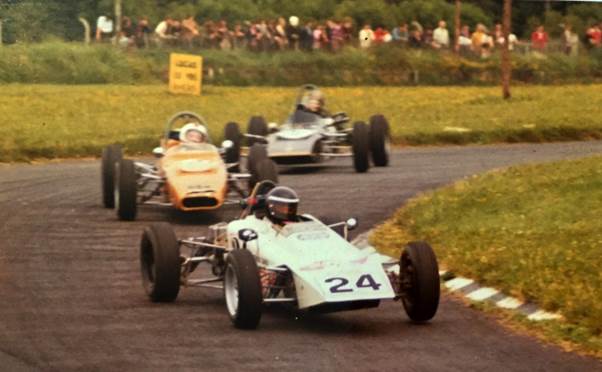 "It was a Lotus 61 Formula Ford and I bought it from Eddie Jordan. I gave him a 1966 Ford Anglia ( Then eight years old) and £400. Eddie promised me I could use his Aldon engine because the car came without an engine but that never happened.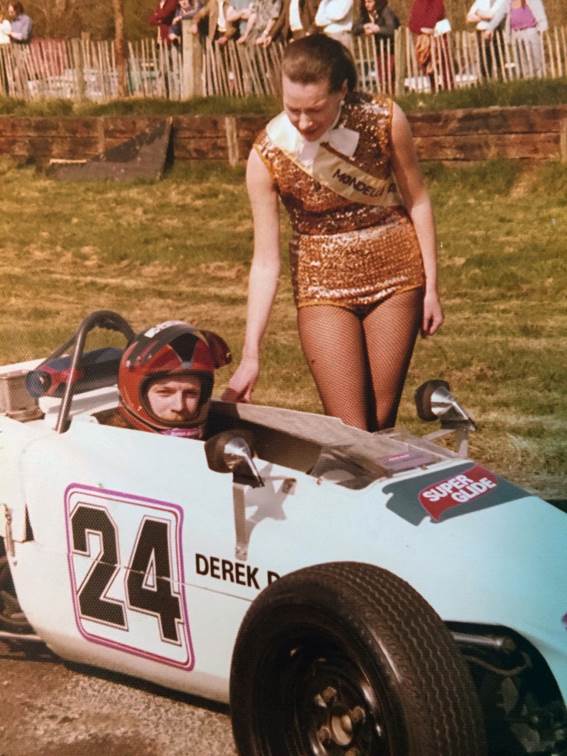 By this time Derek had met another young Irish driver called David Kennedy. Kennedy recalled in a MotorSport interview he had met Daly because Daly was towing his stock car to events and Kennedy needed help to tow his racing car to race circuits.
They talked about racing and realised that in order to get on you had to move over to England/ and the main Formula Ford races but that needed money and they needed it fast. They realised the best places to earn money fast was either in the oil industry in Alaska or the iron ore mines in Australia. Kennedy favoured Alaska and Derek favoured Australia so they decided to toss a coin and Derek Daly won so they went to Australia.
There was one problem, as Kennedy explained, he left Derek Daly to organise the flights as a result of which they missed 25 inter-connecting flights to get there. It all started from Dublin where Daly had thought he had booked the flights for 9.00 pm on their departure day only to find out around lunchtime that the flight had left at 9.30 am that morning!
In 1974 there were no direct flights to Australia and in order to get the best financial deal on the tickets, their route was complicated and included travelling via Poland.
None of the iron mines they had written to had replied so they flew into Perth, Western Australia and went looking only to be told the iron mines were 2000 miles away up country but one of the mining companies offered not only a job but a flight to the mines. As Kennedy remarked, "….once we got there we found that within the first day we had paid off the flights because you earned a bloody fortune by working 16 hours a day seven days a week".
At the end of the year, they flew back to Ireland, visited John Crossle and each bought brand new Crossle's for the 1975 racing season.
As Daly recalls: " When I came back from Australia I bought a Crossle and won the Irish Championship that year so now I had a championship-winning car that was worth a bit of money. I had enough assets to race and to live but not both!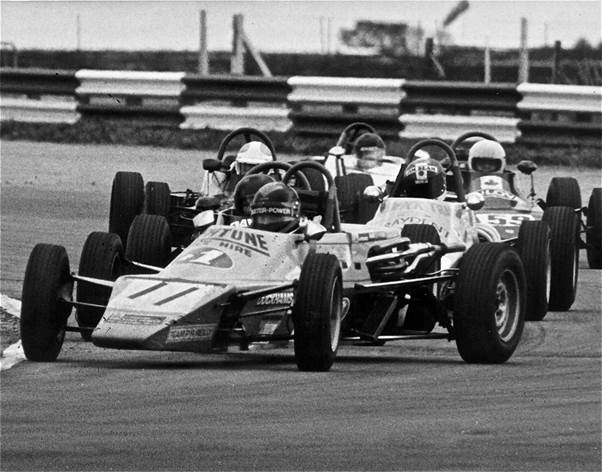 " So for 1976 I bought an old school bus and converted it to live in, sold the Crossle, went to Hawke and drove one of their factory cars and suddenly it all began to go well.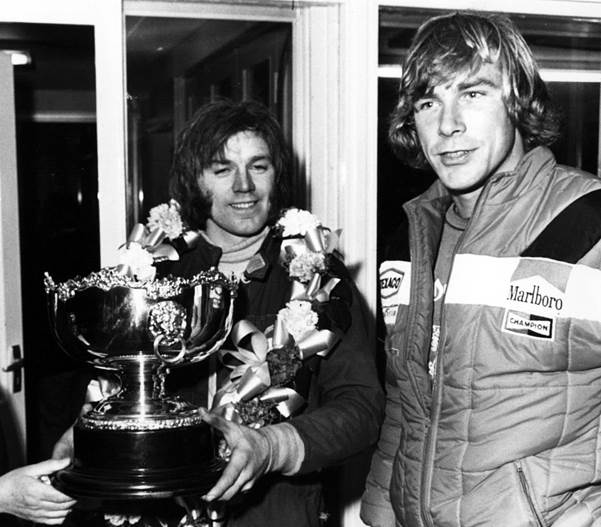 " I won 23 races in England that year including the Formula Ford Festival at Brands Hatch driving the Hawke DL17. Then I met a big 22-stone Irishman called Derek McMahon, "Big D", and he said he would help me move from club racing to International Formula 3 in the British and European Championships in 1977".
There is absolutely no doubt that Derek Daly had the kind of raw talent that team managers are looking out for and when Derek McMahon bought the latest Chevron B38 with a Toyota engine for BP SuperVisco British Formula 3 Championship in 1977 Derek now had the chance to show what he could do.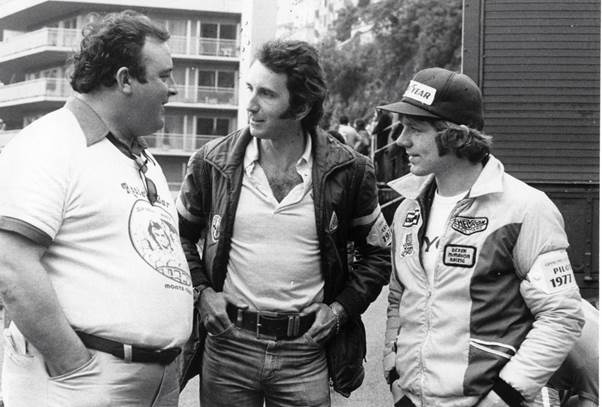 Initially, he was keeping up and holding his own. "…I was a front runner but I was not winning races then it all began to click at the Silverstone British Grand Prix Formula 3 season when I was leading but Steven South was driving a March and was much quicker so I had to weave and block but then made a mistake at Becketts and braked a tiny bit too late, went sideways just enough for Steven to get through on the inside of me. As we accelerated out of Becketts we were side by side and the kink before the Stowe straight was coming up and I knew that if he could chop across in front of me the race was over. I also knew that he was going to chop across me I wasn't going to back off. He did chop across, we touched wheels, I spun, flew up in the air and cartwheeled. Back in the paddock with Derek McMahon I was almost in tears but was able to convince him we had to go to Austria for the support race to the Austrian Grand Prix.
"We go there, I qualified on pole alongside Nelson Piquet. I was on the pre-grid and this older guy shuffled up to the Big D and I saw them talk. Then Big D comes up to me – I'm strapped into the car by this time – and says ' that guy says that if you win this race he will put me into a Formula 1 car before the end of the season'.
" It was Sid Taylor, the very first guy I met when I was twelve years old, and he was running Teddy Yipp's Theodore Racing team. Ron Tauranc had just finished designing the first Theodore Formula 1 car and Sid was true to his word. I went out in the Formula 3 race and ran a barnstormer beating Nelson Piquet. Sid Taylor put me in the Theodore for testing that October so I had gone from Formula Ford to Formula 1 in thirteen months. Up to then, the record had been held by Emerson Fittipaldi who had done it in eighteen months!
" The test session was at Goodwood and the bogey time had been set by Ronnie Peterson with the Tyrrell. The car had a six-speed gearbox and I remember going up through the gears and getting on to the main straight, selecting fifth gear and this car was going so fast and I wasn't even in top gear! I just had to back off and it took me five or six laps just to process the information which was coming in so fast and of course by the end of the day I was looking for another gear. My time showed that I was running on the pace so it couldn't have gone better. The next day I couldn't get out of bed my neck and muscle strain had been too much. However, I couldn't get a Superlicence so I had to turn down the chance to race the car, however, I switched over to Hesketh for the 1978 non-championship International Trophy at Silverstone and that was my first race in a grand prix car".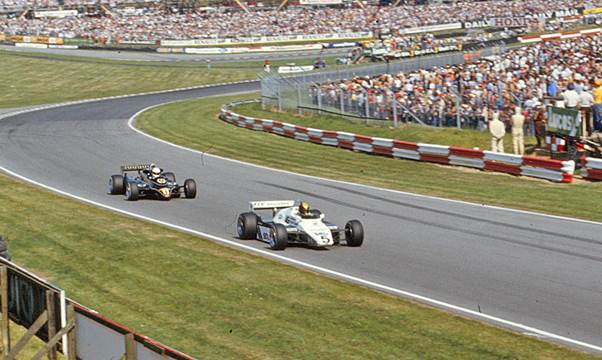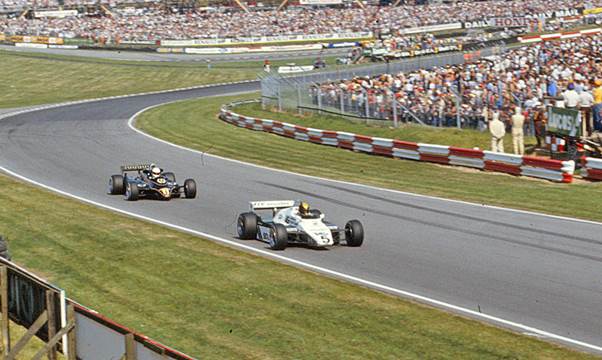 Derek Daly had a miserable season with Hesketh and Ensign but just as he had done in Formula 3 the year before he ended his first Formula 1 season with 10th place in Italy, 8th place in the USA and 6th place in Canada for Mo Nunn's Ensign team and was on his way.