There could be no better representative of the traditional "gentleman" driver than Eric Thompson who died last weekend at the age of 95, one of our oldest members.
[Row][Column]A passionate enthusiast for motor racing from his schooldays his great hero was English driver Richard Seaman. However, any thought of racing had to be put aside when he trained as a broker at the famous Lloyds of London. He was very successful and after his war service was able to start racing with an HRG. He competed in the 1948 12 hour race at Montlhery and in 1949 was a member of the factory HRG team competing at Le Mans where he finished 8th overall and winning his class. However, he was best known for his links with David Brown and Aston Martin, a team he joined in 1950. His first race was in a DB2 at Le Mans but he retired three hours into the race but the following year he finished third overall at Le Mans with Lance Macklin and ahead of the other Aston Martin drivers.
Le Mans also saw his most embarrassing moment when, driving the ungainly V12 in the 1954 Le Mans 24 hour race he lost control after four hours in the Esses and hit the bank.
He went on to win the Goodwood Nine Hour race with Reg Parnell again with an Aston martin.
Rob Walker gave Eric a few drives in his Connaught Formula 2 car and as a result Kenneth McAlpine gave him a factory drive in the 1952 British Grand Prix at Silverstone, his only Formula 1 grand prix, and he rewarded the team with a strong 5th place.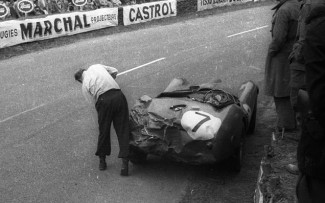 [/Column][Column]
Totally unassuming, amusing and always with a twinkle in his eye, Eric Thompson could have had more victories but he was loyal to his team and was very sporting in his attitude to racing. His premature loss of hair made him look older than he really was and though relatively appearing to be meek and mild away from the track he was a solid team driver who could be relied upon to give a result.
When he retired from racing in the 1950s he set up a bookshop selling historic motor books and amassed a large collection. At times one thought he probably would have been happy to keep all the books he bought to sell and was a generous man with his time.
Those of us who knew him over his long racing career will always remember him for his cheerful attitude to life and to racing and he was always a welcome visitor to Grand Prix Drivers Club events.[/Column][/Row]