Many of our members who raced for Brabham and McLaren in Formula 1 will no doubt have been saddened by the death of New Zealander Phil Kerr.
[Row][Column]
Kerr, at the age of 18, met up with a young Bruce McLaren and they raced Austin Seven specials together.
After accountancy training Kerr joined an engineering company that held the agency for Buckler kit cars in New Zealand and he occasionally raced a Buckler.
When, in 1958, Bruce McLaren was sent to Europe to race, thanks to the New Zealand Driver to Europe scheme, Phil was left behind. However, Phil had the chance to go to England and run Jack Brabham's  garage and racing business.
Later Denny Hulme and George Lawton arrived in England on the News Zealand driver scheme and when times got hard for Denny it was Phil who arranged a job for him in Brabham's workshops at Brabham Motors.
Phil clearly saw Denny Hulme's talent and helped him on his way up the ladder. When Denny Hulme eventually joined McLaren Phil Kerr was to follow making McLaren an all-Kiwi team.
Phil was responsible for bringing Denny Hulme to Britain and acted as his manager before he moved to McLaren as managing director taking Denny Hulme with him.
These were the heady days of the Can-Am cars and on the death of Bruce McLaren in 1970 he and Teddy Mayer ran the McLaren operation.
At the end of the 1970s he returned to New Zealand where he ran the McLaren and the McLaren family Companies and was latterly involved with the Bruce McLaren Trust.[/Column][Column]
Phil Kerr was a guiding force within motor racing and will be remembered by anyone who worked with him.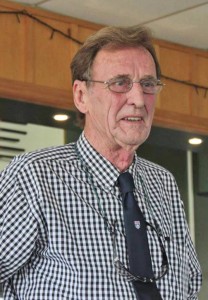 [/Column][/Row]