Mario De Araujo Cabral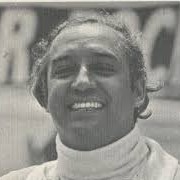 Mário Veloso de Araújo Cabral (Portuguese pronunciation: [ˈmaɾiu vɨˈlozu dɨ ɐɾɐˈuʒu kaˈβɾaɫ]; born in Cedofeita, 15 January 1934), commonly known by the nickname "Nicha" Cabral ([ˈniʃɐ kaˈβɾaɫ]), is a former racing driver from Portugal. He participated in four Formula One World Championship Grands Prix, debuting on 23 August 1959. He scored no championship points.
In the 1959 Portuguese Grand Prix at the Circuito de Monsanto, he was responsible for causing the accident which left future triple world champion Jack Brabham lucky to escape with his life. He collided with the Australian while he was being lapped, causing Brabham to spin and then somersault into a telegraph post. He was thrown out of the car, which landed in the middle of the circuit, but was avoided by the other drivers. Cabral finished the race in 10th place, 6 laps down. He was the first Portuguese driver to start a Formula One race.