The General Assembly of the Club always springs surprises and this year it was wonderful to welcome Guy Edwards to Italy. Since his stroke which has placed him in a wheelchair, his travels have obviously been restricted but along with his two carers he flew from Ireland to Italy to join the other Club members.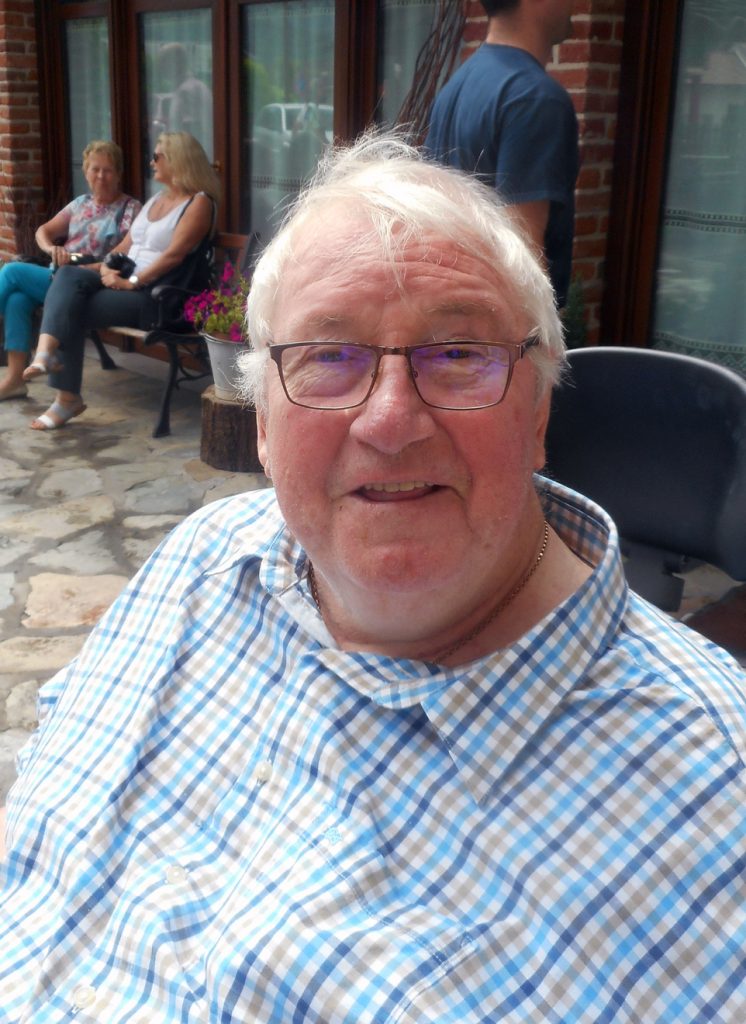 Guy Edwards has had a roller coaster ride during his motor racing career and raced in eleven grands prix, initially as a member of Graham Hill's grand prix team racing the Lola T370 Cosworth in Argentina in 1974.
Born in Macclesfield, Cheshire, in 1942 his father was a Squadron-Leader in the Royal Airforce and Guy was later to grow up and go to Durham University where had had some karting experience.
However, like many other racing drivers of his era, he was drawn to the Motor Racing Stables racing school at Brands Hatch. His actual race debut was in a modest Ford Anglia in 1965 but he had competed in enough events to upgrade his license and compete at the Mugello championship sports car race in a Mini Marcos GT but finished well down the field. By 1969 he had begun to hone his skills at digging up sponsorship and managed to persuade the cross-channel ferry company Tor Line to give him some modest help with sponsorship of his Chevron B8. At the time we marveled at the way in which Guy could pick up sponsors but at the same time it must be admitted, his whole approach was slightly different to normal for he was able to not only explain to potential sponsors exactly what he could do for them but delivered the publicity and worked alongside the marketing department of his sponsors to blend into their own sales objectives. One forgets that in the 1960s and the start of sponsorship most drivers merely asked for the money and provided a photo or two of their car to justify the money. Guy took it further than that, and by 1971 had persuaded Camel Filters to sponsor a Lola T212  and allow him to compete in his first Le Mans 24 Hour race with Roger Enever. It was a good effort but they had to retire after eight hours when the engine expired. Another six years were to pass before he raced again at Le Mans in which time he had built up a reputation not only as a good man to raise sponsorship but a quick and reliable racing driver at an International level.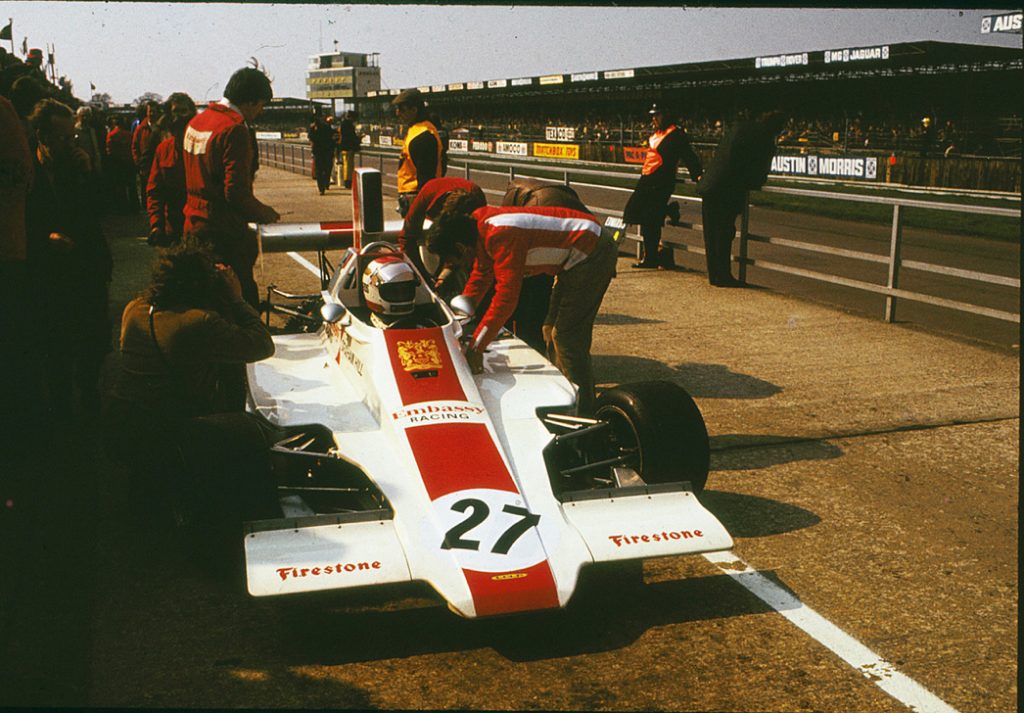 In 1972 he was able to persuade Barclays Bank to sponsor him with Lola T290's, one fitted with a Cosworth engine and the other with a 2 litre Chevrolet and in that same year moved into Formula 5000 with John Butterworths McLaren M10B having had one race with the car at the end of 1971.
"I think the Barclays sponsorship was one of the best of them all when we ran two cars. I ran with Chris Craft who was particularly good on sports cars".
One of his best seasons was in 1973 and the British Formula 5000 Championship where he finished fifth overall with a Lola T330 Chevrolet which led to him joining Graham Hill's Embassy Racing Formula 1 team in 1974.
He made his Formula 1 debut in the Argentine grand prix that year finishing in 11th place and in a mixed season he did not qualify twice but took a good 8th place at Monaco and 7th in Sweden.
With no Formula 1 drive in 1975 he continued to race in the Rothmans European Formula 5000 Championship and had his best ever year finishing third overall with his Lola T330 behind the all-conquering Team VDS pair of Teddy Pilette and Peter Gethin who were driving the newer Lola T400.
By 1976 he was back in Formula 1 having secured sponsorship from Penthouse magazine for Lord Heskeths team, James Hunt having moved on to the Marlboro McLaren team for whom he was to win the World Championship.
However, for Guy Edwards, it provided drama at the Nurburgring that year.  "I was running behind Niki Lauda and on the corner just after Adenau Bridge he twitched and literally flew off the circuit, hit the bank and the car burst into flames. I quickly braked and knew I had better go and help so along with Arturo Merzario and my team mate Harald Ertl we managed to pull Niki out of the wreck just in time".
What Guy Edwards doesn't say is that he was burned as a result of this and later was presented with the Queen's Medal for Bravery for his efforts.
Luckily he was not seriously injured and continued with his racing career. He ran his last Formula 1 grand prix in the 1977 British Grand Prix at Silverstone with the unloved Stanley-BRM but did not get beyond qualifying.
In 1977 he returned not only to Le Mans but to his most consistently successful series of races back again with sports cars. That year he was brought into the Porsche Kremer team alongside John Fitzpatrick and Nick Faure with the 935 but it was a disaster as the engine blew after just two hours. Once more Guy had been able to secure additional sponsorship on the car from Denim aftershave.
In 1980 he finished second in the IMSA class at Le Mans with the John Paul team Porsche 935K3 and in 1984, he secured one of his biggest sponsorship deals with the American Skoal Bandits company to run two cars at Le Mans. At the time American chewing tobacco was in vogue in Britain even though many of the companies in that business had been successful mainly in NASCAR. It also happened to be the 50th anniversary of the founding of the Skoal company and with the help of Guy and his mastery of marketing, Le Mans became part of their International promotional programme.
At the time the writer was involved with the reformation of the Scottish team Ecurie Ecosse sponsored by Hugh McCaig and it led to an amusing incident at a restaurant just outside Le Mans two nights before the race.
Skoal had brought a number of their best distributors over to Le Mans for the race and Guy arranged a dinner in the same restaurant, in an area loosely marked off and behind screens.
During the meal, Guy gave a brilliant speech about Le Mans and about the hopes for the team in the race. Amongst his drivers present were David Hobbs, Rupert Keegan and Roberto Morena and all were introduced to the guests followed by a toast to Skoal Bandits.
Unfortunately at our Ecurie Ecosse table, which was close to the screens behind which Guy was making his speech. The irrepressible patron of Ecurie Ecosse, Hugh McCaig stood up and in a loud voice passed a scurrilous remark aimed at upstaging Guy's team. At this, the screen moved apart and David Hobbs and Rupert Keegan came over and berated us for trying to ruin their sponsorship chances!
As it turned out the Keegan/Edwards and Moreno car was involved in an accident after just five hours and was out of the race but the other Skoal Bandits Porsche 956 long tail Porsche finished in third place overall with David Hobbs and Philippe Streiff at the wheel; so all ended well.
As for Guy, 1985 was to be his last Le Mans and it provided him with his best-ever finish, 4th overall driving John Fitzpatrick's Porsche 956 with David Hobbs and Jo Gartner. He also retired from racing at the end of that year to concentrate on his business as a consultant aiming to raise sponsorship for some of the leading teams.
Three years later he did sneak in one more drive in the 1988 British Touring Car Championship. He had been able to raise sponsorship from one of the new low-alcohol beer brands, Kaliber, for Andy Rouse.
Guy was hired by March to raise sponsorship for their Formula 1 team and then became involved with sponsorship for Tom Walkinshaw racing which saw him secure cigarette brand Silk Cut sponsorship for Walkinshaws Jaguars.
He was also able to set up the IMSA Jaguar team sponsorship with Castrol in the USA and was on a roll. He brought Castrol into Team Lotus in Formula 1 but his commercial acumen in raising sponsorship money was not confined to cars and motor racing for he was able to get the banking group HSBC to sponsor London Airports.
His book on raising sponsorship, Sponsorship in the World of Motor Racing, has been avidly read by many aspiring racing drivers and probably helped some of them raise the necessary funds to go racing.
However, in recent times his world collapsed somewhat when he suffered a stroke that left him paralyzed and in a wheelchair. He had moved to Southern Ireland and despite his tragic situation and his need to have two carers to help him, he remains as positive as ever and clearly enjoyed his chance to be back with many of his former grand prix driver friends in Italy two months ago.