Club President Howden Ganley, a fellow New Zealander writes about Chris Amon:
"I first became aware of Chris Amon when he appeared with the little 1.5 litre Cooper and at that time he probably seemed to me to be much like a lot of young Kiwis who were just starting out in racing. Were they going to be very good, or just fade away.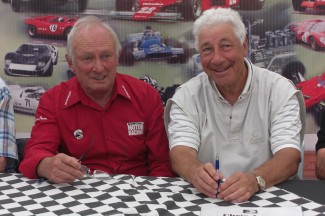 I recall being most surprised to hear that Chris had then sold the Cooper and replaced it with the ex-Owen Maserati 250F as it seemed like a step backwards in terms of competitive machinery. Instead the old Maserati was the car that allowed the Amon talent to shine through.
An oversteering car with a good amout of horsepower was just right for Chris.
While it was obvious that he was very good, it was his drive in the Squalo Ferrari at Ohakea in 1962 that convinced me that here was an exceptional talent. This Squalo was at best a somewhat clumsy beast and with the exception of Froilan Gonzalez, even Ferrari works drivers were unable to do much with it. Then at Ohakea we saw a Squalo being driven like a 250F – full oversteer power on and fast. From that day on, I have been the complete Amon fan.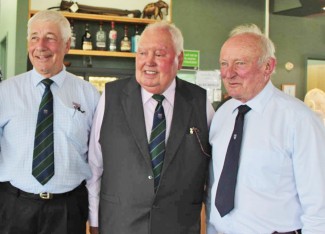 Our paths crossed in many ways since then. I was at his first Formula One race at Goodwood and quite a few others in that first season. I watched him in the Cobra and then the GT40s. In 1965 I became one of his mechanics on the Ford XI project and that led to my being an even greater Amon supporter.
I was later privileged to be a team mate on the Matra sports-car team and we raced together in Formula One in the early 1970s. My wife Judy and I also became peripherally involved in Amon Engines for a time.
The time at Matra led to an amusing story. At the 1971 Canadian Grand Prix I happened to overtake Chris during practice (the BRM was working well) at which point he apparently peeled off into the pits. As he approached his box the seat belts were flicked off, high out of the cockpit. He screeched to a halt and leaped out shouting to the Matra team " I've just been overtaken by my old mechanc'. This was probably about the most insulting thing that could have happened to him and proved that the Matra was a bit of a 'dog'. The Matra mechanics thought this incident hugely amusing and rejoiced in telling the story of the Ancien Mecanique.
For me, Chris was one of the truly outstanding talents of motor racing. He may have been unlucky so many times but for sheer speed there were few to match him. I have often opined that Chris was the only driver who could take on Jim Clark head-to-head and beat him. Some of their dices in the Tasman Series bore this out. That he was also very highly rated as a test driver by all the engineers who worked with him has perhaps been forgotten.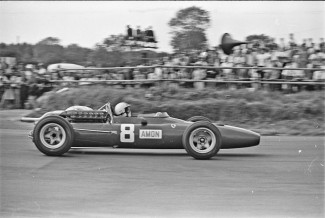 In talking of the fact that Chris was unlucky, it is easy to forget that he still enjoyed a lot of success, particularly in sports cars. Having wins at two of the world's major 24-hour races, along with the 1000kms of Monza, is a significant feature on any drivers CV.
That five pole positions, plus one equal, never translated into a world championship Grand Prix win is just confirmation that life sometimes is unfair. Time and again Chris was dominating races only for some mechanical gremlin to snatch the victory from him
Two non-championship Formula One victories hardly does justice to a career where he was consistently one of the very best. Three of his poles came in consecutive races during 1968 on widely differing circuits and had all of his pole positions, or front line starting positions, translated into race win he would easily have been world champion.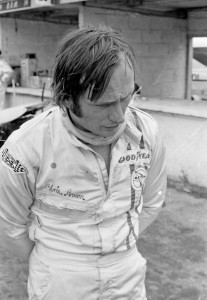 What might have been?
His talents were not confined to racing cars. He was also a fine pilot. Some racing drivers tend to be 'zoomers' when they get into their aircraft and you quickly learned to avoid flying with them. Chris was entirely different. A flight with Chris at the controls was rather like flying with a major airline or the military. Chris did everything by the book, and executed everything to perfection, which instilled total confidence in his passengers.
I recall an occasion when my wife and I accompanied him on a flight from Paris to Deauville where we were to have lunch with Jean-Luc Lagadere, the head of Matra. The conditions were diabolical and there was some doubt as to whether we could land. Chris asked Judy and me to 'keep a sharp lookout' but all we could see was the incredibly dense cloud we were flying through. The air traffic controller was most unenthusiastic about anyone approaching 'his' airfield but Chris persevered and sure enough we broke out of the cloud and rain at about 100 feet, immediately above the end of the runway – an impressive and very skilful bit of flying. As soon as we landed, the controller advised all other aircraft in the vincinity that the field was now closed due to almost total lack of visibility.
Lest it be thought that Chris Amon's talents were limited to the guidance of cars and aircraft, there is also the matter of the performing arts. In the heyday of the 'Ditton Road Flyers', a group that comprised Chris, Mike Hailwood, Peter Revson, Bruce Abernethy and other motor racing personalities, it was an established tradition that no party, be it at the favourite McLaren team restaurant, the 'Contented Plaice' or the other legendary venue, 'Petes Pub' was complete until Chris had sung 'Danny Boy'. His performance was usually the highlight of the evening and those who witnessed it will verify that he ranks as one of the great crooners of Formula One!
So was Chris really unlucky? Probably not, all things considered. He had an exceptional racing career, he drove for two of the greatest teams, Ferrari and Matra, he won some famous races and he survived to tell the tale after 13 seasons of Formula Ones most dangerous years.
In spite of his fame, Chris remained completely modest. He could be accurately described as well-balanced, well-educated and a most entertaining and enjoyable friend.
Radio New Zealand Interviews.
The Grand Prix Drivers Club thanks Hugh Barlow, deputy Editor of Morning Report, the main morning news programme on Radio New Zealand for the following to interviews done with Chris Amon and Sir Jackie Stewart on their morning programme and the interview done with Howden Ganley.
http://www.radionz.co.nz/national/programmes/morningreport/audio/201810786/ex-f1-driver-howden-ganley-recalls-his-mate-chris-amon
http://www.radionz.co.nz/national/programmes/morningreport/audio/201810803/motor-racing-legend-jackie-stewart-remembers-chris-amon