Today, August 14, is the 28th anniversary of the death of Enzo Ferrari who was a noted membre d'honneur of the Grand Prix Drivers Club.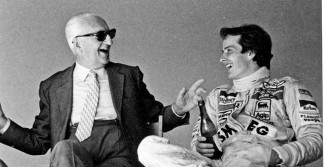 In those past years the Ferrari company has expanded to an extent that Enzo would probably never have imagined. It is well known that he always put his interest in racing above and beyond his interest in road cars – indeed for a period his normal road car was a Fiat Mirafiori.  However, as a result of his racing successes the development of his road cars, thanks to the impetus of the Fiat group, and executives like Luca Montezemolo, Ferrari has become an iconic international brand.
Today his son, Piero Ferrari, who was recently made a membre d'honneur like his father, presents the modern face of Ferrari and his father would surely have been proud of him today.