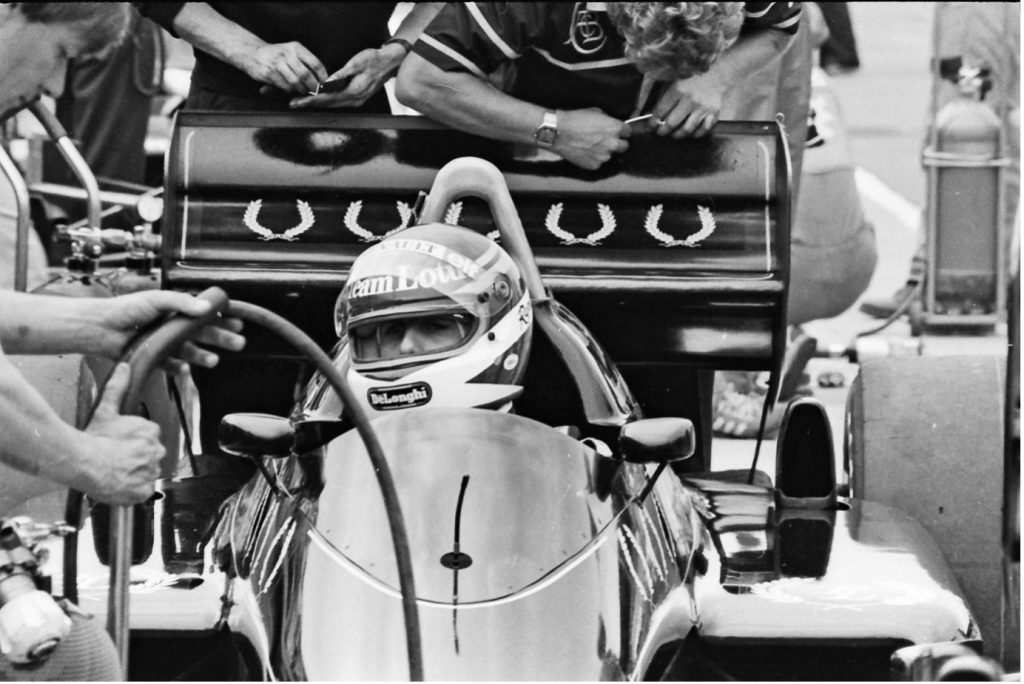 I was truly shocked just a few days ago ( March 23 ) to be told of the death of Johnny Dumfries who was truly thrown in at the deep end when he was brought into the John Player Lotus Formula 1 team in 1986.
When he started racing nobody knew anything about his aristocratic background because he always wanted to do his own thing and thanks to his nephew, Charlie Crichton-Stuart he was not only able to get some motor racing advice but also a job at Williams, where Charlie was raising sponsorship for Frank Williams, as odd job man and van driver.
In truth, however, he came from a long line of Scottish aristocrats who helped shape Great Britain. His grandfather was responsible for the huge development of Cardiff Docks and the family built impressive houses in Wales and Scotland including the remarkable Mount Stuart on the Island of Bute, just off the West Coast south of Glasgow, where Johnny was born on April 26 1958.
It was Charlie Crichton-Stuart who used to visit Mount Stuart when he was racing in Formula 3 who told young Johnny great motor racing tales but as Johnny later admitted " ….I had no thoughts of ever becoming a racing driver" .
Johnny had been told by his father, the 6th Marquis of Bute, that he would have to work for a living and so he moved to London worked on building sites, painting and decorating, " the guys I worked with were racing 100 National karts and that is how I started….all we wanted to do was work during the week to earn some money and go racing at the weekend……. The story is told I drove the truck but in fact as I didn't have an HGV licence I was actually his van driver, a lower form of life and was later promoted to being a "gofer, I wanted to be a mechanic but Frank Williams told me I had to be properly trained so I stuck to racing".
His first racing car was a 1978 Crossle 32F Formula Ford and his first race was at Croft that was closer to his family home than his flat in London! The year was 1981 and had a few accidents before he and Paul Gerrish did a deal with Bert Ray who supplied one of his Ray Formula Ford chassis.So Johnny Dumfries became the factory Ray driver, won two races and was lucky to find a sponsor for 1983, not from Britain but from Luigi Graziano in Italy who had bought Dave Price's Team BP Ralt RT3 to start his own F3 team with David Morgan as team manager.
" Dave was a great influence on my career…..I remember early on at a cold wet test day at Silverstone he turned, looked at me seriously and said ; ' now listen what this year is about is Martin Brundle and Ayrton Senna just forget about anybody else because they don't matter. That remark really sharpened my focus on how you should prioritise your approach to racing"
This led to Dumfries becoming the official single BP entry with Dave Price in 1984 and as the records show Johnny became Marlboro British Formula 3 Champion. However, what Johnny did not know was that John Hogan, who was running the Marlboro sponsorship programme, had phoned Charlie Crichton-Stuart to say that Marco Piccinini and he had been discussing the possibility of Johnny joining Scuderia Ferrari as test driver in 1985.
Johnny recalled: " Peter Warr at Lotus had given me a full day's private testing at Donington Park and told me to keep in touch. They knew Ayrton Senna would be staying with them but were not quite sure if Elio de Angelis would be staying
"The other person who was interested was Bernie Ecclestone and he sent me to Kylami for three days testing with Nelson Piquet and Teo Fabi. He offered me a testing contract with Brabham then offered to fix me a place with Onyx Racing for Formula 3000 butin the end I went for the Ferrari deal. In retrospect I should have gone to Brabham".
As it turned out Mike Earle at Onyx offered him a deal for F3000 but he only managed four races before his money ran out.
At Ferrari he was taken under the wing of Brenda Vernor, Ferrari's right hand woman. " Brenda is a great character with a tremendous sense of humour and I found everybody at Ferrari was s..t scared of her……The rationale given to me was that Ferrari were developing their four cylinder turbo engine and my programme was to develop this engine.
In the early part of the year I spent a lot of time at Maranello and started to learn Italian but when the regulations changed Ferrari ditched the project….I had not enough experience to replace Rene Arnoux, who had been fired, so Ferrari chose Stefan Johansson but luckily Lotus maintained an interest in me and that is where I ended up".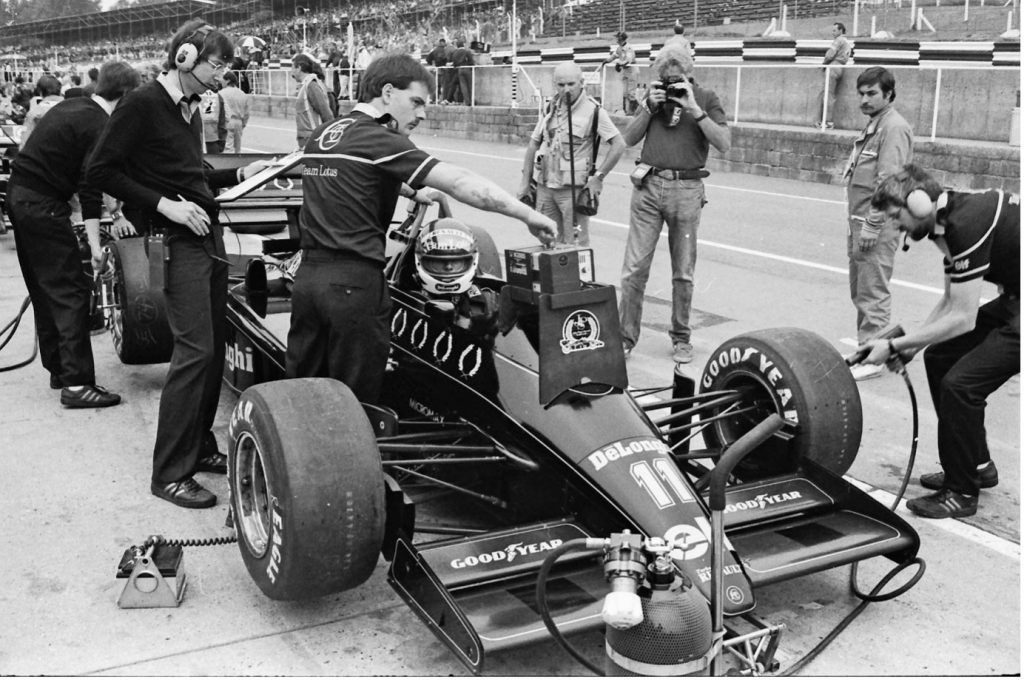 For 1986 Renault had pulled out of Formula 1 and were now going to supply Lotus who already had Ayrton Senna signed up but when it came to choosing the second driver Renault wanted Derek Warwick as he had been one of their drivers and the story goes that Senna did not want Warwick as a team mate.
Johnny Dumfries gave me his opinion on this : Now I couldn't put my hand on my heart and say this was true but, for whatever reason, Lotus chose not to sign Derek Warwick.
"Maybe it suited their interests to have a newcomer to F1 who wasn't too demanding and they could give Senna undivided number one treatment or it may eventually have been a strategic decision rather than a contractual one with Senna.
"It was in my contract with Lotus that Ayrton had preference over the T-car and if I was in a position to finish in front of him and he needed to get past that is the way it had to be. I had an example of this at Monaco where I was given the car with the experimental six-speed gearbox that was simply not reliable and kept breaking. I shunted the car in practice so in the second practice session I went out in the repaired car but had gear selection problems. I had to wait quite a long time to get into the T-car until Senna had set his time and I ended up not qualifying. It was just one of those things",
It was at the German Grand Prix that Lotus told Johnny they were letting him go as Honda were going to be the engine supplier in 1987 and Honda wanted a Japanese driver. He had no sponsor for 1987 and turned to sports car racing.
He drove for Hugh McCaig's Ecurie Ecosse team in the Silverstone 1000 kms race finishing with Mike Wilds in third place in Group C2 and then raced with Rob Dyson in the USA, Peter Sauber's Kouras-Mercedes Team, Richard Lloyd and then Tom Walkinshaw.
In 1988 he won the Le Mans 24 Hour Race with Jan Lammers and Andy Wallace : "….then Tom gave me the bullet as I think I had had too many accidents for his liking so I started talking to Toyota. The trouble was we had apalling reliability and fuel consumption so we had some promising results but were a million miles away from winning World Championship 1000km races.
" Even my last race was a classic piece of bad judgement.
" I left Totyota at the end of 1990 with no contract for 1991. We were in recession, my father was terminally ill with cancer and I didn't have a job but like all racing drivers I was desperate to get out and into a car.
Courage in France offered me a drive at Le Mans and that car was equally appaling. It was a very bad last race and it was a low point".
Two years later his father died and he became the 7th Marquis of Bute but there was a sting in the tail. "…….a few weeks after my father died the Bank manager telephoned and asked me to come along for a chat. When I arrived he told me my father had kindly left me an overdraft of around £12 million so I had some work to do".
Amongst the property he inherited was Dumfries House in Ayrshire which was his grandmothers house in which she had stayed on her own until she died.
The house was famous because when Johnny's great-grandfather had it built he had the master cabinetmaker Thomas Chippedale design most of the furniture and when Johnny Bute, as he now called himself, decided to sell it Prince Charles's Trust bought the house and all the Chippendale furniture where it rests to this day and is on public view.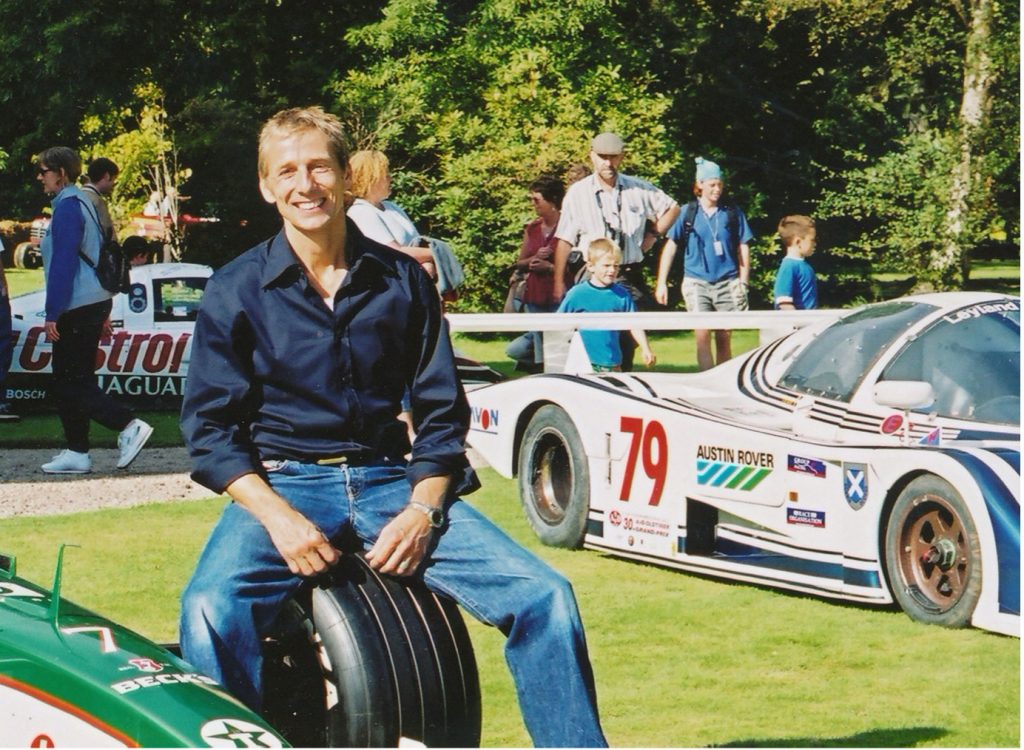 Johnny Dumfries, then, was a man of our time, fun to be with and a fund of stories, totally modest about his achievements.
I will always remember the first time Jane and I were invited to Mount Stuart when he invited me to help him create his own Goodwood Revival in early 2000.
The massive front doors were open and we walked into a huge atrium with marble pillars but nobody around.
We heard a vacuum cleaner running and a oldish lady came out all smiles. I told her we were there for a meeting with the Marquis of Bute.
"Oh…you're here to see Johnny ? " she said. It was then we found that all the staff were encouraged to call him simply Johnny and he knew all of them as not only as helpers and employees but friends. He was that kind of man and continued to develop the Estate and create business opportunities on the Island. He will be sorely missed.
Graham Gauld