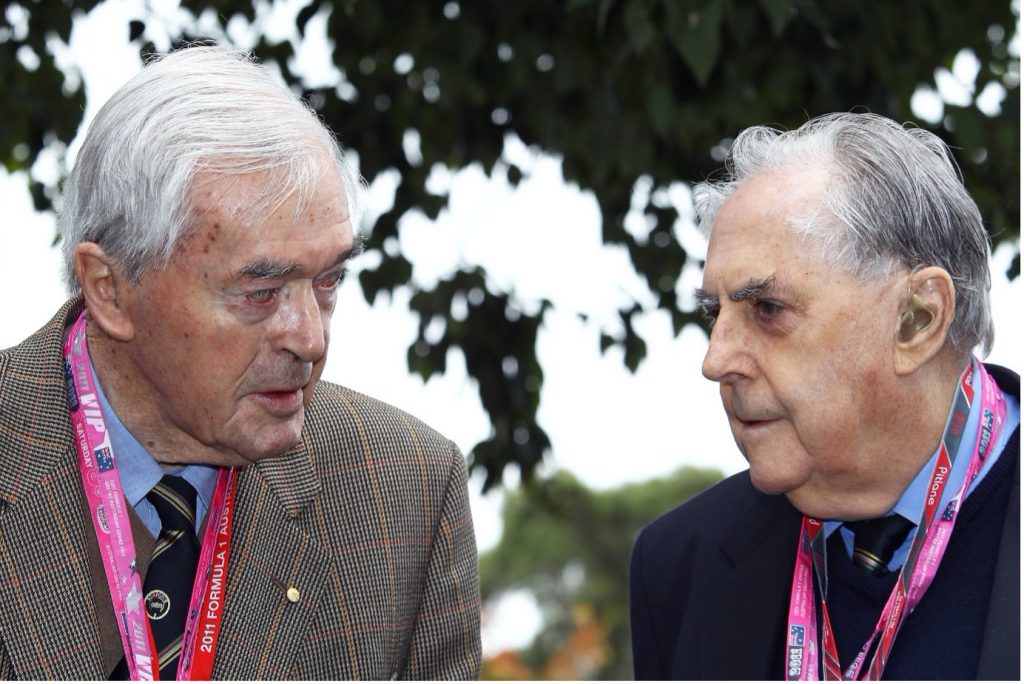 Australia has for long produced a number of International racing drivers but few with such a fascinating career as Grand Prix Drivers Club member Tony Gaze.
Frederick Anthony Owen "Tony" Gaze was born February 3rd, 1920 in Melbourne, Australia.
He was the son of Irvine Gaze, a pilot and member of the 1914 Ross Sea group where his job was to drop food for the Shackleton expedition to the South Pole.
At the start of WW I, Irvine Gaze joined the Royal Flying Corps. as a fighter pilot and so the die was cast for Tony.
In his late teens he was sent to England to complete his education at Cambridge college but at the outbreak of WW II he joined the Royal Air Force Volunteer reserve and a year later was attached to 610 Squadron alongside such pilots as Douglas Bader and was later posted to RAF Westhampnett in the South of England on the Estate of the Duke of Richmond and Gordon.
Frederick Charles Gordon Lennox was the 9th Duke and, when at Eton, he became interested in engineering and was apprenticed to Bentley Motors.
Not only that but had become mad on motor racing and competed for the first time at Brooklands in 1929 and later won the Brooklands 500 Mile race. He also created his own team of MGs and with Chris Staniland was winner of the Brooklands Double Twelve race.
Tony Gaze arrived at Westhampnett airfield in 1941 that was headquarters of 66 squadron and so his link with the Duke of Richmond and Gordon began with their common interest in motor racing.
Today, Charles, the present Duke of Richmond and Gordon, like his grandfather Freddie, is a member of the Comite d'Honneur of the Grand Prix Drivers Club.
Tony was to not only become one of the most successful Spitfire pilots during WWII but won the Distinguished Flying Cross no fewer than three times, and was the first allied pilot to land in France after D-Day
He counted as close friends, and was respected by the better known pilots such as Douglas Bader and Johnnie Johnston.
Like Bader Tony was shot down over France but thanks to the French Resistance movement managed to get back to Britain.
Towards the end of the War he was the first Australian to fly a jet aircraft operationally When the Gloster Meteor, Britain's first Jet fighter plane, was introduced Tony switched from Spitfires to Meteors and shot down a Messerschmidt ME 262 which was the World's first jet fighter plane.
Shortly after the War ended the idea of using the airfield perimeter roads as a racing circuit became a matter of discussion between Tony and the Duke of Richmond who warmed to the idea and as a result the Goodwood came into being.
As for Tony Gaze he bought the first post-war Formula II Alta produced by Geoffrey Taylor . It was one of two Formula II cars built by Taylor that year. Her had hoped to run in the Richmond Trophy in March 1951 at Goodwood but the car was not ready and so he made his debut with it at the International Trophy at Silverstone in May. At the end of the season took it to Australia with him.
He continued to run the Alta early in 1952 but ordered a new HWM and put his Alta engine into it and sold off the Alta chassis that was later made into an Alta-Jaguar sports car.
His HWM was ready in time for the non-Championship Grand Prix of Monza and he was on the third row of the grid alongside Duncan Hamilton's HWM for heat 1 but had problems. However in heat 2 he finished 8th . This was a warm up to his first F1 Grand Prix at Spa but once again had problems and was 15th and not classified. More despair at the British Grand Prix when the cylinder head gasket broke and his only decent placing was in a minor race at Turnberry in Scotland where he finished 4th .
During 1952 Tony also raced the 1934 ex-Whitney Straight Maserati 8CM that was owned at that time by L.C.Boyce and a Jaguar XK120 in the Silverstone International Champions sports car race.
Early in 1953 he, Lex Davison and Stan Jones ran an Australian Holden in the Monte Carlo Rally and finished 64th.
Then, for 1953 he moved to sports cars with a new Aston Martin DB3. This was never a very successful model and was too heavy and cumbersome so when Aston Martin introduced a customer version of the DB3S in 1955 he and his two Australian racing driver friends who had come to England to race, Tony Sulman and Lex Davison all bought customer DB3S sports cars and raced as the Kangaroo Stable.
When Peter Whitehead and Tony Gaze approached Enzo Ferrari at the end of the 1954 season to buy cars to run in the New Zealand Grand Prix in early 1955. Enzo Ferrari sold Gaze Ascari's chassis 05 – one of the most successful Ferrari grand prix cars ever built – but changed its chassis number from 05 to 0480. He and Whitehead both had their cars uprated to 625 specification and shipped the cars to New Zealand. In the Grand Prix in early 1955 Whitehead finished second to Prince Bira's Maserati with Gaze third.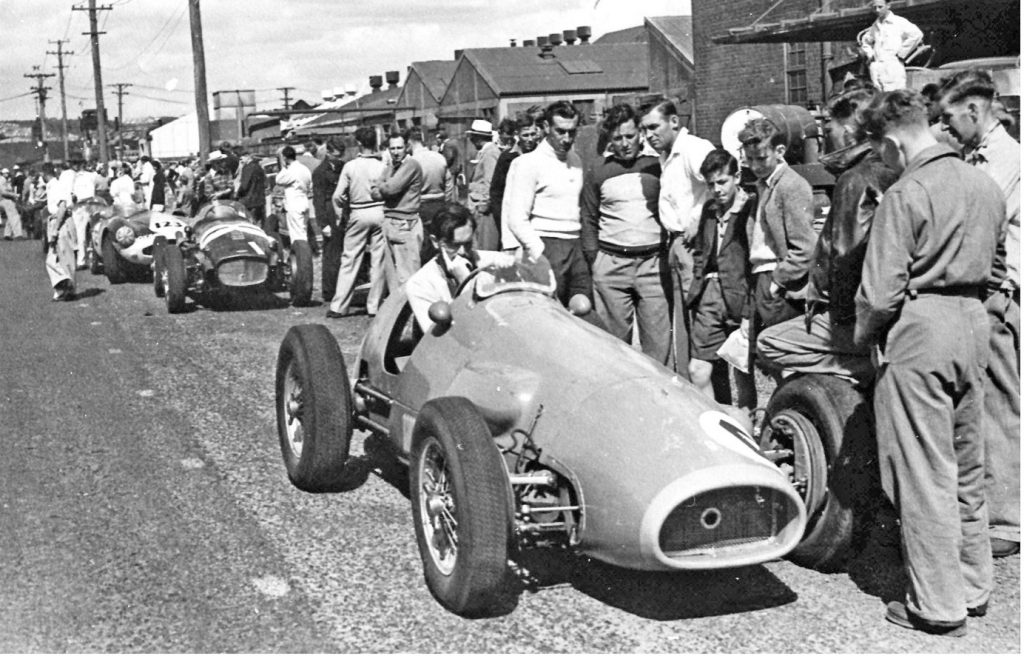 Nearly a year later both cars were returned to the factory and fitted with big 750 Monza engines modified to run on alcohol fuel. The engine in Gaze's car was numbered 0480 to match his Ferrari 500/625 chassis number. Later this engine was to be sold on and was fitted to the 750Monza originally owned by Frenchman Jean Estager which then was raced for a number of years in Sweden.
With the bigger 3 litre engine fitted Tony Gaze finishing second to the sister Ferrari 500/625 of Peter Whitehead. Tony had his revenge in the Dunedin Trophy race winning outright ahead of Reg Parnell's prototype Aston Martin F1 car with Whitehead fourth.
In that series of races Gaze and Whitehead literally swept all before them and when they ended Tony decided to sell his 500/625 to another of Australia's best racing drivers of the period, Lex Davison.
In the Australian Grand Prix held in December 1956 Davison finished 7th against some of the leading grand prix drivers. The following year, 1957, Lex won the Grand Prix with the now ageing car against local opposition but which included Jack Brabham, and then surprised everyone by winning the Australian Grand Prix again in the Ferrari.
As for the Ferrari it featured in the Giltrap Museum in Australia and the engine finally found its way back into a 750 Monza. The car, without its engine, was then sold to Tom Wheatcroft in England for his massive Collection. When it was being rebuilt to go on show Tom realised it was the original Ascari car and so became one of the stars in the Collection.
During the 1956 season another former RAF pilot, Dickie Stoop asked Tony Gaze to share his Frazer Nash Sebring at Le Mans but the car was involved in an accident after ten laps and retired.
Tony had not lost his interest in flying and when another former Grand Prix Drivers Club member, Prince Bira, got him interested in gliding and after competing in a number of events he represented Australia in the World Gliding Championships held at the Butzwellier Field outside Cologne finishing 14th in the Open Class flying a Skylark 3B
Tony married twice and on both occasions to the widows of racing drivers his first wife, Kay, was the widow of pre-War English racing driver Johnny Wakefield who was killed in a flying accident during WWII and his second wife was Diana, the widow of his great friend and fellow Kangaroo Stable team mate Lex Davison. They later left England and returned to Australia
Tony Gaze maintained his interest in grand prix racing through the Grand Prix Drivers Club and he and Diana would fly to Europe for the General Assembly. He also had a large collection, including a Berlinetta Lusso, until his death in July 2013 at the age of 93.