One of the most recent new members to the Grand Prix Drivers Club is Ivan Capelli who competed in no fewer than 242 grand prix races starting with a drive for Tyrrell in the European Grand Prix of 1985 held that year at Brands Hatch.
Ivan was born in Milan in May 1963 and after winning the Italian Formula 3 championship he moved into Formula 1 with a variety of teams but as with many of the young drivers of the day was never fortunate enough to be in the right team at the right time: something which pertains to this day.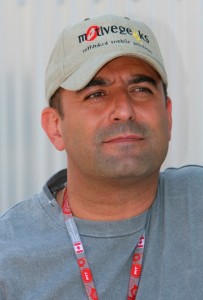 Today he is best know as one of the key Italian Television commentators and broadcasts live from every grand prix. Our Assistant Secretary Agnes Carlier, spent time with him in Singapore and interviewed him for Our Web site.
Agnes: You competed in 93 F1 Grand Prix in your career – what is your best memory?
Ivan: For sure the two GPs where we stood on the the podium: Portugal 1988 and France 1990. Especially France because we were able to get Gustav Brunner to change the settings on the grid two minutes before the start. We changed the set-up in order to preserve the tyres, the front left especially. That setup change worked well and gave us a good result and was very satisfying. At that time, in racing history, the F1 regulations allowed the teams to use their imagination on the grid. It was definitely a good thing.
Agnes:  So now how do you assess the sport and the differences now?
Ivan: To explain the difference between the "old time" F1 and modern times is that today everything is frozen on Saturday afternoon and you can change nothing.
We could change everything between qualifying and the race. Now no one can do anything to change the strategy so people are not expecting anything doing the race.
They know the people at the front are strong and the people in the back of the grid are not quick enough.
At the back of a grid, they are weaker as they cannot change anything to help them improve in the race. So this is certainly one of the reasons why spectators are not as interested in the race as they used to be.
Agnes: Was Maurizio Gugelmin your best team-mate?
Ivan: Absolutely. I spent five years with Maurizio and we had a tremendous time together. I see myself, a little bit, in Ricciardo. I can identify myself with him. When you watch Ricciardo, you can really feel that he is enjoying what he is doing. He is enjoying that he is part of this world, he is enjoying to be part of F1, or enjoying to be part of the Red Bull team. He is really happy about this. When I was sharing the Leyton House team car with Maurizio we had the same relationship. Obviously with Maurizio on the track we were definitely competitors. But in the paddock, we were really close friends. We were spending a lot of time together and were doing a lot of things together. We had dinners together. I would travel to Brazil a week earlier because we had lots of things to do together. Was had just really a good time.
Agnes: Was it different at the time of Senna?
Ivan: Looking at the list of drivers in the 80s or 90s my first feeling for them is respect for their achievements and what they had done before. Now there is the same kind of respect, but there is also the feeling and understanding that the cars make the difference to their performance.
Agnes:  Who do you admire the most?
Ivan: Senna. I met him in Parma in karting and I saw him as the driver that I would have liked to be. He was a model for me in fact.
Agnes:   You had an excellent career but no F1 win. Is this a regret for a driver?
Ivan: [Laughing] Always! The same feeling as if you try to convince a girl to go out with you and you do not succeed in convincing her.
Agnes:  Since you retired in 1993 what have you done after F1?
Ivan: I spent three years with Touring Cars in Germnay and then in 1997, I became a TV commentator for Italian TV. I also did a few races in GT during the year. But it is difficult to find a championship not clashing with F1 so it is difficult to find a comprehensive schedule. I only competed in a few races but not consistently and could not find a championship with no races clashing with F1.
Agnes: Who do you admire most?
Ivan: Cesare Gariboldi, my team manager, and Akira Akagi who created the Leyton House Team.
When I met Akira for the first time at Imola in 1996 he changed my life completely.
We happened to meet in the airport and actually decided I should first of all race in Japan in F2 with his team.Then we decided to enter F1 in 1997 by just shaking hands and no contracts  signed. We decided all this at the airport in 1996 and at the end of the season it happened.
I told him I was ready to race in F1 and that I was already talking to different teams and had several choices. Then we spoke about money. We started to divide the car, front wing, rear wing, side pods etc and at the end of our conversation, Akagi asked me how much I needed for the season. So I turned to Gariboldi and told him it was his area now as I did not know what to say. Then I told him 4 million dollars in 1997, "Are you convinced that you are ready to race in F1?" was Akagi's answer.
When we flew back we had no contacts with any teams so Cesare Gariboldi stopped in Milano. Then, after buying another airline ticket, he flew to the UK and had a meeting with Robin Heard at his house. At the time Robin was the boss of the March Engineering team. So we talked; Robin had the cars and we had the money.
The first race for our Leyton House March F1 team was Jacarepagua in Brazil in 1987.We were only seventeen people including me and Akagi's fiancée, not 250 like some other teams. A few years later, in 1991, the team had reached 190 people.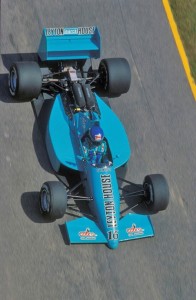 Agnes:  And the results in Jacarepagua?
 Ivan: Oh well.., no comment! I was even behind the fire marshal's car! We were using a Heidi Mader engine for endurance races so the results were not great. We were competing against the turbos. Meaning we had a 250hp difference and instead of looking at the front we were looking at the mirrors.
Agnes: Tell us the story of your debut in F1 with Ken Tyrrell.
 Ivan: I made my debut in my first season in F1 with Ken Tyrrell in 1995 in the European GP at Brands Hatch, Ken phoned me to ask me to race for his team, but warned me that he had no money. He told me not to bring any money but that I should take care of my travel, hotels and accommodation.
Before racing I wanted to at least be able to go through a test with the car but Ken did not have any money to set up a test, not even with an F3 car. It was not possible. So, I jumped into the car for the first time on Thursday for the European GP, as the regulations at the time allowed one extra day of testing on the Thursday morning and in the afternoon. One hour each for the first time on the circuit and the first time with this engine. We are talking about a very different world, today any driver does or competes about 10,000 hours in the simulator. You can imagine the difference!
Agnes: What are the values that you appreciate in the modern F1?
Ivan: It is a difficult question but let me share my experience of an interview with a prominent driver with you.
A few years ago I was doing an interview with Sebastian Vettel. We were discussing how I was pushing the car at the limit and how I was using the gearbox, the clutch and the power-steering. I was asking him if he would enjoy driving this sort of car.
He replied "I only know the modern cars." I realized I had asked the wrong question. These modern drivers are sons of modern technology. They know only exclusively their car and no other cars and do not imagine any different technology.
When I drove historic cars, Nuvolari types from 1934, I had to close my eyes and I was wondering how these old drivers could drive the old cars with no braking and a lot of gravel and with the speeds they were reaching? How could they drive in the Mille Miglia with such an average speed and no protection?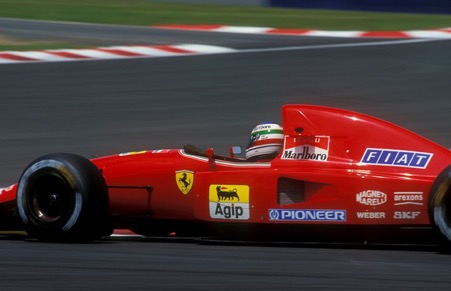 Agnes: Do you drive historic cars? What is your favourite?
Ivan: I have had the opportunity to drive magnificent cars: For instance in the 1960s I drove the first car that Enzo Ferrari ever entered in grand prix racing, an Alfa Romeo P3; the one driven by Tazio Nuvolari. It was a very special anniversary for the Ferrari team, the first car that they ever entered in Grands Prix as Scuderia Ferrari.
It was a great occasion and I think the oldest car I drove was a Maserati.
I also drove the Maserati 250F and it was an incredible car too.
Agnes:  What do you feel are iconic cars?
Ivan: Speed has a different kind of interpretation and speed is related to the period. For example,  I feel that if I was able to drive these modern Formula 1 cars I would not be very good.
My way of driving car is clutch, gearbox and, max, four buttons on the steering wheel .I am not used to multitasking like the modern drivers are with a big computer tablet in front of me. The radio system in my day, for instance, was for short basic exchanges and conversations about dangerous situations, for example when we saw smoke or something went really very wrong on the car. So let's talk about the radio in our cars of the 1980s.
During practice in Canada, in 1989, I arrived at the hairpin, far from the pits. I could hear on the radio someone talking in English with a strong accent. So on the main straight I talked to my team and told them not to talk to me. They protested that they were not talking. The following lap the same thing happened and I heard them talk again. I told them to "stop talking" and the third lap was identical. Then the team did some checks and it was interference with the radio of a taxi driver in the city that I was listening to and I could hear all indications from the taxi driver! What a laugh!
Agnes:  Now what are you doing?
Ivan: I am president of the Automobile Club of Milan. The Automobile Club of Milan is actually managing the Monza Autodromo with one of their companies and that is where about 75% of my time is now spent to try to save Monza. So it is not just sport but a number of activities including safety. We are doing a lot of things for people who have lost their driving license to help them out to find the keys to safety on the road when driving.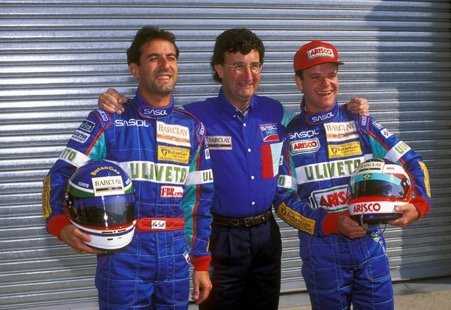 Ivan Capelli ran five seasons with Akira Akagi's Leyton House formula 1 team before being chosen to join Scuderia Ferrari in 1992 alongside Jean Alesi. The car was the F92A designed by Jean-Claude Migeot with a double flat-bottomed floor and it proved not only to be difficult to drive but uncompetitive and garnered only two podiums in the entire season, both third places in the hands of Jean Alesi.  Sadly, for Ivan, his best results were 5th in the Brazilian Grand Prix, 6th in the Hungarian and 9th in the British Grand Prix but it was not enough and he lost his drive before the end of the season to Nicola Larini who fared even worse. It was no wonder that Ivan opined that the Ferrari F92A was the worst Formula 1 car he ever drove.
In 1993 he ran two races for Eddie Jordan's team powered by a Hart V10 but crashed in his first race of the season in South Africa and left the team at the Brazilian Grand Prix.
As with many of the young drivers of the period it could readily be said that he deserved better.