Stirling Moss, the name conjures up so many memories for all of us who saw him race.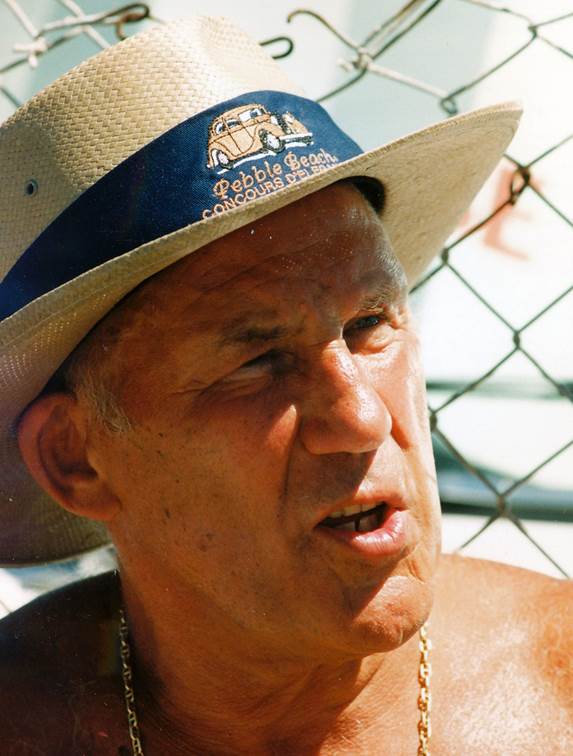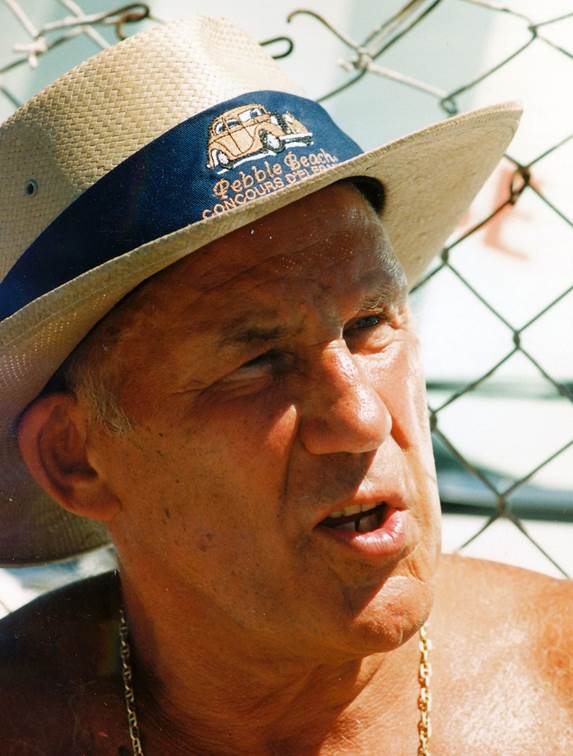 He was one of the truly great racing drivers of all time. Above all, he was versatile, a word you cannot confidently use when talking about today's grand prix drivers.
Stirling could drive anything and yet, back in the days when Britain's grand prix hopes depended on the hype rather than the success of the V16 BRM Stirling chose to race it rather than drive for a foreign manufacturer.
To a modern motor racing enthusiast, this type of patriotism might appear to be ridiculous but for Stirling, it was a serious statement of support for what was to become an upheaval in motor racing that has seen Britain become the most important home for the development and success of grand prix teams many current grand prix teams.
From the moment he started being noticed in an early Cooper 500 in Formula 3 he became the symbol of British motor racing around the World. What is more, he was not only curious but adaptable so that he could be seen every weekend racing a variety of cars and loaning his considerable driving expertise to most of the fledgeling racing manufacturers of the day.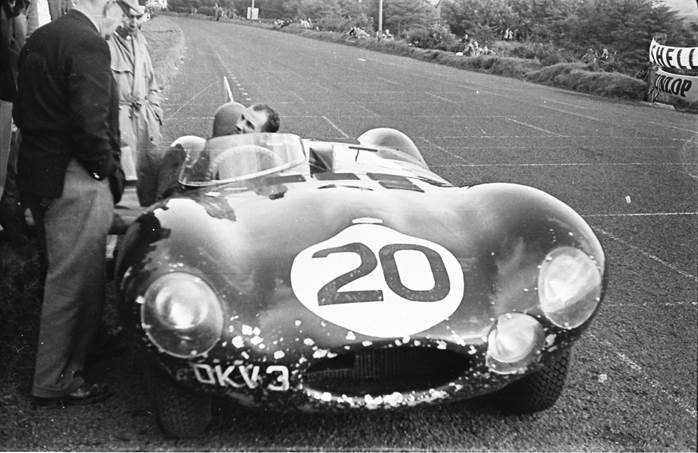 Stirling sits in his D type Jaguar at the 1953 Tourist Trophy Race at Dundrod waiting for the race to finish and run the car over the line using the starter motor. Note the damage done by the resurfacing of Dundrod not long before the race.
He helped HWM back in the 1950s and of course, it was he who propelled the Jaguar XK120 into
International fame with his Tourist Trophy win at Dundrod that led to the C type and D type Jaguars that Stirling raced so successfully. Then there was Aston Martin, Austin Healey, Lister-Jaguar etc, etc. He won with them all and raised their profiles Internationally.
Stirling Moss probably did more to promote the British Motor Industry at a time when the British economy needed it most.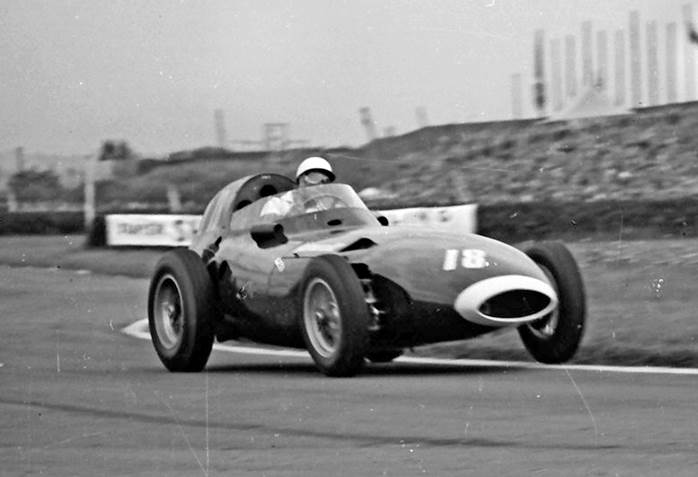 I am not going to refer to individual races as hundreds of web sites have published many stories about his best, his worst, his most unlucky race but allow me to cherry-pick moments that brought home to me memories of Stirling the racing driver when I heard the sad news on Sunday.
Stirling recorded the first Grand Prix Formula 1 win for Cooper in 1958 when he won the Argentine Grand Prix with Rob Walker's Cooper T43 Climax and did the same for Colin Chapman in the Monaco Grand Prix of 1960 when he won with the Lotus 18. Just over a year later, Innes Ireland gave Chapman his first Team Lotus grand prix win over a year later.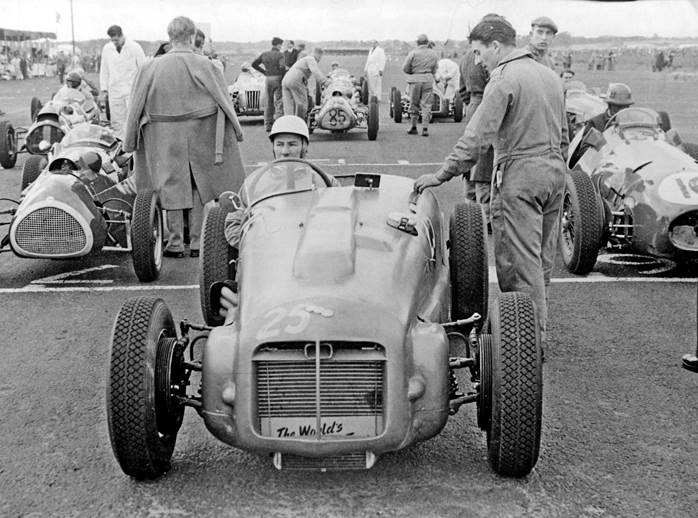 He could also make a few errors in his choice of car, such as when he drove the G type ERA fitted with a Bristol engine in 1952 in an effort to drive British: he retired in all three grand prix races he ran with it. Then he jumped into a Connaught for the final race of the season in the Italian Grand Prix and it too failed him.
A year later and still looking for a British grand prix winner he developed the Cooper-Alta with one of Geoffrey Taylor's Alta engines but then he reluctantly saw the light and Ken Gregory was dispatched to Modena to buy a Maserati 250F. Immediately Stirling took third place in the Dutch Grand prix. Then came his glory years with Mercedes Benz followed by his many wins with Vanwall.
In the end, from the Monaco Grand Prix in 1957 to his final World Championship grand prix at Watkins Glen in 1961 he always drove British cars.
In sports car racing he outperformed his great hero Juan Manuel Fangio and was successful as a rally driver.
I was privileged to be a friend for over sixty years and he was one of the first drivers I photographed as a journalist at a race meeting at the Charterhall circuit in Scotland in May 1952.
It was not one of his best days in racing as he was involved in an accident with John Coombs, both of them driving Cooper 500's To his surprise it was Coombs who got away in the lead and when Stirling overtook Coombs it was Coombs who made the mistake and in the clash, Stirling lost a wheel. As they came back to the paddock I raised the Leica and took the photo below showing John Cooper at the front pushing Moss's three-wheel Cooper whilst John Coombs helps Moss to push the car.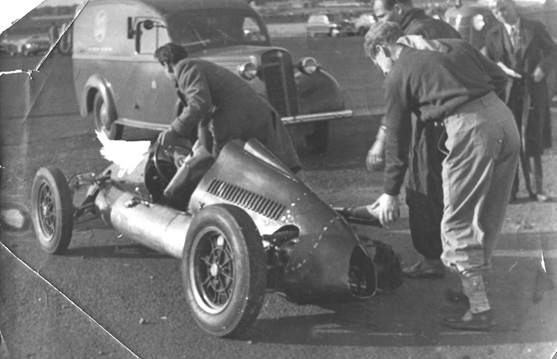 Stirling Moss must, and will, be acknowledged by any who have followed all of the various disciplines in motorsport as a true champion who put his whole heart into the sport.
At the same time, he became one of the greatest supporters of the Grand Prix Drivers Club from the very beginning and will be remembered fondly by all of our members who raced against him.
Graham Gauld