There was a lot of interest shown in one of my recent stories where I mentioned Count Zanon's Cisitalia Abarth and it reminded me of another example of small Italian sports cars, the Nardi-Danese owned by Lord Doune that was one of the interesting selection of cars he gathered for his museum in Scotland.
Firstly a little bit of background. Enrico Nardi was the son of a lawyer and was born in Bologna in 1907, A bit of a free spirit he did not have much time for school, indeed he changed schools eight times, it is said.
Then he became an engineer, but a self-taught one without the official papers and titles to go with such a pursuit. However, he does join the Lancia company in Turin testing trucks and had been noticed not only by Vincenzo Lancia himself but also by a proper engineer, Vittorio Jano.
During this period Nardi built his first racing car, the Chichibio, or Nardi-Monaco, that had been designed by Augusto Monaco. It was a front-wheel drive racing car powered by a V-twin 998cc JAP motorcycle engine. It proved to be very successful with a remarkable power to weight ratio as it only weighed 672 lbs and produced 68 bhp.
At the age of 30, he decided it was time to move on, particularly as Enzo Ferrari had heard about Nardi and offered him a job in Modena with Scuderia Ferrari.
Nardi was a good mechanic and competent engineer and was selected to join the team in Modena led by Ing. Massimino developing the first racing car built entirely at Enzo Ferrari's headquarters in the centre of town. As we all know the car was not called a Ferrari as his Alfa Romeo contract did not allow him to build a car using his own name. The result was the Auto Avio Costruzzione, a commission from local Count Rangoni to build him two cars to run in the shortened race based on Brescia and held in 1940. It is still called the 1940 Mille Miglia but it was on a much-shortened course. Enrico Nardi did all the testing of these cars before the event and went as a passenger with Rangoni on the event itself whilst the great Alberto Ascari drove the other one.
In his book on Nardi, Franco Varisco quotes Nardi's daughter Roberta who underlined that Enrico was no yes-man. When he invited Enzo Ferrari to his house for lunch, if Enzo did not arrive at the appointed time Nardi would instruct the cook to serve the meal and they would all start to eat without him!
Nardi stayed with Enzo Ferrari throughout the war but left in 1946 and began to build his own cars using his skill in designing speed equipment, particularly cylinder heads, for his own cars as well as for others. His daughter also remarks that her father helped the police to improve the performance of the local police cars but also that some of his bits also appeared on the cars of the people the police were trying to catch!
In 1946 he began to develop another car with his friend Renato Danese that was to set Nardi on course to become a race car manufacturer. Once again he looked at the power to weight ratio and this time chose the 750cc BMW flat-twin engine mounted at the front, driving the front wheels. The car, the Nardi-Danese had a multi-tube frame, was light and was ideal for the popular 750cc class of racing in Italy. They raced as sports cars and as racing cars by simply removing the wings.  Nardi shrewdly chose a fast up and coming Italian driver to race his car, Gino Valenzano, and they were off and running. But how competitive was it? Well, in the 22 km Susa-Moncenisio hill climb the Nardi-Danese was only 2% slower than the 2 litre Ferrari driven by Andre Simon!
My first personal contact with the Nardi-Danese marque was when my late friend Lord Doune – later to become the Earl of Moray – bought one for his collection of cars. I remember asking him why he bought it and he remarked that it looked so different he had to have it.
The car itself appears to have been unique as it was again a Barchetta but with cycle wings that could be taken off to allow the car to run in racing car classes. What made it different, however, was its 1100cc Fiat engine and the car photographed here was probably the only Nardi fitted with a Fiat 1100 four-cylinder. He later tracked down two spare cylinder blocks from the company in Bologna that cast the blocks for the Auto Avio and built himself a 1.5 litre 8 cylinder Nardi-Danese.
Lord Doune's Nardi-Danese was built in 1947 and he bought it from European historic car dealer Rob de la Rive Box. Though it had a minor competition life in Switzerland nobody seems to know much about it. Even Box did not have much information. We know that its chassis number is N-D24565 and it has a Rocco Motto body but finding out information about some of the one-off Nardis is remarkably difficult.
When Lord Doune had the car he rolled it out from time to time and let friends use it on the hill climb in the grounds of his estate. When he closed his museum Lord Doune's son John, the present Lord Doune, sold the car to the Iranian-born arch-enthusiast Julien Majzub who has been working on its restoration but admits that he would like to have more information on the car or even some race history.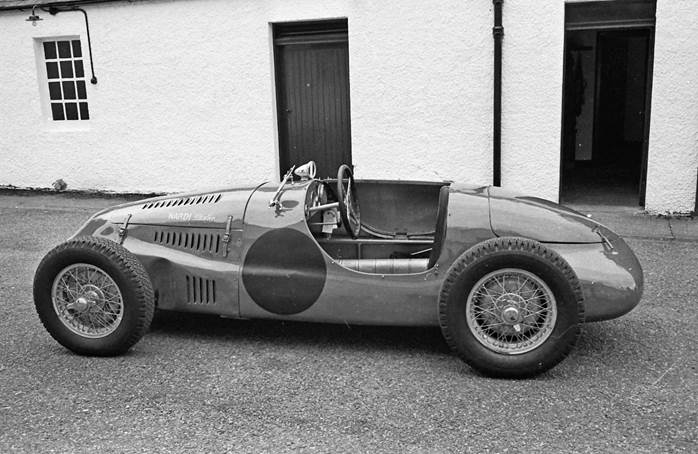 Meanwhile, I still think it is a pretty little car that made a great noise and represented an important era in Italian motor racing history, the post-war pioneers. By 1951 Enrico Nardi had gone into the steering wheel business but still found time to design Piero Taruffi's TARF twin-boom sports car that ran but expired at Le Mans in 1953.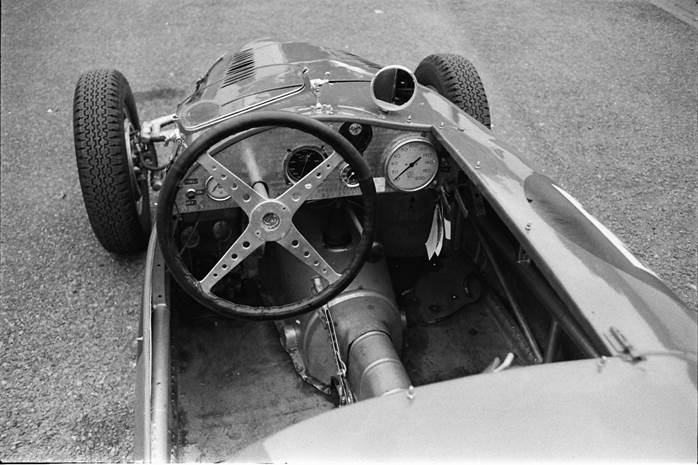 So what has all this to do with the Grand Prix Drivers Club?  Well, a few years ago at one of our General Assembly's in Italy an enthusiast turned up with an odd Italian Fiat special. It looked like a Nardi and had a straight eight-cylinder engine made up of two Fiat engines and bodywork by Zagato; could this be Nardi's own straight-eight engine copied from the design of the Auto Avio Costruzione?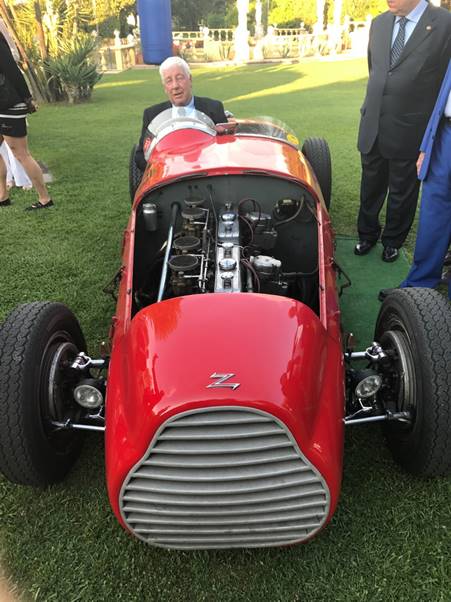 Jean-Louis Trintignant at the wheel of the Porsche 935 K3 at the 1980 Le Mans 24 Hours.
For the film " A Man and a Woman" which was about a racing driver he became the natural choice for the lead by film director Claude Lelouch.
Despite a nasty motorcycle accident at the age of 77,  after retiring from movies, he recovered and is now 91 years of age and completes the Trintignant motorsport family tree
Graham Gauld