A few years ago I ran one or two articles about Grand Prix Drivers Club members who were both fathers and sons, like Hans Stuck and Hans Joachim Stuck, or Graham and Damon Hill. I also wrote about one of the Club's early members, Maurice Trintignant, but this only told part of the story for the Trintignant name first came into motor racing well before Maurice, " Le Petoulet", ran in his first ever race.
The Trintignant family came from the area of Southern France called the Gard.
Maurice's father, Fernand, was born in July 1895 in the village of Pont-Saint-Esprit not far upriver from Avignon, the one-time home of the Popes and famous through the song about its famous bridge.
Pont-Saint-Esprit, on the other hand, had a much smaller bridge with twelve spans but, historically, is much more famous.
The river is the River Rhone and the whole area is famous for its Cote du Rhone wines but in particular, a smaller area called Chateau Neuf du Pape named after the Popes who had moved to France for a couple of centuries.
It was the money made from the family's vineyard, Chateau Trintignant, that provided the money for the family to go racing.
What is less well known is that Maurice had an older brother, Louis-Aime Trintignant, who was born in 1903, fourteen years before him.
It was Louis-Aime who was the first to become interested in racing. He bought an Amilcar that he entered for the 1931 Grand Prix de Brignoles near where I live today. They received a good entry that included four Bugatti T35s but not one of them turned up so only four cars started in the race which meant it was a bit of a damp squib.
Louis Trintignant was clearly the quickest, he led the race from start to finish and took fastest lap ahead of Edouard Dourel's Amilcar.
Over the winter Louis Trintignant sold the Amilcar and bought a Bugatti T35C from fellow Frenchman Paul Morand. He duly entered in his first major race which was not held in France but in Oran in Algeria organised to celebrate the 100th anniversary of the French conquest of Algeria
It was a 3 hour race formula libre race with the fastest group being Voiturettes and there were no fewer than 13 Bugatti's in that class and another six in the 1500cc Class. Now he was up against drivers like Jean-Pierre Wimille in a Bugatti and the Alfa Romeos of Gofreddo Zehender and Philippe Etancelin. It is interesting that Etancelin was one of the earliest members of the Grand Prix Drivers Club and the very Alfa Romeo run by Zehender turned up at Gabbice Mare during the Grand Prix Drivers Club General Assembly in Italy in 2017.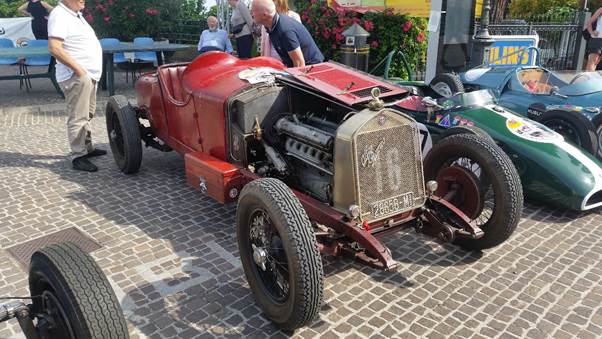 Trintignant won his class at Nimes and was beginning to be seen as a coming man. At Nice, he won heat two and was classified 5th in the final.
All this time Louis Trintignant was very much the amateur driver as he was now working alongside his father in the vineyard. As for his young brother, Maurice Trintignant, the boy was now just 13 years of age and in awe of his brother.
Louis continued into 1933 with the same Bugatti T33C and in February ran it in the Pau Grand prix street circuit, a race notable for the fact that snow fell overnight and the organisers held a meeting with the drivers who decided that the race should go ahead even though the snow was still lying about.
It was churned up and the drivers had a difficult time but Trintignant eventually finished 6th.  Sadly this was the last major race in which he competed for in practice for the Picardie Grand Prix at Peronne he crashed during practice in one of those odd accidents that sometimes happen.
Trintignant was driving hard when, on arriving at a corner, a policeman for some reason was standing on the track. Trintignant swerved but the Bugatti hit a kilometre stone which sent it rolling down the track. Trintignant was thrown forward and killed outright,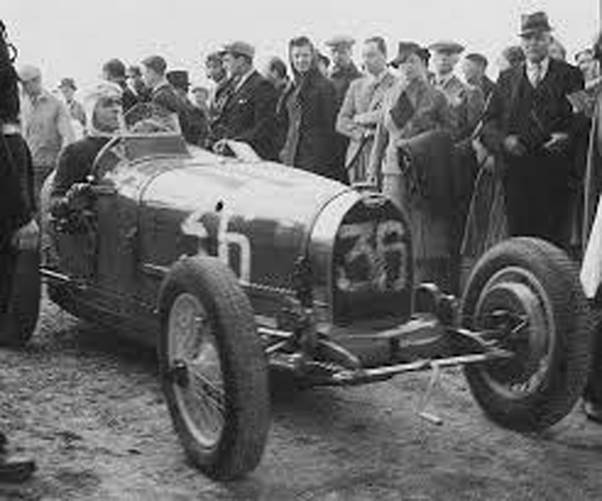 The Bugatti was recovered, repaired and left in the garage in the vineyard for the next six years until 1938 when Maurice Trintignant, now 20, entered it for the Pau Grand Prix the first main event of the season.
It was notable because Mercedes Benz entered two of their new 145 grand prix cars for Rudolf Carriciola and Herman Lang as a shakedown before the season started. Alfa Corse were also now running their own team of Alfa Romeo 308s and so the entry of Trintignant in an aged Bugatti T35C , uprated to T51 specification, was not taken seriously until young Maurice set sixth fastest time in practice.
The ebullient Clerk of the Course, Charles Faroux, was concerned and told Trintignant to drive carefully and keep watching his mirrors ! In the race Trintignant finished fifth so a new member of the Trintignant family had successfully started his long career. He was to race his Bugatti at Pau the following year before once more storing the car for the duration of WW II.
In September 1946 he wheeled the car out once more for the Coupe de Prisonniers in the Bois de Boulogne but during the season was dogged with the problems of a now ancient racing car. He ran a couple of times with a Maserati 4CL but it was not until Amedee Gordini signed him up for Gordini that his career took off and was described in another article on this site.
Maurice was always an enthusiastic member of the club and after he retired from racing he returned to the family Vineyard and concentrated on the business.
However, Maurice was not the last member of the Trintignant family to go into motor sport for his nephew, Jean-Louis Trintignant, better known as one of France's leading film stars. During the "New Wave" period he acted alongside Brigitte Bardot in " And God Created Woman". His father was Raoul Trintignant, another of Maurice's brothers.
Jean-Louis started competing in rallies and won his class in the 1981 Monte Carlo Rally in a Peugeot 505Ti.
He also raced at Le Mans. His first race at La Sarthe was in 1980 when he shared the yellow Malardeau Porsche 935 K3 entered by Kremer Racing alongside Xavier Lapeyre and Anny-Charlotte Vernay but had to retire with a broken gearbox after seventeen hours. By this time his film career had fully taken off and his racing became restricted.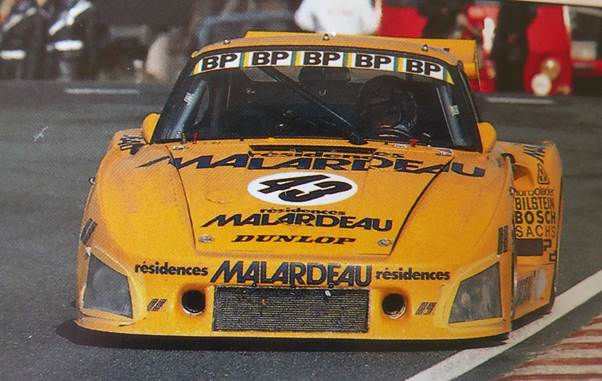 For the film " A Man and a Woman" which was about a racing driver he became the natural choice for the lead by film director Claude Lelouch.
Despite a nasty motor cycle accident at the age of 77, after retiring from movies, he recovered and is now 91 years of age and completes the Trintignant motor sport family tree
Graham Gauld